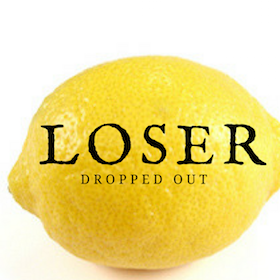 100 Hot Comics:
Detective Comics 880
Classic Joker Cover by Jock
DROPPED OUT OF LIST
100 Hot Comics: Detective Comics 880, classic cover by Jock. Click to buy a copy at Goldin

Why Detective Comics 880 is a Hot Comic
DROPPED OUT OF LIST
2020 MARKET UPDATE: SIDEWAYS IN MOST GRADES, DOWN IN CGC 9.8
While Detective Comics 880 is scarce on lists we are offered, there is clearly enough supply to meet demand.
It may be time to look elsewhere for modern investment comics.
IF YOU BOUGHT MY RECOMMENDED GRADE LAST YEAR:
Here's the bottom line.
CGC 9.8 2019 $609
LAST SALE $500
PERCENT CHANGE -18%
Recent sales show not much movement elsewhere:
CGC 9.8 $500

CGC 9.6 $225
CGC 9.4 $255(!)
CGC 9.2 $165
CGC 9.0 $175 (!)
2019 MARKET UPDATE: CRAZY HOT AND CRAZY SCARCE
I look at comic book lists all day long.
If I'm lucky, I see Detective #880 on a list once every couple of months. It really does seem to be genuinely tough to find.
The stunning decline of most DC back issues continues, and this book is actually the highest DC comic on the 100 Hot Comics list this year.
Note that 9.6 issues have not appreciated as much in value in the past 12 months. I underline my rule about modern comics again. Never buy less than 9.8.
Recent sales:
CGC 9.8 $678

CGC 9.6 $290
CGC 9.4 $178
CGC 9.2 $280 (!!)
CGC 9.0 $210 (!)
2018 MARKET UPDATE: THE EYES HAVE IT, JOCK
Surely the bubble must burst on this book... But Detective Comics had almost run out of steam before the relaunched New 52.
Based on the few copies in the CGC census, print runs were low. There are only 426 in the census. That's low considering it's a book published in 2011.
Recent sales:
CGC 9.8 $470

CGC 9.6 $230
CGC 9.4 $150
CGC 9.2 $135
2017 MARKET UPDATE: NEW TO THE LIST!
I had never heard of Jock before I became aware of this amazing cover.
Joker is the hottest character in the Gotham universe at the moment, even hotter than his girlfriend Harley Quinn, and this cover, featuring the clown prince of crime with a face made up of bats and the Bat symbol, will endure long in the memory.
Add to that its very very late in the original run of Detective, when print runs had declined, and you have a scarce, in-demand book. Stick to CGC 9.8.
CGC 9.8 $375

CGC 9.6 $260
CGC 9.4 $100
CGC 9.2 $120 (!!)
Other Detective Comics issues on the Hot 100:
Detective Comics #140 | Detective Comics #233 | Detective Comics #359 | Detective Comics #400
What to Invest In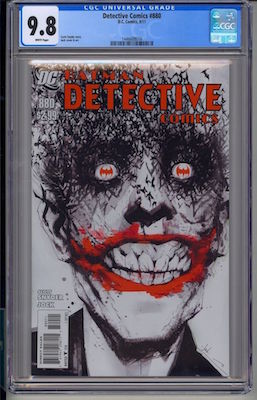 100 Hot Comics: Detective Comics 880, classic cover by Jock. Click to buy a copy at Goldin
Have this book? Click to appraise its value NOW!

LOSERS! Comics Which Dropped Out of Past Lists
Related Pages on Sell My Comic Books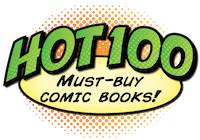 Click to return to the Hot 100 Investment Comic Books menu
Other Batman-Related Price Guides on SMCB