100 Hot Comics #20:
Silver Surfer 1, Origin Issue
UP TWO PLACES FROM LAST YEAR
NOTE: We use eBay to provide references to live prices of comic books. Clicking a text link or image marked 'Check live prices' will take you to eBay.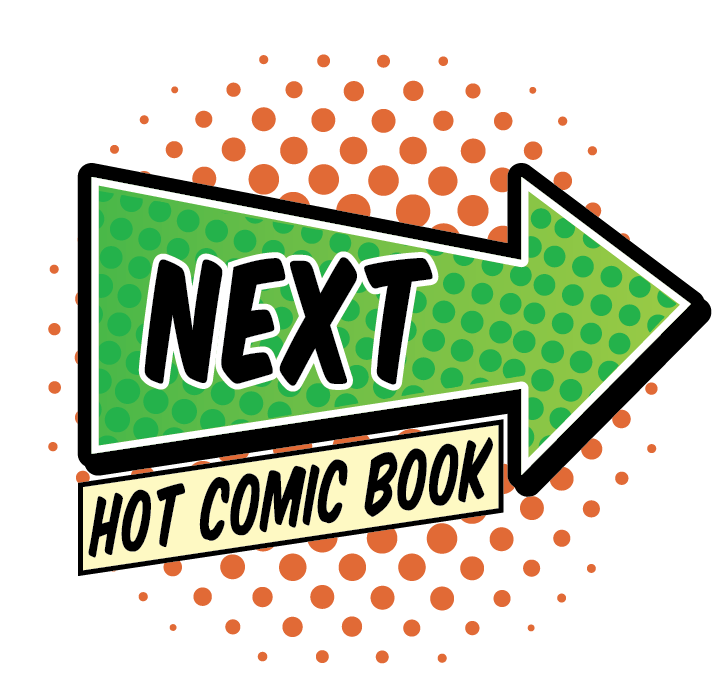 CLICK TO SEE THE NEXT HOT COMIC BOOK!
Why Silver Surfer 1 is a Hot Comic
2020 MARKET REPORT: MOVIE RUMORS ARE SOLIDIFYING
We still haven't got the final nod on the Fantastic Four movie reboot, but it must be happening.
There is simply too much speculation around the important Silver Surfer comic books. Silver Surfer 1 has benefited from this, with strong sales above FN.
IF YOU BOUGHT MY RECOMMENDED GRADE LAST YEAR:
Here's the bottom line.
CGC 8.5 2019 $1,736
LAST SALE $1,930
PERCENT CHANGE +11%
9.6 $7,878

9.4 $4,551
9.2 $4,450
9.0 $2,520
8.0 $1,600

7.5 $1,049
7.0 $892
6.5 $695
6.0 $500
5.5 $515
5.0 $552(!!)
4.5 $390
4.0 $430
3.5 $261
3.0 $289
2.5 $265
2.0 $230
1.8 $240
1.5 $199
1.0 $200
2019 MARKET REPORT: NEW ENTRY ON THE 100 HOT COMICS LIST!
Silver Surfer 1 has always been popular. The recent surge of interest in Fantastic Four comic books in general, and Silver Surfer comics in particular, is too powerful and sustained to be purely speculation.
There is a leak in Marvel Studios, and it's got out that FF will be 'coming home' like Spider-Man did. I'll eat my hat if the Herald of Galactus isn't in the movie.
There are tons of comics which I could include in this list. I had to draw the line at FF#48, for example, though I do feature #49 and #50 on the same page. FF#72 is also a classic Silver Surfer cover.
I did include Silver Surfer #4 elsewhere on this list, but the origin issue is pretty hot right now and you ought to own a copy ASAP.
This book feels like a long-term hold to me. It will never go out of style.
What to Invest In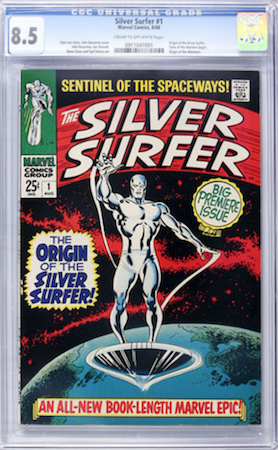 100 Hot Comics #22: Silver Surfer 1, Origin Issue. Click to buy a copy

The Marvel 'squarebound' annual sized books like this one are really tough to find in VF or higher. That means they command a significant premium when they come to market.
Prices of this issue have risen across the board. Don't be tempted to go too low. The average copy we receive falls in the 3.5 to 5.0 range, and spine splitting is common.
These larger squarebound books look awful with lots of spine stress, and their thick, glossy covers are not kind to hard corner creases.
There is little significant difference in price between 8.0 and 8.5, so that is where I would put my money. Half a grade isn't much, but it is better than nothing.
CGC 7.5 looks like a decent bet if you don't have the extra $500 to spare, and 6.5s are selling for about the same price as 6.0s.
Here are the most recent sales.
CGC 4.0 $433
CGC 5.0 $400 (!)
CGC 6.0 $575
CGC 6.5 $576 (!)
CGC 7.0 $724
CGC 7.5 $780
CGC 8.0 $1,200
CGC 8.5 $1,320
CGC 9.0 $2,425
CGC 9.2 $2,875
CGC 9.4 $4,500
Have this book? Click to appraise its value NOW!
Go from Silver Surfer 1 to the 100 Hot Comics menu
Sell My Comic Books is the inventor and home of the 100 Hot Comics list!