100 Hot Comics #29:
New Mutants 98, 1st Deadpool
UP 67 PLACES FROM LAST YEAR
100 Hot Comics: New Mutants 98, 1st Deadpool. Click to buy a copy from Goldin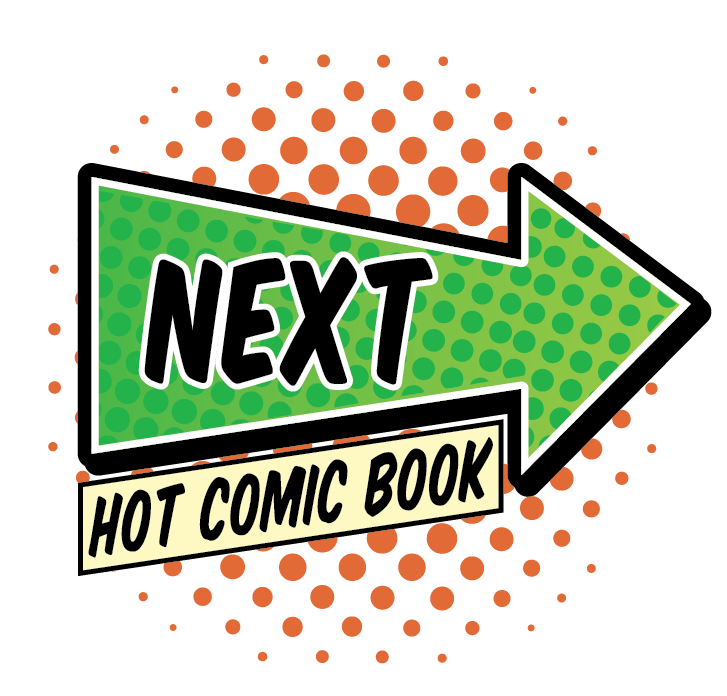 Why New Mutants 98 is a Hot Comic
2023 MARKET UPDATE: RELATIVELY WARM RATHER THAN HOT
This book almost dropped out of the list twice in the past four years. It swings wildly from nowhere to hero and back again seemingly at random.
The higher place this year is not based on price. One, lots and lots of other books on the list have dropped; two, it turns over rapidly and no matter what the price it trades at, there are buyers.
That's hot.
2022 MARKET UPDATE: RIDING THE MUTANT ROLLERCOASTER
This year, I am going to illustrate the journey that NM#98 has taken using just CGC 9.8 sales. They tell the whole story.
In order from January 2021. Not every sale is here, just new highs or lows as they were reached:
$1,200
$1,050
$1,330
$1,495
$1,550
$1,620
$1,775
$1,800
$1,900
$2,000
$2,150
$2,700
$3,000
$2,900
$2,800
$2,285
$2,050
$1,400(!)
$2,125
$1,995
$1,775
$1,600
$1,050(!!)
$1,900
$2,000
$1,800
$1,710
$1,650
And the most recent sale? $2,200.
Whatever you make of this, I hesitate to recommend this book as an investment right now.
2021 MARKET UPDATE: DEADPOOL STILL ALIVE
An amazing four-figure most recent sale at time of writing actually makes me nervous for the future of this book. There are over 3,300 CGC 9.8s in the census.
When the demographic interested in owning this book over $1K get their lives back after the pandemic, the prices of this book will tumble back down to $700-800 in 9.8.
Recent sales:
9.8 $1,250
9.6 $610
9.4 $390
9.2 $360
9.0 $340
8.5 $350
8.0 $310
IF YOU BOUGHT MY RECOMMENDED GRADE LAST YEAR:
Here's the bottom line.
CGC 9.8 2020 $877
LAST SALE $1,250
PERCENT CHANGE +42%
2020 MARKET UPDATE: DEADPOOL IS DEAD?!
How can New Mutants 98 be almost OUT of the Hot 100?!
It still sells strongly whenever we offer it. Volume is great.
But it's falling. Not as badly as the first Cable in New Mutants 87, but almost. Could Deadpool leave the Hot 100?!
2019 MARKET UPDATE: X-FORCE LOSES THE X-FACTOR
It's bizarre to see this super-key modern book so far down the hot comics list, but here it is. There is no denying how chilly sentiment is on New Mutants 98 at the moment.
That said, any copy in any condition will sell fast. That alone makes it hot.
It's pretty much unchanged year-on-year, which is not a disaster (better than losing!), but if you put that money elsewhere then it goes without saying you might do better.
If you have a 9.8, then I would strongly consider letting it go and looking to put the cash into something else. If not, don't buy in now.
Recent sales:
CGC 9.8: $800

CGC 9.6 $325

CGC 9.4 $335 (!)
CGC 9.2 $248
CGC 9.0 $181

CGC 8.0 $225 (!!!)

CGC 6.0 $285 (!!!!!) Numbskull buy-it-now price

CGC 4.5 $125
2018 MARKET UPDATE: DEADPOOL STRIKES BACK
Yes, the movie sequel is coming out this year. We got some pretty surprised comments when our list published NM #98 so low down last year, but there was a time when this book was dropping weekly.
Now it's recovered a bit of lost ground. It's still common, and some of the gloss has gone -- $1,000 doesn't seem likely for CGC 9.8 copies anytime soon.
A new record was set for CGC 9.9 this year.
New Mutants #87 is also bouncing back.
Recent sales:
CGC 9.9 $11,700
CGC 9.8: $770

CGC 9.6 $385

CGC 9.4 $340
CGC 9.2 $320
CGC 9.0 $295

CGC 8.0 $235

CGC 6.0 $160

CGC 5.0 $150
2017 MARKET UPDATE:
We appreciate there will be haters and deniers! Why is this, previously the world's second-hottest comic book, down below the top 10? The top 20? The top 40?!
Thing is, while there will always be tons of demand for this book, there is also a ton of supply. After the movie came out, prices dropped and kept dropping.
Those hurting were the numbskulls who paid top dollar for books in the 4.0 to 8.0 range. Higher grade copies are starting to recover from the big sell-off.
Come back next year, when the sequel appears, and no doubt NM 98 will be rising again. For now, it's down here.
CGC 9.8: $790

CGC 9.6 $450

CGC 9.4 $305
CGC 9.2 $255
CGC 9.0 $260

CGC 8.0 $220

CGC 6.0 $170

CGC 5.0 $150

In case you missed it, the Deadpool movie is out, and did really well by all accounts. A good decision to make it an R-rated film instead of trying to broaden the audience...
The value of the two key issue comic books in the New Mutants run has far exceeded the rest of the series. You can break up a run of 1-100, get more money for #98 and New Mutants #87: 1st Cable, (also on the Hot 100) than all the other 98 issues put together.
For years, this book has been confounding the 'experts' who said it could not get any more expensive. There are no fewer than 1,971 copies graded CGC 9.8 alone! (Not to mention ten graded 9.9 and one 10.0.)
However, a ceiling does seem to have been reached. While there are occasional cuckoo sales in the $1200 range, for the most part $800 for a CGC 9.8 seems to be the sticking point. That's what we suggest you buy.
It may be too late though. Although a movie sequel has been planned, the value may all be baked into the price of Deadpool comics. It might be wise to sit on your hands and wait.
NM98 is still almost the hottest book in the world though.
What to Invest In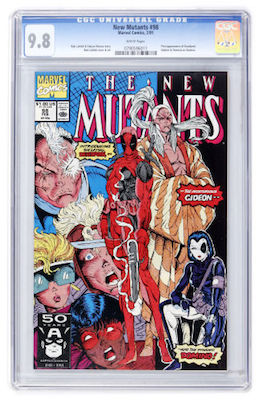 A clean CGC 9.8 copy of New Mutants #98 is always going to sell easily. Whether it's too late to invest is another matter. Click to buy from Goldin