100 Hot Comics #89:
Action Comics 242, 1st Brainiac
DOWN 26 PLACES FROM LAST YEAR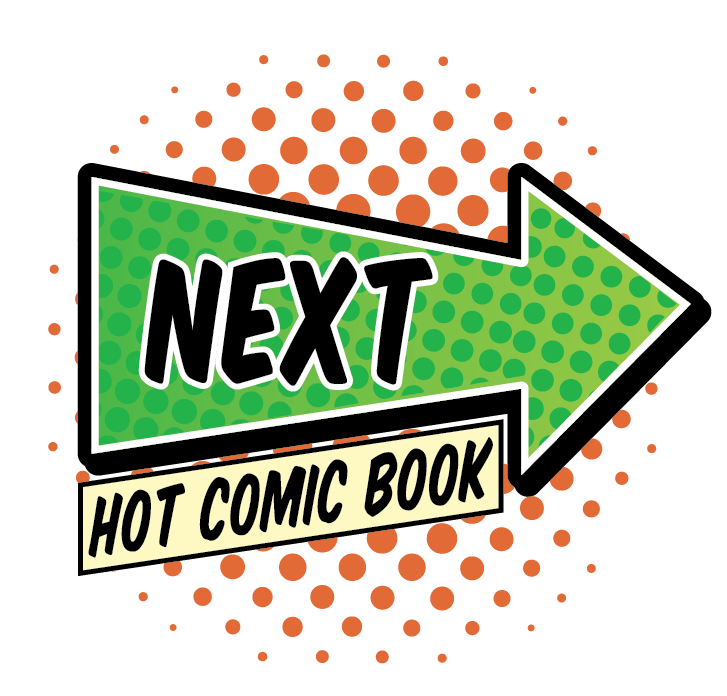 Why Action Comics 242 is a Hot Comic
2020 MARKET UPDATE: BIG SALE, SMALL GAINS
Action Comics 242 looks a little brighter than some of the DC issues on this year's list. Most of the increases are happening lower down the grade range.
A CGC 8.0 sale of $25,944 is a standout.
IF YOU BOUGHT MY RECOMMENDED GRADE LAST YEAR:
Here's the bottom line.
CGC 4.0 2018 $1,260
LAST SALE $1,063
PERCENT CHANGE -10%
2019 MARKET UPDATE: DC BACK ISSUES HAVE LOST THEIR GLOSS
While Action #242 hasn't lost money in most grades this year, it's clinging to its hotness by a thread.
Far better than many of the DC back issues on last year's list. Marvel Comics characters have totally out-performed their DC rivals.
Sales of this book happen so infrequently that one bad price can affect the apparent performance of a grade.
For example, before that $1,687 sale, there was a CGC 4.0 sale of $2,423 and another back in August of $2,750!
You have to take a long-term view on a book like this. The DC Cinematic Universe moves at a glacial pace compared to Marvel.
One to hold.
Recent sales:
CGC 8.0: $20,400
CGC 7.0: $18,000
CGC 6.5: $7,400
CGC 6.0 $6,129
CGC 5.5: $3,711
CGC 5.0 $2,700
CGC 4.0 $1,687
CGC 3.0 $1,055
CGC 2.0 $621
CGC 1.0 $475
2018 MARKET UPDATE: NEW ENTRY ON THIS YEAR'S HOT 100!
It's pretty rare that a low-volume turnover Silver Age comic book makes it to the 100 hot comics list. But this book keeps heating up, so it's time to bring it to your attention.
Given that Superman movies have been around since the early 80s (much earlier than that, if you count the 1953 movie), there are plenty of super-villains who have already been 'cracked open' in the DC Cinematic Universe.
Brainiac is not one of them (see also Bizarro in Superboy #68 for another we fancy). Added to that, this book is VERY frequently missing from collections we buy from this period. Action Comics #252 (first Supergirl) is much more common.
Record sales are easy when a book has been under-valued for as long as this one has.
CGC 7.5: $19,000
CGC 6.0 $6,100
CGC 5.0 $2,300
CGC 4.0 $1,400
CGC 3.0 $950
CGC 2.0 $665
CGC 0.5 $310(!!)
It's an especially tough find in higher grade, with that dark purple cover showing wear very easily.
What to Invest In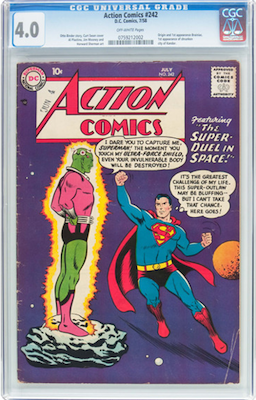 It's not easy to find Action Comics #242 in any condition. A decent VG copy still feels under-valued to us. Click to buy a copy from eBay
The slightest crease will pop out of the cover of Action Comics #242, because that deep purple color is one of the worst for showing damage.
Given that it's over 60 years old, finding a solid one is tough. A CGC 4.0 of Showcase #4 will cost you 20 times as much as this book (crazy!). That book is relatively OVER-valued, but AC #242 is definitely one that has plenty of upside potential.
Brainiac is definitely NOT the Flash. That said, you could see him being a foil to the oh-so-serious DC Cinematic Universe rendition of Superman. He's one of the historical comic book super villain names that has yet to be attached to a future movie treatment.
Prices jump pretty quickly once you get above FN (CGC 6.0). If you can afford it, go for a 5.0, which is only about a thousand bucks more than a 4.0, but much harder to find.
Have this book? Click to appraise its value NOW!

Issue by Issue Guides to DC Action Comics