See the 100 Hot Comics for Investment in 2022!
NOTE: We use eBay to provide references to live prices of comic books. Clicking a text link or image marked 'Check live prices' will take you to eBay.

How to Ship Comics Safely
Learn How to Ship Comics via USPS or Fedex
We are asked this question all the time:
"What's the best way to ship comic books in the mail?"
This page will help.
We provide step-by-step video, photos and written instructions.
There are several categories:
Click any link above to jump, or scroll down the page to find the type of shipment you want, and follow along with the how-tos.
IMPORTANT NOTE!
NEVER SHIP COMICS TO US
unless we have already discussed your collection and paid for it in full.
How to Ship Comics in a USPS Priority Box 1097
A USPS Priority Box Mailer 1097 will safely ship 5-14 vintage comic books.
Written instructions on how to ship comics (more than 4):
We want to create a "brick" from your comics, using tape and bubblewrap, so it is protected from potential damage in transit.
Ensure all the comics are protected in bags and boards.
Don't Have Bags and Boards?
You need to protect the books BEFORE you use tape.
Stack them neatly on top of one another. Slide carefully into a new freezer bag.
Take great care not to catch the edges or corners of the covers on the mouth of the bag.
Fold over any excess plastic and secure gently with tape.
Try to ensure that ziplock tracks are at the sides, rather than on top of the comic book covers.
Stack the comics neatly with all the flaps at one end and the back. Secure the stack with one piece of tape.
Rotate the stack and secure the opposite end with one piece of tape, wrapped from front to back of the top and bottom book.
You now have a nicely snug stack of 5-14 comics in bags and boards. The stack should not move around too much if you manipulate it a little.
Cut a piece of large-bubble bubblewrap. Place the stack of books in the center.
Wrap the ends of the bubblewrap around it and tape closed.
Tape the two other open ends of the bubblewrap to make a "brick". All four sides of the stack of comics should be protected by the bubblewrap.
Take some newspaper and scrunch it up into a lining for the bottom end of the USPS Priority Box.
Slide the brick into the box.
Make two more scrunches of newspaper for the sides and end of the brick. There should not be much space inside the box, or the brick will be able to move around in transit too much.
If it is moving too much, then you need to add more scrunched newspaper between the brick and the walls of the box.

Remove the self-adhesive seal on the box flap and fold it snugly closed.
Finish by running tape along the outside of the flap for added protection.
The finished box should not make much noise when you shake it gently. It's okay for the brick to move about a tiny bit, but it should not be loose enough to bang around inside.
More than 14 books will make the box bulge out too much.

How to Ship Comics in a USPS Priority Envelope
These are the standard Priority Mail envelopes they give away at USPS offices.
Written instructions on how to ship comics in bags and boards:
You can ship 1-6 comic books in a USPS Priority Envelope.
Ensure all the comics are protected in bags and boards. Ideally the bags will not be taped closed, and the flaps will be loose.
Don't Cheap Out on Cardboard!
Your cardboard is the only thing protecting your comic books in transit.
The ideal size is 8.5 x 11 inches.
Do not use cardboard which already has creases or dents.
Do use fresh, new cardboard, ideally all pre-cut to size.

If you have to use old boxes, cut panels from areas without damage.
Fold all the flaps over so they wrap around the top of the stack. Secure with one piece of tape.
Rotate the stack and secure the opposite end with another piece of tape.
Take one piece of card. Tape the books to the card so they can't move about.
One piece of tape on each edge should be plenty.
Take another 1-3 pieces of card (you'll need more for smaller numbers of comic books) and place them on top of the books.
There should be card on both sides of the comics.
You don't need tape here. The Priority envelope will hold them securely.
Slide the sandwich of card into the envelope.
Seal the envelope closed using the self-adhesive seal on the flap.
Ensure a tight seal by pulling the flap snugly around the card before you remove the adhesive strip cover.

How to Ship CBCS or CGC Comic Books
If you have graded comics, then shipping those in the mail to a new owner is an important skill to master.
You need to protect the cases from damage. Cracking in transit is very common.
Written instructions on how to ship comics in CGC or CBCS holders:
If you need to ship 1-4 CGC-graded comic books, then unfortunately USPS doesn't have a free box you can use.
We use a 16 x 12 x 4 inch box purchased from Uline.
The good news is, you CAN get the padded mailers free from USPS. They supply bubble mailers for Priority shipments.
Each Priority mailer will fit up to two graded comics inside.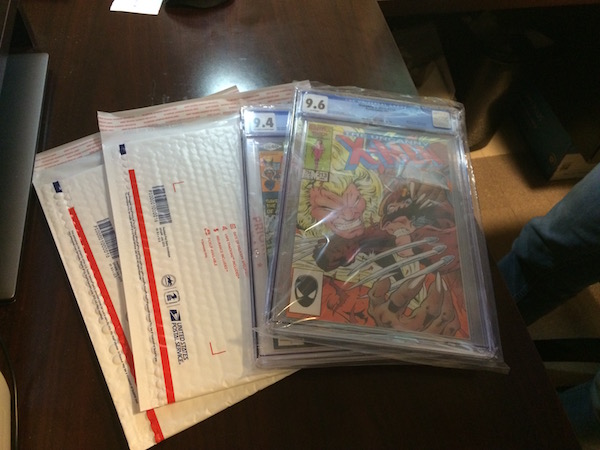 Two CGC comics will fit into one USPS Priority bubble mailer, if you're sending 3 or 4. But if you're sending two, use two bubble mailers
Slide your CGC comic book(s) into the padded mailer, and tape closed.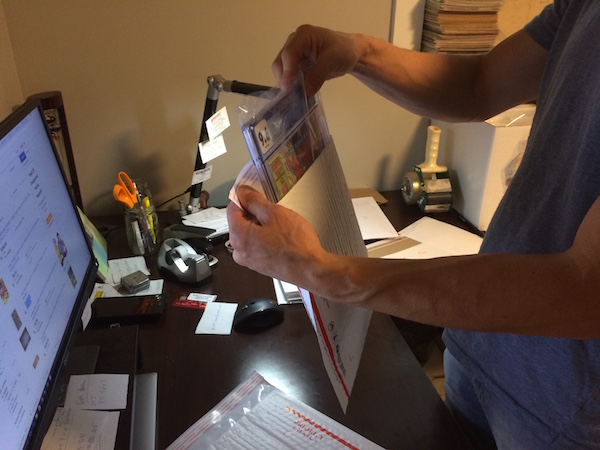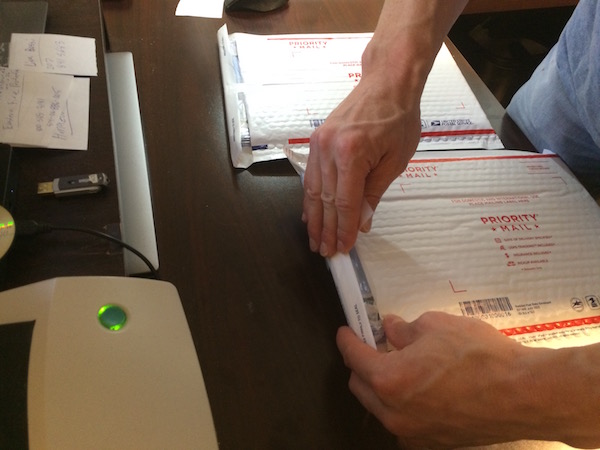 Assemble the box. Fill the bottom layer with packing peanuts, scrunched newspaper balls, or lots of bubblewrap.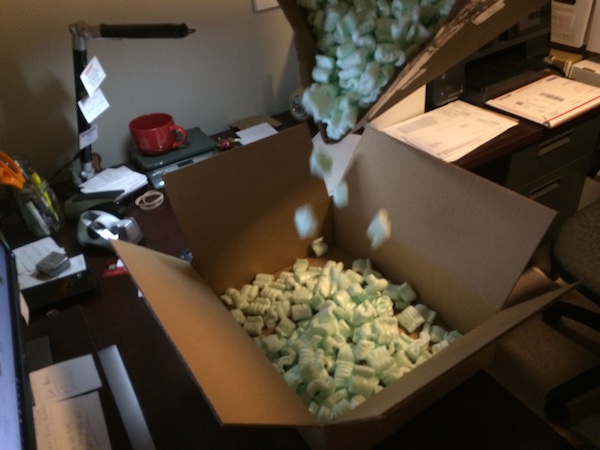 Lay the padded mailer on top of the layer of packaging.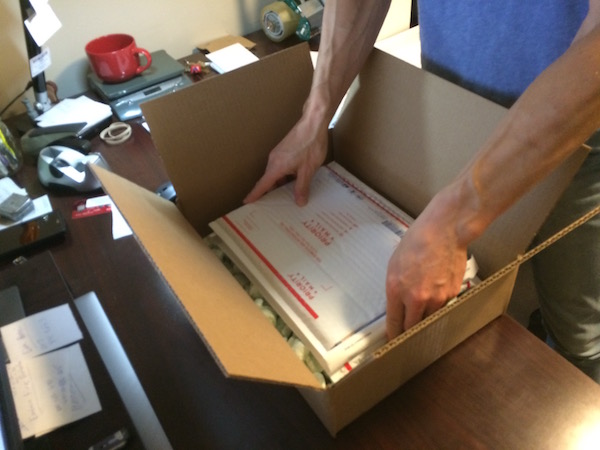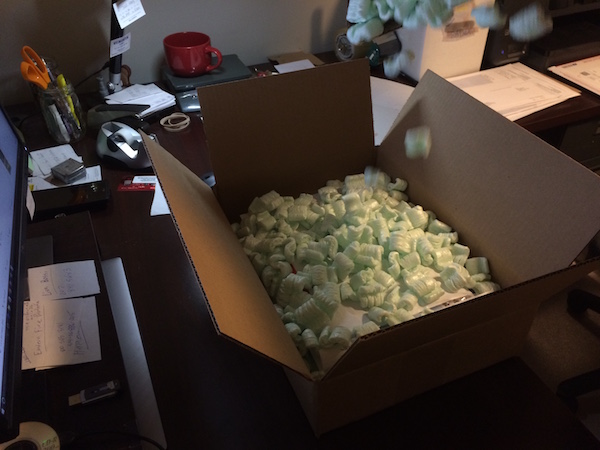 Cover the mailer with another layer. You want it to be slightly over-full. Fold the flaps closed on top of the box.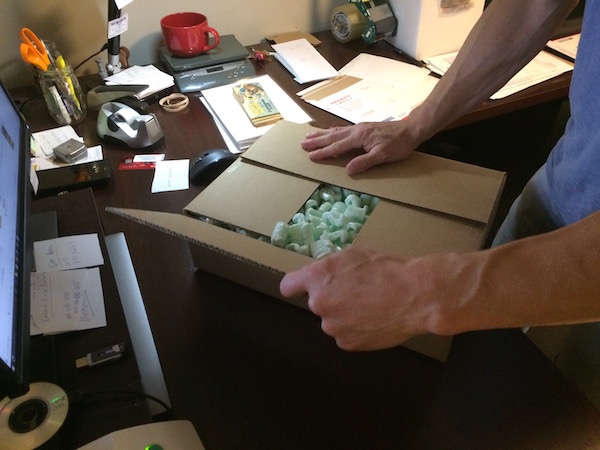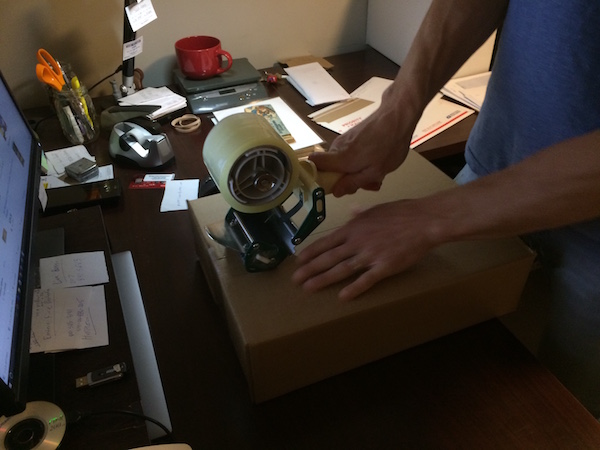 Because it's slightly too full, the packaging will hold the book snugly inside.
Tape the box securely closed.

How to Ship Comics Collections to Us

(Use the Same Process to Ship Large Amounts of Raw Comics)
Watch these videos on how to make your comics into bricks, and then how to pack the bricks you make into boxes.
Option 1) If Your Comics ARE ALREADY IN Bags and Boards
Option 2) If Your Comics ARE NOT IN Bags and Boards
If You're Feeling OVERWHELMED!!, Watch This Video for Inspiration
Once You Have Created the Bricks, How to Pack Them into Boxes
NEVER SHIP TO US WITHOUT AN AGREED PRICE. Contact us to discuss your collection BEFORE you ship.
IF YOUR COMICS ARE STORED IN COMIC BOXES, PLEASE WRITE BACK TO US, WE HAVE SPECIAL INSTRUCTIONS FOR LONG OR SHORT BOX SHIPMENTS.

You'll need to pack the comics securely in a box.
RULE ONE:
Tape is the enemy! It should go nowhere near old comic books.
So if your comic books are not in bags, you need to protect them from tape. This can be done by wrapping the stack of 40-60 books in a clean, dry shopping bag, or a giant freezer bag.
PLEASE DON'T: Put each comic in its own freezer bag, or wrap each comic in Saram wrap or wax paper.
Stack the comics in piles of 40-60 FIRST, and then cover them with some kind of clean, dry bag.
THEN wrap into a brick:
Place the stack of books inside the clean, dry shopping bag; then gently close it and wrap around with bubblewrap to make a 'brick'. Tape the bubblewrap closed securely.
Multiple bricks won't damage one another in transit.
WHEN PACKING THE FINAL BOX:
The most important points are to ensure there is space between the books and the corners of the box (most vulnerable to crushing damage), and that the space inside the box is padded out before you seal the box closed.
Place 'brick' inside the box and fill in any gaps inside the outer carton with more padding. Scrunched newspaper or packing peanuts are ideal.
HOW TO SHIP COMICS WHEN THE BOOKS ARE PACKED INTO BOXES TO SHIP:
1) Please use Fedex Ground with Signature Required;
2) Do NOT ask for insurance or be convinced to accept it. We have private insurance coverage for Fedex shipments with signature required on receipt.
3) After the books arrive, we will reimburse you the price of shipping when you send us a photo of the Fedex receipt.
We will have provided you with the address in your email.
How to Ship Comics in Long Boxes
Most comic book collectors store their books in long boxes.
With CARE and the right preparation, it's a perfectly safe way to ship comic book collections.
This video explains the how-to in detail.
Again, NEVER ship to us unless we have agreed a deal and paid you FIRST.