Hot Comics #55:
Batman 232, 1st Ra's al Ghul
UP 28 PLACES FROM LAST YEAR!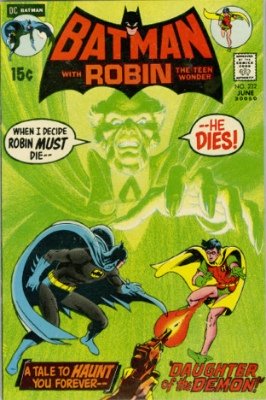 100 Hot Comics: Batman 232, 1st Ra's al Ghul, Neal Adams Cover. Click to order a copy at Goldin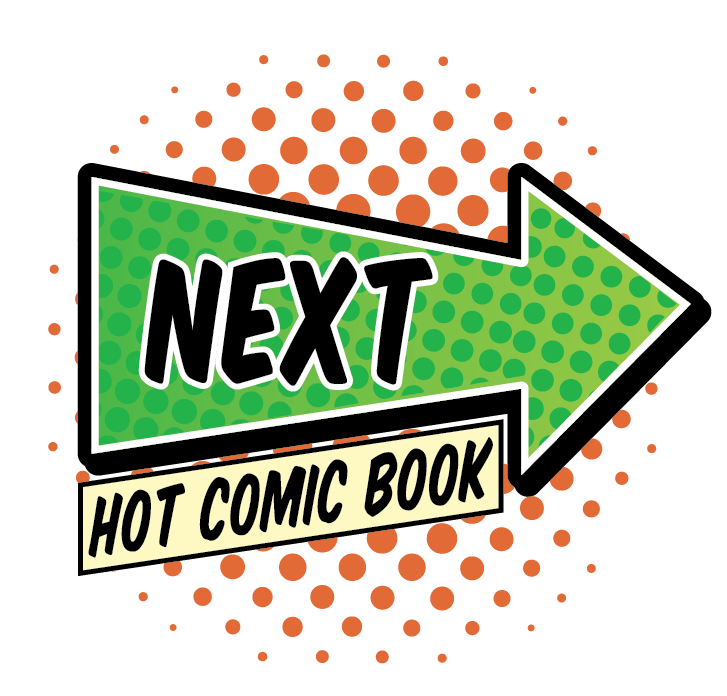 CLICK TO SEE THE NEXT HOT COMIC BOOK!
Why Batman 232 is a Hot Comic
2023 MARKET UPDATE: STILL INTEREST IN BATMAN KEYS
The sad death of Neal Adams injected life into his old Batman keys, including this one.
2022 MARKET UPDATE: CGC 9.8 MORE THAN DOUBLES THE RECORD SALE!
Yes, $18,000 for a 9.8 of this book! That's a pretty impressive number.
The gap to my chosen grade of 9.6 is now massive, with the most recent sale being $3,320 in 9.6. That's still about 45 percent up on this time last year. With such a big 9.8 sale the hope is that a 9.6 will rise to close the gap in a year or two. Maybe $5K is achievable.
Other grades saw mixed results, but the overall trend is upwards on this book.
Recent sales:
9.8 $18,000
9.6 $3,320
9.4 $2,200
9.2 $1,375
9.0 $1,035
8.5 $875
8.0 $835
7.5 $600
7.0 $650
6.5 $435
6.0 $590(!!)
5.5 $445
5.0 $520(!)
4.5 $400
4.0 $340
2021 MARKET UPDATE: MONSTER 9.8 SALE BUCKS THE TREND
Some lower-grade books made decent returns this year, but in common with most DC comics, things have been in decline for a while in the back issue world.
The huge 9.8 sale was a bright spot.
Recent sales:
9.8 $8,400
9.6 $2,075
9.4 $1,640
9.2 $1,100
9.0 $1,000
8.5 $780
8.0 $700
7.5 $615
7.0 $375 (low sale)
6.5 $420
6.0 $350
5.5 $310
5.0 $375(!!)
4.5 $255
4.0 $235
3.5 $240
3.0 $200
2.5 $195
IF YOU BOUGHT MY RECOMMENDED GRADE LAST YEAR:
Here's the bottom line.
CGC 9.6 2020 $2,019
LAST SALE $2,076
PERCENT CHANGE +1%
2020 MARKET UPDATE: HEADS OR TAILS?
Batman 232 is much like most DC comics this year; up in some grades but down in others.
It's also a little less hot this time around.
2019 MARKET UPDATE: 100 HOT COMICS NEW ENTRY!
Batman 232 is one of the DC Comic superhero's great back issues.
For a couple of years, Neal Adams was the hottest vintage artist, and all his back issues were in huge demand.
As usual, it was over-done, and prices across the board have fallen -- especially Detective Comics #400, which has dropped out of the Hot 100 list this year.
There are some compelling reasons to recommend a few of them this year, and Batman #232 is one of them.
The first reason is one I've already touched on. Adams' rendition of the evil Ra's al Ghul is a classic one, and in a hobby focusing more and more on cover art, this is a decent candidate for the top 10 Neal Adams covers.
The second reason is the first appearance of Batman's great foe. Ra's al Ghul has already been featured in movies, of course, so there seems little 'movie upside' in the price.
Finally, being hard-nosed about it, there is the price. Some of the profit-taking has been over-done, and now some grades are looking like a steal.
Lower grades have still seen falling prices, and even now this book is a hard one to predict.
Certainly other DC comics are cold as ice (even the first appearance of Mr. Freeze in Batman #121). If you spent big money investing in DC key issue comics in the past 18 months, then you're in the hole, big time.
CGC 9.6 has dropped in price by more than $500 in the past two years. With a difference of only $150 between the last 9.4 and 9.6 sales, that is where I would invest.
If you can't afford a $2,000 punt on this book, then the relatively affordable last sale of $585 for a CGC 8.0 would be a good alternative.
Here are some sales in other grades:
CGC 3.5 $199

CGC 4.5 $214

CGC 5.0 $304

CGC 6.0 $400

CGC 7.0 $368

CGC 9.0 $906
What to Invest In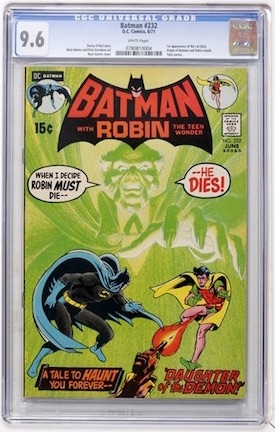 Look for a CGC 9.6 with white pages. Click to order a copy at Goldin
Have this book? Click to appraise its value NOW!
Related Pages on Sell My Comic Books
Most Valuable Comics of the Bronze Age (1970s)
First Appearance of Batman Villains List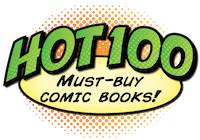 Click to return to the Hot 100 Investment Comic Books menu
Other Batman-Related Price Guides on SMCB