How to Sell Old Comic Books
How to Sell Old Comic Books FAST!
If you want to sell old comic books you've just found or inherited, then don't worry! We've got your back.

How Can You Sell Comics FAST?
Make a list THE FAST WAY (aka quick list)
Send the list to us here
We request images from your list
We provide you with a free appraisal or offer
We pay you
We provide easy shipping instructions
We've made it as easy as possible for you to turn comics into cash.
Follow along with the written instructions, or watch our new video guide.

How to Sell Old Comic Books Video Guide
Written Instructions on How to Sell Old Comic Books
Below is a typical mix-and-match collection, with something of everything...

Even figuring out what you have takes hours and hours.  Once you've done that, you are likely no closer to cashing in on your find.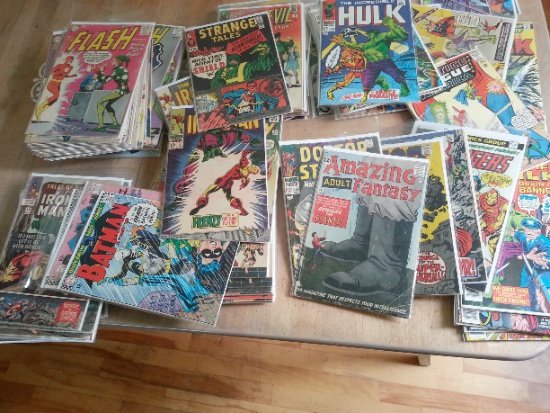 Organizing and appraising the value of an old comic collection
can be daunting!
We Buy Single Issues Too!
I had a wonderful experience selling a single golden age Superman issue to sellmycomicbooks.com. Ashley was knowledgeable, kind and incredibly efficient.
The whole thing was done online and from the first contact to me sending out the book it took less than 24 hours. Money was in my account that night!
It's a reliable and easy way to sell comics that I hope to utilize again. Also browse around the site for awesome lists of valuable comics to keep an eye out for. Really good stuff!
- Mike from Minnesota
How are you going to get your money out...?
Will you sell them all yourself, one by one?
That's a full-time job. And it can take months to sell an old comic book collection. You have to learn how to grade comic books, take pictures, list them on eBay, collect your payments, then pack and ship and deal with returns...

YIKES! What's Plan B?!


Will you walk into a comic book store and ask for an offer?
Only if you like PENNIES ON THE DOLLAR! (You might as well wear a T-shirt that says "Please rip me off" if you do that!)
Isn't there a better way?
And what if you need the cash quickly?
Luckily, we have designed a foolproof 1-2-3 way to quickly 'list' your comic books.
The instructions are below, and really easy to follow.
Once you've done this, get in touch and we'll ask the questions to get you on your way to selling your old comic books.
Step One: Sorting Your Books by Title
You'll need a large, clean dining table, workbench, or other flat surface.
Begin stacking the books by title.
Examples of the title are:
Amazing Spider-Man
Invincible Iron Man
Marvel Spotlight
Batman
Brave and the Bold
X-Men/Uncanny X-Men
etc.
NOT "Marvel Comics Group" or "DC Comics". This is the name of the publisher, not the title.
If you aren't sure of the title, put the books you are confused about to one side for sorting later. We can help you to identify any difficult ones.
Once you've done stacking the books, you should have lots of different piles of comic books, all arranged by title. See below.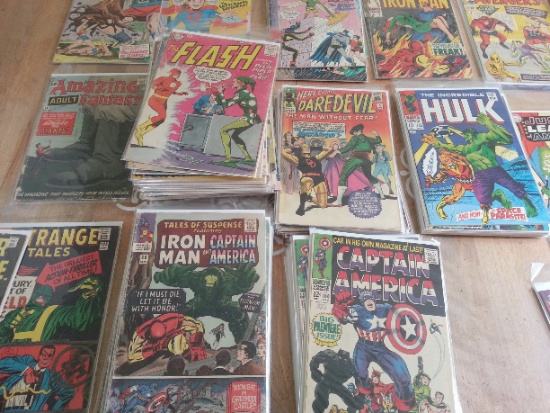 This is how your collection should look when you've sorted it
into piles of each title.
Step Two: Making Your Quicklist
Now you sort the title stacks by issue number.
Marvel Comics are easier to identify, because the issue #s are very clearly displayed.
The number is in a little box with the month underneath it or above, like this: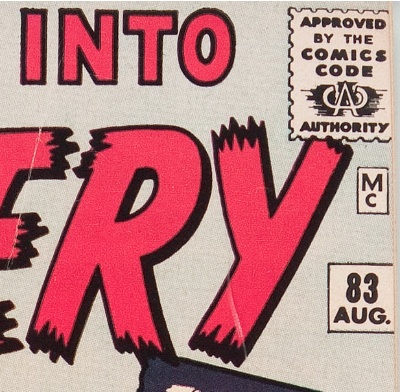 Marvel comic books always have the issue # in a square or rectangle with a white background and the month. They are very easy to see. In this example, it's #83.
Usually the issue # appears at the top right of the book.
But in some issues, it can appear at the top left: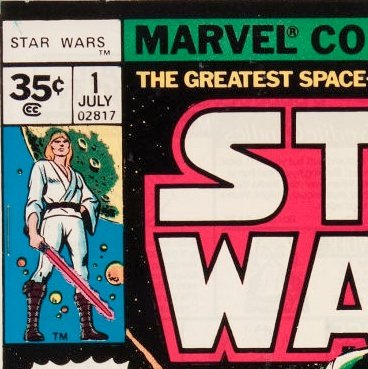 Very rarely, Marvel Comics have the issue # in a random place.
Here are examples from early issues of the Fantastic Four, showing issue #s not in boxes and randomly placed, but always on the front cover:
DC Comics are a little harder to identify, because they printed the issue #s in very small black or white numerals.
The month of publication is almost always right above or beside the issue #.
If the comic book cover is a darker color like purple or blue, it can be hard to see them!
If you have poor eyesight, or are working in dim lighting, it can be frustrating try to see make them out. Sometimes it's easier to look for the month and find the issue # next to it.
When DC printed issue #s on a pale background, it is usually pretty easy to read them.

Darker backgrounds make it more difficult to identify a DC Comics issue #. Note the month not in a box.

Sometimes the month did not appear in a box. This background is quite easy to read...

...But the dark purple background with black text here is a good example of some old DC issues hard to identify.

This picture is a perfect cover scan. When you're holding the book, often the gloss will reflect light and make it harder to read.
Next: Sorting Your Old Comic Books into Order
Now it's time to sort them into the correct order. Put the lowest number at the top of the stack and the highest number at the bottom.
Example: if you have Amazing Spider-Man 14, 22, 51, 78, 121, then #14 should be the first one you see and #121 should be at the bottom.
Here's an example, showing issues of The Flash with the lowest # uppermost: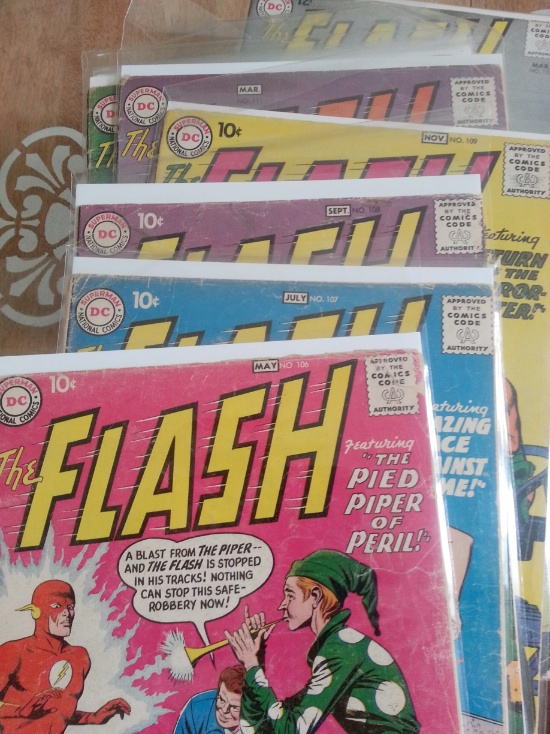 A pile of The Flash (the title), sorted by issue # (the small number in numerals near the top of each book) in order, with the lowest on top and the highest at the bottom.
What to Do With Annuals and Specials?
It's easy to get confused by special editions. Marvel Comics, in particular, released lots of annuals and specials. Here are some examples of the extra words in their titles:
Giant-Size
King-Size
Annual (these sometimes have a year, but usually just have an issue number)
Marvel published many special editions and summer specials, or annuals for the Christmas market.
Here's Giant-Size X-Men #1.

Almost every popular Marvel series included annuals every year.
Oddly, sometimes these are called King-Size without mention of "Annual", as with Fantastic Four Annual #5.

This Journey Into Mystery Annual #1 more helpfully includes the word "Annual" at the top, next to King-Size.

DC Comics also published some annuals, though not as many as Marvel.
They are usually much easier to recognize -- "ANNUAL" is pretty obvious here!
Found some annuals or King-Size / Giant-Size issues?
You should stack these special issues at the bottom of the pile of the same superhero issues. See below.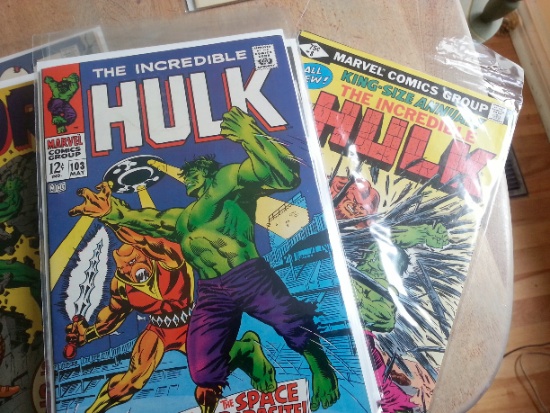 Stack Annuals and over-size special editions at the bottom
of the same hero's stack.
Now you're ready to make your super-quick list.
Use a Word File or Spreadsheet For Your List
It's worth the extra effort.
Open a word document or spreadsheet file.
You simply write the issue name, lowest number, dash, and then highest number.
Note any annuals or Giant-Size/King-Size afterwards.
Example:
Amazing Spider-Man 14-121, Annual 3
Iron Man 7-55
X-Men 3-181, Giant Size 1
etc.
Step Three: Send us Your Quicklist
Now click here to send us your quicklist. We'll ask you any questions we might have about the comic books, then request some photos.
We'll let you know right away if the books are not of interest to us.
1-2-3 Saves You HOURS of Time When You Sell Old Comic Books!
Why use the quick list method to sell old comic books?
Two reasons:
1) Most comic books don't have a lot of value. There are key issues (important first appearances, or landmark storylines) which are worth way more than the average. If those are present, then your collection is worth more, and if not, it's worth much less.
2) Listing every single comic takes forever. We get endless lists from people who have taken days to make a detailed inventory. Usually, that's a waste of your time.
In seconds, we can look at your quick list and decide whether or not your collection has significant value. If we like the look of the quick list, then we can advise you to give us more detail.
Equally, taking photos is very time-consuming.
Why take 100 photos, when we can simply ask for the few pictures we need after viewing your quick list?


Want to Sell Old Comic Books to Us?
Here's How it Works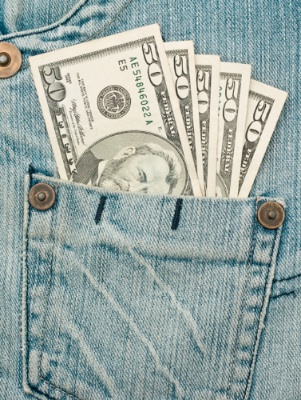 Once we know what you have, and have seen some pictures, we'll make you the BASIC offer.
The BASIC offer is the MINIMUM you will get paid for your books, so you can get a sense of the least your collection is worth.
If you like our price, then we'll send you either full payment on the BASIC offer, or a deposit. This depends on how big (and expensive) the collection is.
Next, we'll arrange for Fedex to pick up your books at our expense. (For very valuable collections, we'll travel to you.)
Once they arrive, we'll examine the collection and make our ADJUSTED offer.
Unless there was a problem of some sort (such as a key issue missing pages, or defaced in some way), this is always more money than the BASIC offer.
We'll send you the final payment for the collection. This is the difference between the BASIC and ADJUSTED offers.
Example:
We look at your list, request photos, and settle on a BASIC offer of $5,000.
We send this money via Paypal and have Fedex pick up the books. (You should take care to pack them securely.)
The books arrive. We examine them, check for missing pages etc. We notice that several of the better issues are in nicer shape than we could tell from the photos.
We make our ADJUSTED offer of a further $2,000. We send this final payment via Paypal.
Congratulations! You've successfully sold your old comic books.
Why Sell Old Comic Books to Us?
We treat you fairly, and with respect, at all times. We know that the decision to sell old comic books can sometimes be a tough one to make, due to a cash crunch, and that your books may have sentimental as well as financial value.
We settle up quickly, and pay using the method which suits you best. Cash, wire transfer, certified check, Paypal, Moneygram or Western Union are all possible.
We pay shipping and handling, and arrange to collect from your home or office.
Our customer service is second to none. See our testimonials.
This is not all about money for us -- we LOVE old comics!
Questions?
Please get in touch via email here, or call us on 514 803 0635 (EST).
Other Sell Old Comic Book Articles
These other articles on our site will also help you to sell old comic books.