100 Hot Comics #6: Vampirella 1
UP 24 PLACES FROM LAST YEAR!
100 Hot Comics: Vampirella 1. Click to order a copy from Goldin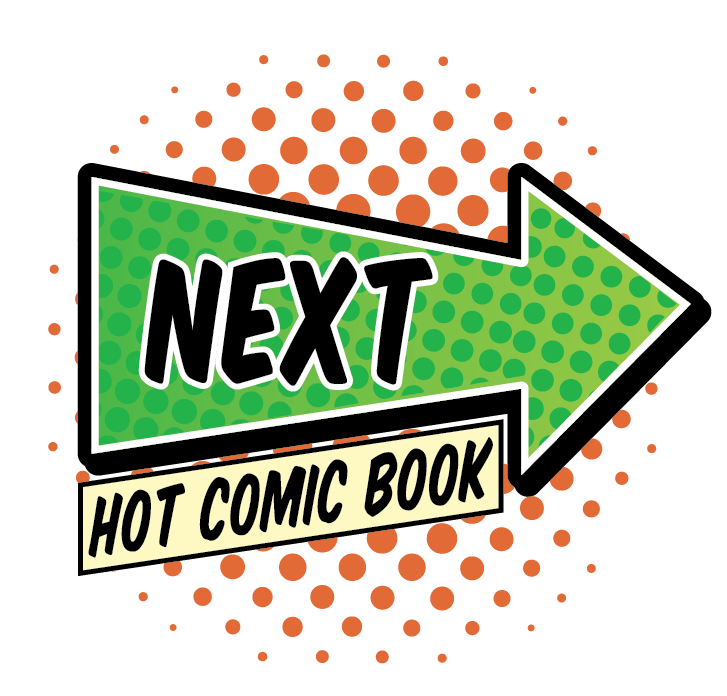 CLICK TO SEE THE NEXT HOT COMIC BOOK!
Why Vampirella 1 is a Hot Comic
2023 MARKET UPDATE: TOP TEN FOR VAMPI!
Over $20K for a CGC 9.6 is a huge new sale, and the good news for Vampi fans doesn't end there.
Only held back from the very top of this list by the low volume of sales.
Great news if you're holding this book.
2022 MARKET UPDATE: TV MADE HER
This time last year, I was worried that Vampi was going to slip straight off the list. Prices were in freefall.
Then the property was optioned for TV and movies, and things turned 180!
Prices have mostly doubled or more since this time last year. It's still a niche book, but if the move towards horror titles continues to gain momentum, then you'd be happy to have a few copies of this.
Recent sales:
9.2 $5,280



9.0 $4,560
8.5 $3,500
8.0 $2,040
7.5 $1,850
7.0 $1,700
6.5 $1,350
6.0 $1,435
5.5 $980

4.5 $650



4.0 $800(!!)
3.5 $1,050 (OMG)
2.0 $410
2021 MARKET UPDATE: 
The best return this year was in CGC 9.4. However, though the book saw increases in many higher grades, overall it was less hot this year.
Recent sales:
9.4 $7,200



9.2 $3,505
9.0 $2,180
8.5 $1,600
8.0 $1,320
7.5 $1,030
7.0 $735
6.5 $725
6.0 $750
5.5 $580
5.0 $425
4.5 $410
4.0 $355
3.5 $500(!!)
IF YOU BOUGHT MY RECOMMENDED GRADE LAST YEAR:
Here's the bottom line.
CGC 9.0 2020 $2,092
LAST SALE $2,182
PERCENT CHANGE +8%
2020 MARKET UPDATE: VAMPIRELLA BITES IF NOT HIGH GRADE
Vampirella 1 is a book of two stories: lower grade and high grade.
There are so many copies available lower down that prices have actually softened this year. But in higher grade, from 9.0 and up, it's on fire.
I am now changing my recommendation. You should buy a Vampirella #1 in CGC 9.0 or higher. I'll use 9.0 as the new benchmark for now at the last sale price of $1,750.
Recent sales:
9.6 $7,878
9.4 $5,000
9.2 $2,499
9.0 $1,750
8.5 $920
8.0 $790
7.5 $824(!)
7.0 $600
6.5 $595
6.0 $500
5.5 $566
5.0 $300
4.5 $344(!!)
4.0 $285
3.5 $200
2019 MARKET UPDATE: NEW ON THE 100 HOT COMICS LIST!
Vampirella 1 is one of the Warren/Curtis magazine group's experiments, and this was by far the most successful.
The Comics Code Authority stamp continued to appear on the front of comic books well into the 1970s. The Code was responsible for (effectively) censorship of comics: certain imagery, language, even words or phrases in titles of books, were not allowed.
Marvel challenged the legality of the Comics Code for content published in magazines. It was decreed that magazines were not subject to the Code's authority.
The response was a series of black and white comic books published in magazine format. Vampirella was the beginning, with perhaps the most famous issue of all being Savage Tales #1 of 1971, which introduced Man-Thing.
I am not aware of any reason why Vampi #1 is suddenly hotter. It could be a case of a rising tide lifting all boats; or there might be rumor about a movie or TV treatment.
Sometimes with the 100 Hot Comics list, it's easier for me to avoid speculation and just report my findings. I'll leave it up to you to figure out whether the WHY is important or not.
What to Invest In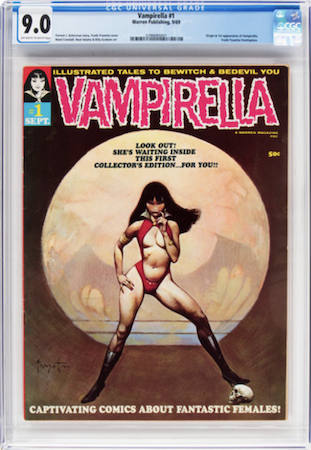 Hot Comics: Vampirella 1. Look for CGC 9.0. Click to order a copy from Goldin
Prices are all over the place on this book!
It's likely that sellers have no idea what to price it at, and this can create opportunity for the smart buyer. But don't fall into the trap of snapping up the first decent copy you see -- other people doing so is the only explanation for the prices I'm seeing.
Here are some recent sales:
CGC 4.5 $216
CGC 6.5 $650
CGC 7.0 $660
CGC 7.5 $550 (!)
CGC 8.5 $1,149
CGC 9.0 $1,560
Looking at these results, the value seems to be around the VF range -- aim for a repeat of that 7.5 price and you'll be in good shape.
This is the kind of book which gets listed as buy it now or best offer. You can always request a free comic book appraisal from us if you don't know how much to bid.
Have this book? Click to appraise its value NOW!
Related Pages on Sell My Comic Books
Top Horror Comic Books by Value
Best Horror Comics -- Goriest and Most Extreme 1950s Horror!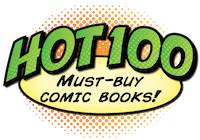 Click to return to the Hot 100 Investment Comic Books menu