100 Hot Comics #13:
Fantastic Four 5, 1st Doctor Doom
UP 12 PLACES FROM LAST YEAR!
NOTE: We use eBay to provide references to live prices of comic books. Clicking a text link or image marked 'Check live prices' will take you to eBay.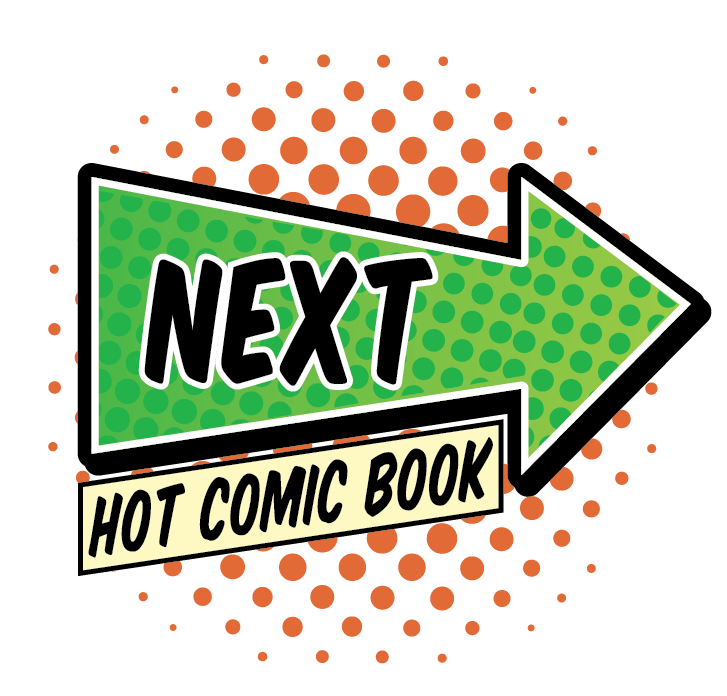 Why Fantastic Four 5 is a Hot Comic
2021 MARKET UPDATE: DOOM AND SUB-MARINER TEAM UP ON THE WAY
If you've patiently waited on the sidelines for this book to cool off, then shame on you, you've missed some spectacular gains.
The increases to Fantastic Four #6 (team-up with Doom and Subbie) have cemented the belief that they will appear together in the FF Homecoming Marvel movie.
This is the hottest book of the early FF run. Recent sales:
9.4 $84,665
9.2 $72,000 (new record!)

9.0 $27,600
8.0 $24,000 (new record!)

7.0 $14,800 (new record!)

6.5 $11,400 (new record!)
6.0 $7,950 (yes, really)
5.5 $8,000 (yes, really)

4.0 $6,800 (OMG)



3.5 $5,650
3.0 $5,015
2.5 $4,000
2.0 $2,700
1.8 $4,000 (WHAT!)
1.5 $3,000 (!!)
1.0 $2,700
IF YOU BOUGHT MY RECOMMENDED GRADE LAST YEAR:
Here's the bottom line.
CGC 5.0 2020 $5,170
LAST SALE $7,000
PERCENT CHANGE +35%
2020 MARKET UPDATE: BIG GAINS POSTED IN MANY GRADES!
My tip for a Fantastic Four 5 grade makes me look like an idiot.
In a winning market, I picked the only "bad" grade. But in fairness to me, the last sale of a 5.0 was back in July 2019.
Since then, a 4.5 has sold for $6,000. I expect a 5.0 to sell for $6,400 or so, which would make me look smart again.
Many other grades of Fantastic Four 5 have posted new record sales. Especially at the top end of the scale.
Here are recent results:
9.2 $55,200 (new record!)

9.0 $28,500 (new record!)
8.0 $22,500 (new record!)

7.0 $8,100

6.5 $8,700 (new record!)
6.0 $5,880
5.5 $5,850
4.5 $6,000

4.0 $4,578
3.5 $3,778
3.0 $2,900
2.5 $2,500
2.0 $2,175
1.8 $2,097
1.5 $1,890
1.0 $2,300(!!)
2019 MARKET UPDATE: DOOM TAKES FLIGHT!
Big increases on Fantastic Four 5 all year since I tipped it. I am feeling pretty smug in general about the Fantastic Four comic books I tipped a year ago...
Though in fairness, I did say I thought this was more of a hold than a buy. So hopefully you didn't sell yours if you had one last time around.
Here are sales in the same grades as last year. This book is roasting.
I'm going to continue saying hold this until the FF movie is official.
CGC 7.5 $12,000

CGC 7.0 $9,476

CGC 6.5 $6,600

CGC 6.0 $5,822
CGC 5.0 $5,100

CGC 4.0 $4,155
CGC 3.5 $3,360

CGC 2.0 $1,876

CGC 1.5 $1,500
2018 MARKET UPDATE: A SLOW AND STEADY DOOM APPRECIATION
This year has seen (finally!) the first FF book heating up after years in the doldrums. It's brought others in the series along for the ride, including this first appearance of Dr. Doom.
Other FF books on the hot list:
Fantastic Four #1 | Fantastic Four #4 | Fantastic Four #48 | Fantastic Four #52
This book was feeling expensive to me a year ago, but steady if not spectacular gains have been seen at most grade levels.
To me, it feels like more of a hold than a buy. There are better percentage gains to be had elsewhere. Here are recent sales:
CGC 8.5 $10,700

CGC 7.5 $5,000
CGC 7.0 $3,900

CGC 6.5 $6,000 (!!)

CGC 6.0 $4,000 (!!)
CGC 5.0 $2,600

CGC 4.0 $1,450
CGC 3.5 $1,430

CGC 2.0 $1,300 (!!)

CGC 1.5 $750
2017 MARKET UPDATE:
A huge sale of $44,500 for a CGC 9.4 copy is the big news in this book's market. But what about the rest of us mere mortals? What about the books we can afford?
Typical to most Fantastic Four comic books, prices are not consistent. One grade will be up, and another down. However, overall there is more interest in this book than last year, so it's still on the Hot 100.
(The reason Fantastic Four #1 is not? It's simply stone cold.)
CGC 9.4 $44,500

CGC 9.2 $19,500

CGC 8.5 $9,700

CGC 7.0 $4,300

CGC 6.5 $2,400

CGC 6.0 $2,400
CGC 5.0 $1,890

CGC 4.0 $1,500
CGC 3.5 $1,100

CGC 2.0 $730

CGC 0.5 $300
Doctor Doom. After Doctor Who, perhaps the most compelling sci-fi Doctor of all time.
Pity the attempts at an FF movie have always fallen so flat. Not even Doom can rescue this franchise, which has been rebooted badly as recently as 2015.
It desperately needs a great script, hot director and big marketing push to rescue the best super-team of all, and don't forget the one which began the Marvel Age of Comics.
Our tip? Doom is too cool a character to not cross over into other Marvel Cinematic Universe properties. Time will tell, but prices on this book have began to uptick as speculation runs rife.
What to Invest In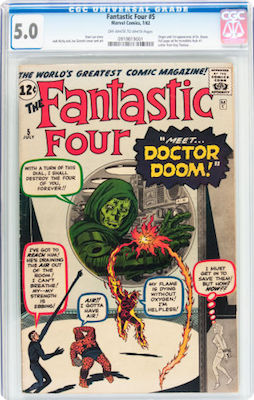 Fantastic Four #5 is so often beaten to heck when we buy it. Look for a really clean CGC 5.0 copy. They cost about 50 percent more than a 2.5 but look SO much nicer. Click to buy one
Have this book? Click to appraise its value NOW!

Related Pages on Sell My Comic Books
Fantastic Four Comic Book Price Guide
Origin and First Appearance of Doctor Doom
List of Most Valuable Silver Age Comic Books
Other Fantastic Four comics on the 100 Hot Comics list:
FF #1 | FF #4 | FF #48, 49 and 50 | Fantastic Four #52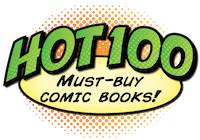 Click to return to the Hot 100 Investment Comic Books menu
Go from Fantastic Four 5 to the 100 Hot Comics menu