Price Guide for Blondie Comics
Chick Young's Blondie Comics Values
Comics like the Blondie series have not been especially sought-after by collectors, and are often looked-down-on by superhero comic collectors.
But their values, especially for the earlier Golden Age issues, are considerable.
The McKay/King run of Chic Young's Blondie, and the early Harvey issues of Blondie Comics Monthly and Chic Young's Dagwood Comics often change hands for several hundred dollars.
Have Your Blondies Valued!
If you've got some old issues of Blondie (especially from the Golden Age), then click here to have them valued FREE by Sell My Comic Books!
Blondie Comics #1 (March 1947)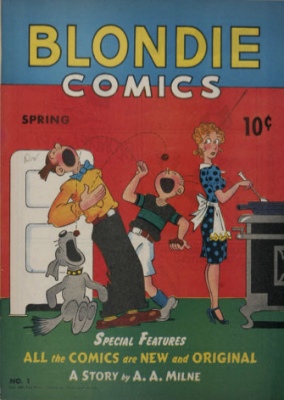 Blondie Comics #1
Record sale: $1,130
Minimum value (poor but complete): $20
Chic Young didn't supply the artwork for any Blondie comic books. Let's get that straight from the beginning.
In fact, by 1950, failing eyesight compelled him to abandon drawing even the daily Blondie strip.
His longtime assistant Jim Raymond took over all the art duties at that point, without credit or a byline. While all of the early Blondie issues are credited, for writing and art, to Chic Young, it was almost certainly never his work. 
Early issues of Blondie Comics may have been drawn by Jim Raymond, or by Paul Fung, Jr., who had begun working as another of Young's assistants in 1949.
There is little documentation either way, although in his own bio, Mr. Fung says that he drew the Blondie comic book for "40+ years," which is 12 years longer than the comic actually ran.
Either way, the comic book format was a good one for Blondie, with more room for Dagwood's crazy bumbling and more space for illustrating his giant sandwiches.  
Blondie Comics #1 also contained a short story (in non-comic form) by Winnie-the-Pooh author A. A. Milne as a backup feature, a practice that would continue through #6, when it would switch to a Paul Bunyan story. Later, the backup short stories would be eliminated altogether.
There are not many copies of BC #1 around. Only nine unrestored copies are graded by CGC at present.
Blondie Comics Monthly #16 (March 1950): 1st Harvey Issue
Blondie #16
Record sale: $200
Minimum value (poor but complete): $5
With Blondie #16, the comic moved to Harvey Publications, and to a monthly publication schedule.
The contents remained the same, and by this time there is no doubt that Paul Fung, Jr., was the artist.
Original artwork of his from the early Harvey period has turned up on eBay, confirming that he drew these comics. 
The values aren't generally astronomical for these, unless they are in top condition, and since few turn up in that state, when they do, they fetch a nice price.
Dagwood Comics #1 (1950): Dagwood Gets His Own Title
Dagwood Comics #1
Record sale: $528
Minimum value (poor but complete): $5
For some reason, Dagwood Comics seem to have a higher value than Blondie issues.
Functionally, there was really no difference. Dagwood was the star of both titles, and the addition of Dagwood Comics to Harvey's line in December of 1950 essentially just doubled the monthly amount of Blondie product that was available for purchase.
Harvey was well-known for that strategy. Take a look sometime at the number of different Richie Rich titles they ran sometime if you don't believe it. 
In any case, Dagwood Comics #1 provided Blondie fans with more of the same thing they already liked, and it would run for 140 issues, alongside Blondie Comics, for the entirety of the Harvey era.
King Comics did not pick up the title, and by the Charlton years there was no question about adding an extra Blondie title. Had there been a market, Charlton would have seized the day.
Blondie Comics #164 (August 1966): 1st King Comics Issue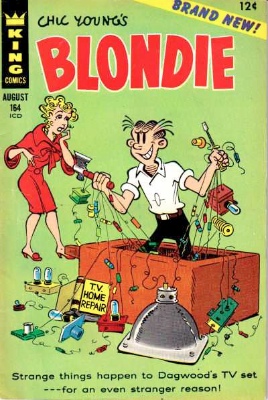 Blondie Comics #164
Record sale: $65
Minimum value (poor but complete): $1
The King Comics era was short-lived, publishing only 12 issues of Blondie.
Starting with Blondie #164. Paul Fung, Jr. still held down the fort, and things went on much like they had before, except now there was only the Blondie title remaining.
Copies of King-Comics-era Blondie are not especially valuable, even in good condition. By the Silver Age, this sort of thing just didn't work any longer for the comic-buying public, as the comic-buying audience grew older.
And the little kids, by the mid-1960s, found Blondie to be hopelessly out of style. The comics were as good as ever, and do have their charms.
Blondie #171 (August 1967) features a cover depicting Blondie and Dagwood out for a stroll, with Blondie in a "groovy" op-art mini-dress, and Dagwood in a matching op-art bowling shirt.
Blondie Comics #177 (February 1969): 1st Charlton Issue
Blondie #177
Record sale: $50
Minimum value (poor but complete): $1
Charlton Comics had their ups and downs, and while their superhero comics never quite took off the way their competitors' did at Marvel and DC, and they adopted a low-budget style as a result.
It worked, keeping things (mostly) in the black for most of their 40-year publishing history. 
Charlton acquired Blondie at the beginning of their end, really. By the 1970s, Charlton was in financial trouble, in spite of their legendary cheapness.
Blondie was perfect for them, really: it was cheap to produce, and had a daily advertisement in the form of the newspaper version of Blondie to draw people to it.
Of course, audiences for this sort of comic book were dwindling by 1969, but Charlton made a pretty good effort. 
Paul Fung, Jr., remained with Blondie, by this time at least occasionally getting a credit. There are few examples from this era in top condition, since the now-younger audience were not the type to keep their comics in good shape.
Copies of Blondie #177 don't bring in a mint, but are definitely worth selling, if you can find a Blondie collector.
History of Blondie Comics
The relationship between comic books and their progenitors, the newspaper comic strips, is a strange one, to say the least. The first suitable adjective for describing that relationship that comes to mind is "incestuous."
If your first surprise of the day was seeing the word "incestuous" in an article about Blondie Comics, here's your second: Blondie Comics, especially from the Golden Age, can have significant value.
And while they may never rival Action Comics #1, or even Action Comics #100, they can still fetch hundreds of dollars in top condition.
Chic Young started Blondie as a newspaper strip in 1930, distributed by King Features. The strip began its life documenting the misadventures of a ditzy-but-shapely young flapper named Blondie Boopadoop.
Blondie and Dagwood Family #1
Blondie, for the first three years of the strip, spent her time in dance halls and speakeasies. Her boyfriend, Dagwood Bumstead, was the son of a millionaire industrialist.
At that point, Dagwood was something of a stiff, a "stuffed shirt" type of character, and was the straight man in the strip while Blondie got the gags.  Hence, the strip's title. For all those modern readers who wondered why this strip was named for Blondie and not Dagwood, this should help clear things up.
After young Ms. Boopadoop became Mrs. Bumstead in 1933, things changed. Dagwood's parents disapproved of his marriage to a flapper, and disinherited him.
The newlywed Mr. and Mrs. Bumstead were destined forevermore to be firmly in the middle class.
Perhaps more importantly, after the marriage, a gradual exchange took place between the two characters, with Blondie becoming the sensible, stay-at-home type of housewife and straight woman, while Dagwood became the bumbling, sandwich-crazy source of the strip's humor.
By that time, however, it was too late to change the name of the strip, which was wildly popular, so popular that it had inspired a series of 18 screwball comedy B-films, and a radio show that ran for ten years.
By the time that Chic Young had decided to bring Blondie into the comic book world in 1947, the Bumsteads had two children, a son named Alexander (also known as "Baby Dumpling") and a daughter, named Cookie.
The first proper Blondie comic book would come through David McKay Publications, one of the first comic book publishers, who had been publishing reprint collections of several different King Features strips for ten years by that point.
Chic Young's Blondie lasted 15 issues as a bi-monthly David McKay/King Comics (no relation to the later King Comics) production.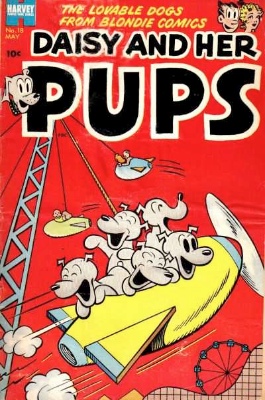 Daisy and her Pups was another spin-off title


In 1950, Young transferred the rights to Harvey Comics, who ran Blondie Comics Monthly for 148 issues, and Chic Young's Dagwood Comics for 140 issues.
Along the way, there was even a comic about the Bumstead family dog and her litter of puppies, called Daisy and Her Pups, that ran for 18 issues.
The 1950s and early 1960s were the real boom time for Harvey, and Blondie was a profitable franchise for them.
Harvey's contract with Young and King Features ended in 1965, and for a year, from 1966 to 1967, Chic Young's Blondie ran under King's new and short-lived comic book imprint, King Comics, as a continuation of Harvey's Blondie Monthly.
After only 12 issues, King Comics was kaput, and the rights went to Charlton Comics in 1969, who would continue that comic under the title Blondie Comics until 1976, when, with issue #222, the era of Blondie comic books ended.
Charlton was in financial trouble by then, and the popularity of domestic humor-themed comic books based on newspaper comic strips was, kindly put, on the wane by then.
More of our Comic Price Guides