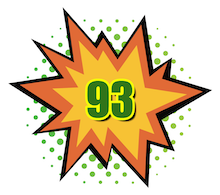 Hot Comics 2022 #93: Marvel Spotlight 2, 1st Werewolf by Night
DOWN 36 PLACES FROM LAST YEAR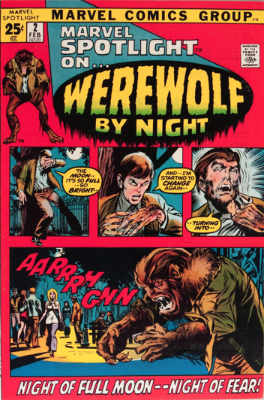 100 Hot Comics: Marvel Spotlight 2, 1st Werewolf by Night. Click to order a copy at Goldin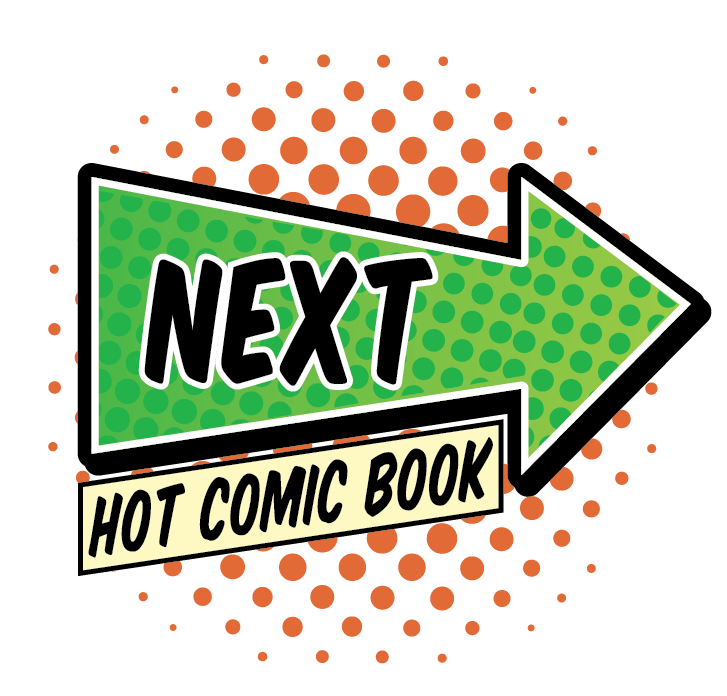 CLICK TO SEE THE NEXT HOT COMIC BOOK!
Why Marvel Spotlight 2 is a Hot Comic
2023 MARKET UPDATE: MARVEL HORROR BOOKS SLASHED
For a while, 1970s Marvel horror comics were all the rage, with Moon Knight's TV series and the Legion of Monsters, Morbius and more dominating new MCU releases.
Well, that ship seems to have sailed!
This book is still tough in high grade, and I think it's a decent long-term hold. Not hot, at least nowhere near as hot as it once was.
The interest in all things Marvel horror is picking up. First we had the Moon Knight TV series, then excitement for the Morbius movie, then all the fuss about Legion of Monsters.
Werewolf by Night #32 is a massive key and way higher on the Hot 100 list. But this tough, tough book with its red "picture frame" cover has been under-valued for years, and finally people have smartened up and realized that it needs to be respected.
When they come into the office, the average grade of this book is about 5.0. A nice one is worth tracking down. Werewolf by Night will surely have his own show or movie soon.
What to Invest In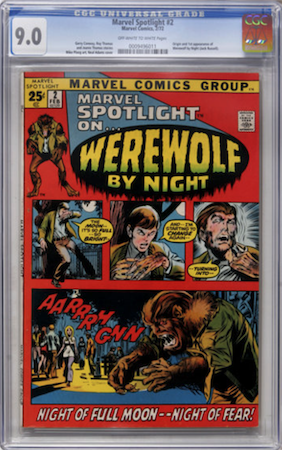 A CGC 9.0 of Marvel Spotlight #2 will present very nicely in that blood red cover, and set you apart from the crowd selling junky copies. Click to buy a copy from Goldin
While it's not cheap, I think a CGC 9.0 is the value proposition here. Higher grades are north of $2K -- there is a single CGC 9.8 in the census, which when it changes hands will command a massive premium.
The usual scramble between 5.0 and 7.5 isn't pretty. Set yourself above that rabble and demand a really nicely centered VF-NM with OWW or White pages.
9.6 $14,000
9.4 $4,330
9.2 $2,640
9.0 $1,610
8.5 $1,130
8.0 $1,000
7.5 $835
7.0 $725
6.5 $650
6.0 $550
5.5 $600(!)
5.0 $410
4.5 $425
4.0 $400
3.5 $210
A "picture frame" cover describes the border around the central image on the front cover. It's prone to wear, and so high-grade unblemished fronts of picture frame covers are tough to find.
Have this book? Click to appraise its value NOW!
Click Here to Get Your Free Appraisal or Consign Your Books to Auction!
Related Pages on Sell My Comic Books
Werewolf by Night Comics Price Guide
Most Expensive Comics of the 1970s (Bronze Age)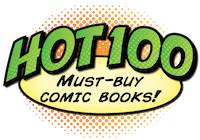 Click to return to the Hot 100 Investment Comic Books menu