Hot Comics #58:
Avengers 1, 1st Appearance of the Super-Team
DOWN 11 PLACES FROM LAST YEAR
NOTE: We use eBay to provide references to live prices of comic books. Clicking a text link or image marked 'Check live prices' will take you to eBay.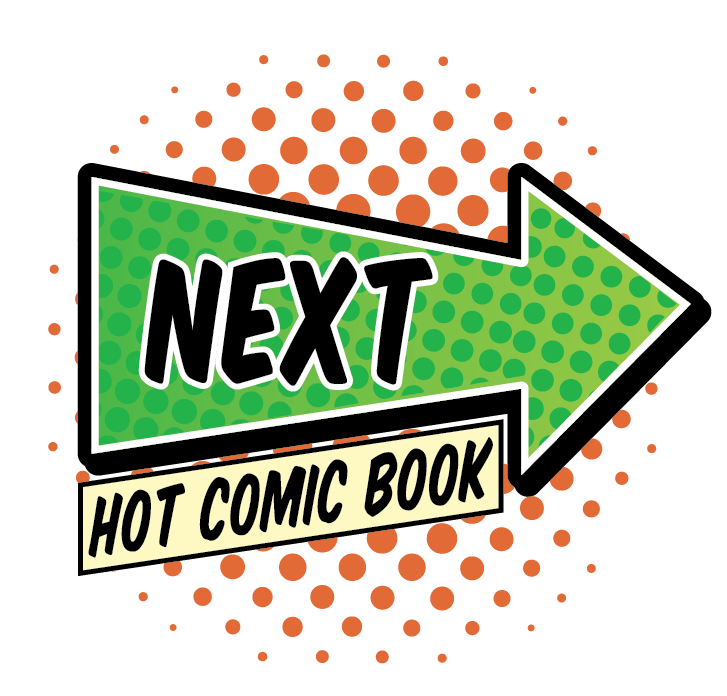 CLICK TO SEE THE NEXT HOT COMIC BOOK!
Why Avengers 1 is a Hot Comic
2021 MARKET UPDATE: 
Our target grade of 4.0 returned 28 percent this year. Not too shabby!
Meanwhile, the new entry point for a CGC 0.5 is $900.
Recent sales:
9.0 $36,500



8.5 $21,600
8.0 $13,500
7.5 $9,000
7.0 $8,500
6.5 $6,600
6.0 $5,400
5.5 $4,500
5.0 $4,080
4.5 $3,000
4.0 $3,195(!)
3.5 $2,300
3.0 $2,375
2.5 $2,050
2.0 $1,900
1.8 $1,400
1.5 $1,060
1.0 $1,427(!!)
0.5 $900
IF YOU BOUGHT MY RECOMMENDED GRADE LAST YEAR:
Here's the bottom line.
CGC 4.0 2020 $2,489
LAST SALE $3,195
PERCENT CHANGE +28%
2020 MARKET UPDATE: HIGH GRADE IS UP, MID-GRADE IS DOWN
Bad news if you joined me in owning a VG copy of Avengers 1, as this is exactly the grade range which has not done well this year.
Conversely, those of us with deeper pockets and invested in VF range and nicer have seen decent, but not spectacular returns.
Let's look at recent sales:
9.2 $46,800

9.0 $36,022
8.5 $16,800
8.0 $11,183
7.5 $11,600
7.0 $7,206
6.5 $5,280
6.0 $6,000(!!)
5.5 $4,000
5.0 $3,033
4.5 $2,649
4.0 $2,230
3.5 $1,740
3.0 $1,205
2.5 $1,736(!!!)
2.0 $1,150
1.8 $1,017
1.5 $1,250(!)
1.0 $917
0.5 $830
2019 MARKET UPDATE: NEW ENTRY ON THE 100 HOT COMICS LIST
Avengers 1, by a clear margin, ties with Daredevil #1 as the most common of the Marvel mega-keys from the early-mid 1960s.
We see this book about twice as often as X-Men #1, three times as often as ASM #1 and ten times as often as Incredible Hulk #1 and Journey into Mystery #83.
Iron Man (gold version), Hulk, Thor, Ant-Man and Wasp... That truly distinctive cover with the green Loki costume and the red banner, box and Thor's red cloak. It's a classic.
If you're serious about collecting Marvels, then you really ought to own one of these. It turns out that a copy of Avengers #1 is a great investment too.
An easy book to recommend, but not so easy to pick a 'perfect' grade to invest in.
General notes about this issue: the spine shows wear, a lot, because the green of Loki's costume runs right down the length of it.
The red on the front is very prone to fading, so try to avoid any copy that looks more orangey than deep 'fire engine' red.
We see less Marvel chipping on this issue than some of the other keys.
What Can You Afford?
As with other Marvel mega-keys, your budget is the probable best starting point. Entry-level is over $500 for any ragged copy now. Naturally, the way your copy looks ("eye appeal") will affect your ability to sell it to a new owner one day.
If you're buying at the low end of the market, then you need to consider eye appeal very carefully. There is a world of difference between different low-grade comic books of the same grade.
A Silver Age book can be a 0.5 if it has half the front cover missing. It can be a 0.5 if the spine is split and held together by tape. It can be a 0.5 if it looks like it was used to start a bonfire, or if it was used to mop up a defrosted freezer.
A 0.5 can actually be reasonably presentable too. The same goes for 1.0, 1.5, 1.8 and 2.0.
Beyond 2.0, you ought to be at the very least buying a book with nothing major missing. Ideally the front cover will be less damaged than the back.
4.0 is about the level when a Silver Age book really starts looking decent. Many investors won't dip below 6.0. Beyond that, asking prices start to get expensive.
Here are recent sales. I will give my recommendation afterwards.
CGC 0.5 $600
CGC 1.0 $685
CGC 1.5 $1,100
CGC 1.8 $975 (!)
CGC 2.0 $1,649
CGC 2.5 $1,813
CGC 3.0 $1,775
CGC 3.5 $2,200
CGC 4.0 $2,640
CGC 5.0 $3,850
CGC 6.0 $7,124 (very high sale, record price, typically circa $5,300)
CGC 7.0 $7,099
CGC 8.0 $10,000
CGC 8.5 $17,925
CGC 9.0 $38,400
I'm going to presume you can't afford to drop $10K+ on a single comic book.
CGC 4.0 is my pick of the bunch. This has appreciated 25 percent per year for the past two years. Buy more than one if you can afford to.
You could buy four copies in 4.0 for the same price as one CGC 8.0.
When it's time to sell, you will have less trouble finding a buyer at $3K for a 4.0 than $12K for an 8.0, and you can offset the cost of the other copy or copies by taking a profit on one or more of the lower-grade ones.
What to Invest In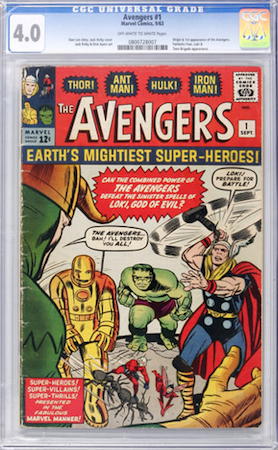 100 Hot Comics #33: Avengers 1, 1st Appearance of the Super-Team. Click to buy a copy

Have this book? Click to appraise its value NOW!
Related Pages on Sell My Comic Books
Most Valuable Comic Books of the 1960s
Comic Books Key Issue Price Guide
Other Avengers comics on the 100 Hot Comics List:
Avengers #4 | Avengers #8 | Avengers 47 | Avengers 48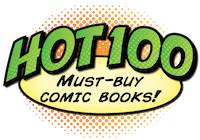 Click to return to the Hot 100 Investment Comic Books menu
Go from Avengers 1 to the 100 Hot Comics menu
Sell My Comic Books is the inventor and home of the 100 Hot Comics list!