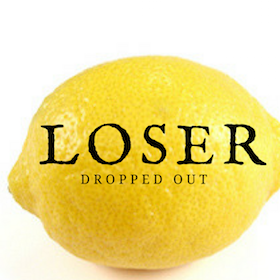 100 Hot Comics:
Marvel Spotlight 32, 1st Spider-Woman
DROPPED OUT OF LIST
100 Hot Comics: Marvel Spotlight 32, 1st Spider-Woman. Click to buy a copy at Goldin

Why Marvel Spotlight 32 is a Hot Comic
DROPPED OUT OF LIST
2022 MARKET REPORT: TURN AROUND BEING SEEN JUST IN TIME
I drew up this year's Hot list at a time when all sales of Spotlight 32 were lower, and things looked gloomy. I even considered relegation!
If I had checked today, then this would be much higher on the list. So don't give up just yet on Jessica.
My 9.8 grade gained $1K from last year.
Recent sales:
9.8 $3,225
9.6 $1,380
9.4 $745
9.2 $565
9.0 $415
8.5 $310
8.0 $300
7.5 $230
7.0 $235
2021 MARKET REPORT: NEW RECORD SALES IN UPPER GRADES!
There is a phenomenon occurring in the female Marvel comics characters world. As well as the expansion of all things Spider-related, female superheroes are hot this year.
Record sales for Spotlight #32 are proof that Spider-Woman has a big future in the MCU.
Recent sales:
9.8 $2,275
9.6 $700
9.4 $323
9.2 $299
9.0 $187 (low sale)
8.5 $340 (KNUCKLEHEAD BUY)
8.0 $215
7.5 $155
7.0 $160
IF YOU BOUGHT MY RECOMMENDED GRADE LAST YEAR:
Here's the bottom line.
CGC 9.8 2020 $1,566
LAST SALE $2,275
PERCENT CHANGE +45%
2020 MARKET REPORT: MODEST GAINS IN A WIDER RANGE OF GRADES
There is no real news about Spider-Woman, but Spider-ANYTHING is usually a good bet for speculation.
It's mildly hotter than last year due to the interest in different grade levels, with VF and higher seeing small gains.
If and when Spider-Woman gets a movie appearance, or a TV series, Marvel Spotlight 32 will take off rapidly. Until then it remains a cautious hold rather than a must-have hot buy.
This is a common book, so don't fall into the price compression trap around 8.0-9.2.
Recent sales:
9.8 $1,545
9.6 $390
9.4 $204
9.2 $128
9.0 $144(!)
8.5 $102
8.0 $135(!!)
7.5 $100
7.0 $76
2019 MARKET REPORT: NEW ENTRY ON THE HOT 100 LIST!
Marvel Spotlight 32 is the first appearance of Jessica Drew, the original Spider-Woman.
Female Spider-characters are hot in general, following rumors of a spin-off from Marvel male Spider-characters, with the first Spider-Gwen also in the 100 Hot Comics list in Edge of Spider-Verse #2.
This book is pretty common. It shows up in almost every collection from the era, usually between FN and VF/NM.
Thanks to the new interest in books of a similar theme, like Amazing Spider-Man #210 (1st Madame Web) and What If? v2 #105 (1st Spider-Girl), this book is now worth certifying as low as CGC 9.0.
What to Invest In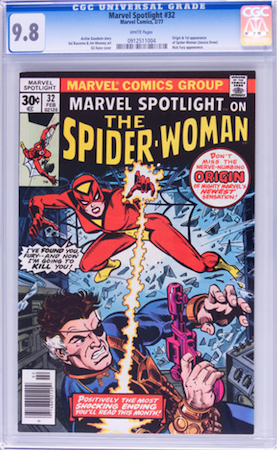 100 Hot Comics: Marvel Spotlight 32, 1st Spider-Woman. Click to buy a copy at Goldin
Back in October, I wrote a newsletter about this topic, and at the time CGC 9.8s of Spotlight 32 were selling for an average of $1,167.
Already a few months later, the average is $1,340, while lower grades have not done as well. CGC 9.6 has actually fallen during the same period.
So I am going to stick with my recommendation of buying a CGC 9.8 with White pages.
Here are the most recent sales.
CGC 7.5 $64
CGC 8.5 $100
CGC 9.0 $175
CGC 9.2 $290
CGC 9.4 $245 (!)
CGC 9.6 $350
CGC 9.8 $1,275
Have this book? Click to appraise its value NOW!
LOSERS! Comics Which Dropped Out of Past Lists
Related Pages on Sell My Comic Books
Marvel Spotlight Comic Book Prices
Marvel Spotlight #5 (1st Ghost Rider) on the 100 Hot Comics List
Most Valuable Comic Books of the Bronze Age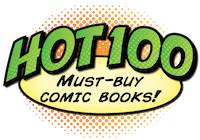 Click to return to the Hot 100 Investment Comic Books menu