Hot Comics #76:
Action Comics 252, 1st Supergirl
DOWN 20 PLACES FROM LAST YEAR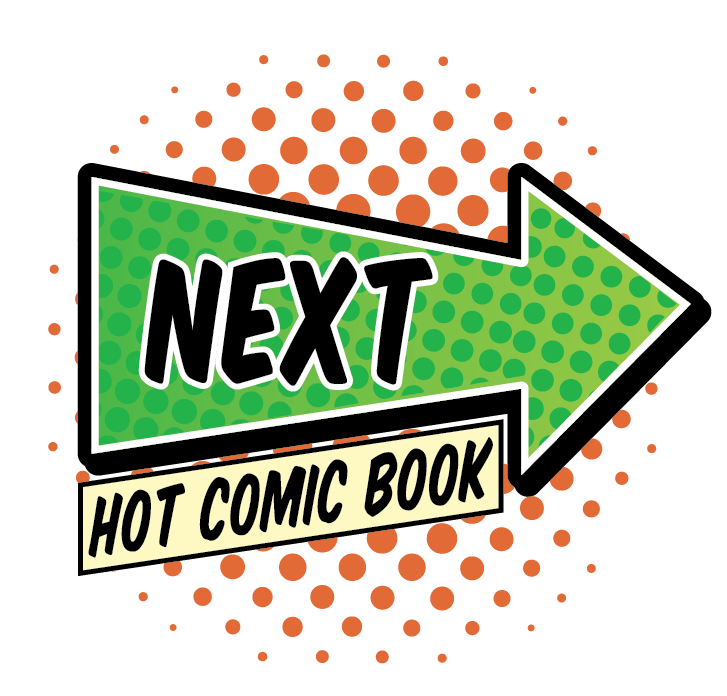 Why Action Comics 252 is a Hot Comic
2020 MARKET UPDATE: SUPERGIRL IS NOT SUPER THIS YEAR
If things don't turn around next year, Action Comics 252 may not even be on the 100 Hot Comics list. It's gone cold.
A few bright spots, and decent turnover, kept this important key issue comic book on the hot list for now.
IF YOU BOUGHT MY RECOMMENDED GRADE LAST YEAR:
Here's the bottom line.
CGC 7.0 2019 $5,234
LAST SALE $4,888
PERCENT CHANGE -8%
2019 MARKET UPDATE: SOLID GAINS IN MID-GRADES, HOPE YOU DIDN'T BUY 7.0
My thinking on this book is, the selling off was over-done the previous year.
I haven't heard anything solid in the slow-as-treacle DC Cinematic Universe rumor mill to suggest that SuperGirl is about to go anywhere big.
I confess that my pick of CGC 7.0 has stunk the place out, but if you bought lower down you're doing better.
Generally speaking, DC back issues have been terrible investments this year.
Looking down the grade range to where gains have been occurring, I simply advise caution about putting new money into this issue.
There are so many other books you could buy instead.
If you really want an Action #252, then I am changing my recommendation to CGC 4.0.
CGC 7.0 $5,100
CGC 6.5 $4,445

CGC 6.0 $3,499
CGC 5.5 $2,650
CGC 5.0 $2,052
CGC 4.0 $1,795
CGC 3.0 $1,079
CGC 2.0 $721
CGC 1.0 $427
2018 MARKET UPDATE: SUPERGIRL IS NOT SO SUPER
With the interest in Teen Titans, this character is still potentially on the up and up, but sales this year are softening.
I still think it's a good value proposition right now.
CGC 7.0 $6,500
CGC 6.5 $3,800

CGC 6.0 $3,200
CGC 5.5 $2,600
CGC 5.0 $2,200
CGC 4.0 $1,200
CGC 3.0 $930
CGC 2.0 $650
CGC 1.0 $430
2017 MARKET UPDATE:
While the Supergirl TV series got a lukewarm reception, this character isn't going away, thanks to all the DC cinema action coming up. Teen Titans is certain to appear, and will probably feature this blonde heroine.
Low-grade copies are fairly common, and much of the reason for the drop down the Hot Comics list is a sense that investors can afford to wait for better copies. However, the high sale of an 8.0 is a very good sign for the scarce upper end of the market.
CGC 8.0: $16,500
CGC 6.5 $4,780
CGC 6.0 $3,100
CGC 5.5 $2,550
CGC 5.0 $2,045
CGC 4.0 $1,500
CGC 3.0 $990
CGC 2.0 $925
CGC 1.0 $460
In a word... Supergirl. The hottie from Krypton is coming to the big screen, and her first true appearance is on fire in all grades. (See also Superman #123, Supergirl tryout issue, also on the Hot 100 list.)
We are extremely bullish on the value of this book. Not only because the JLA and Teen Titans movie franchises have a chance of running for a decade or longer, but because in general, when compared to their Marvel counterparts, DC Silver Age key issues tend to be tougher to find, and under-valued in the market.
There are plenty of dogs available. Be a little pickier.
When it comes time to sell, you want a fresh, nicely-presenting book which is above average shape, with off-white or white, supple pages. These will sell well.
What to Invest In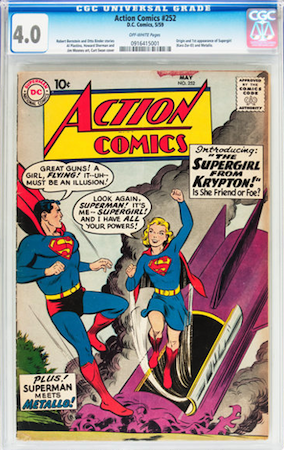 New advice: look for a clean CGC 4.0 to come along and snap it up. Click to buy a copy from eBay
Have this book? Click to appraise its value NOW!

Issue by Issue Guides to DC Action Comics