Hot Comics #80:
Fantastic Four Annual 6, 1st Annihilus
UP 14 PLACES FROM LAST YEAR!
NOTE: We use eBay to provide references to live prices of comic books. Clicking a text link or image marked 'Check live prices' will take you to eBay.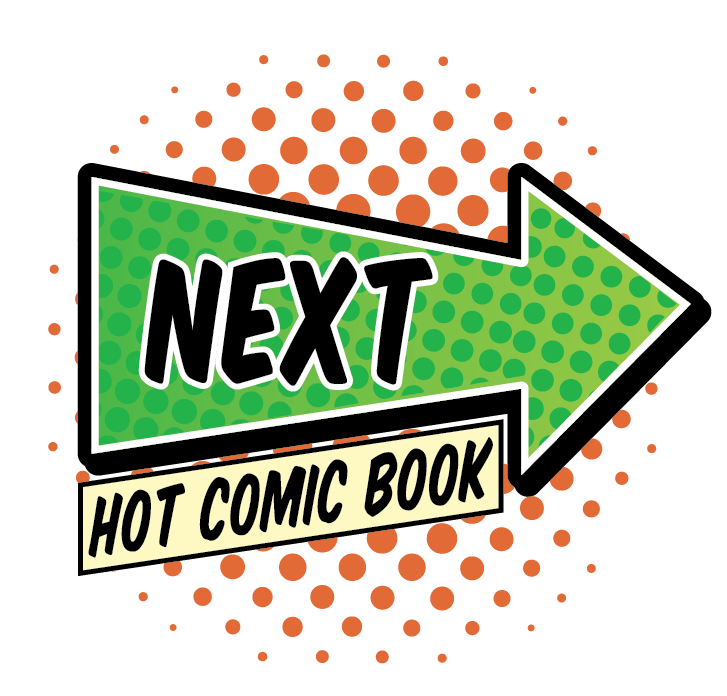 CLICK TO SEE THE NEXT HOT COMIC BOOK!
Why Fantastic Four Annual 6 is a Hot Comic
2021 MARKET UPDATE: THIS BOOK HAS TURNED A CORNER
All bets are off in the MCU this year, or at least until we're allowed to gather in movie theaters again.
But for whatever reason, this book has begun to heat up again.
Our target grade of CGC 8.5 returned 30 percent.
Recent sales:
9.6 $5,555




9.2 $1,995



9.0 $1,245
8.5 $1,000
8.0 $700
7.5 $525
7.0 $490
6.5 $405
6.0 $340
5.5 $240
5.0 $200
4.5 $200
4.0 $190
3.5 $155
3.0 $135
IF YOU BOUGHT MY RECOMMENDED GRADE LAST YEAR:
Here's the bottom line.
CGC 8.5 2020 $764
LAST SALE $1,000
PERCENT CHANGE +30%
2020 MARKET UPDATE: ANNIHILUS ANNIHILATED
FF Annual 6 has suddenly dropped. Nobody is quite sure why, but my guess would be that the Annihilus character was axed from an upcoming Marvel movie.
I wouldn't like to be the guy who paid $16,000 for the CGC 9.8 in November 2019, or $7,200 for the CGC 9.6.
Almost all grades have dropped fast.
2019 MARKET UPDATE: NEW ENTRY ON THE HOT 100!
Fantastic Four Annual 6 joins the general run of FF issues which are rising rapidly since 2017.
There are loads of hot FF issues, including Fantastic Four #5 (1st Doctor Doom) and FF#48 (1st Silver Surfer and Galactus).
I can find no concrete reason for the sudden excitement about Annihilus.
You can either conclude that the Marvel Studios leak machine is dribbling info about movie appearances somewhere, or the villain is a fan favorite.
Or both. I like multiple reasons to invest in a comic book. In this case, possible movie involvement, scarce in high grade, fan favorite...
What to Invest In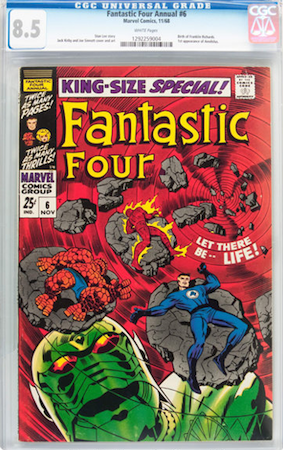 100 Hot Comics #15: Fantastic Four Annual 6, 1st Annihilus. Click to buy a copy

I've talked before about the scarcity of the Marvel Annual-size comics in VF or nicer shape. As they get more recent, they become easier to locate.
This book is from 1968, not as early and tough as Amazing Spider-Man Annual #1 but not as easy to come by in high grade as Giant-Size X-Men #1.
This book has a lot of price compression in mid-grades. That means you can get a fair bit more book for not too much more money in some circumstances.
For me, CGC 8.5 is a good compromise. It's barely more than an 8.0 but a ton better than a 7.0, especially if you'er lucky enough to find one with a mostly unblemished front cover.
Here are recent sales:
CGC 3.5 $200

CGC 5.0 $250

CGC 6.0 $245 (!)

CGC 6.5 $420

CGC 7.0 $425

CGC 7.5 $550

CGC 8.0 $700

CGC 8.5 $790

CGC 9.0 $1,200

CGC 9.2 $1,500

CGC 9.4 $2,400
Have this book? Click to appraise its value NOW!
Related Pages on Sell My Comic Books
Fantastic Four Comic Book Price Guide
Most Valuable Comic Books of the Silver Age
Other Fantastic Four comics on the 100 Hot Comics list:
FF #1 | FF #4 | FF #5 | Fantastic Four #48-50 | FF #52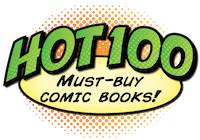 Click to return to the Hot 100 Investment Comic Books menu
Go from Fantastic Four Annual 6 to the 100 Hot Comics menu
Sell My Comic Books is the inventor and home of the 100 Hot Comics list!