Guide to 1970s Marvel 30 Cent Price Variants, With Comic Prices
Price Box Types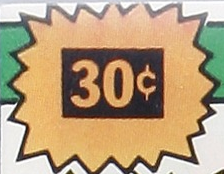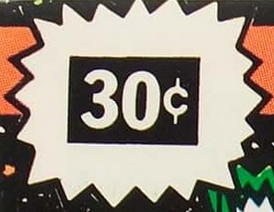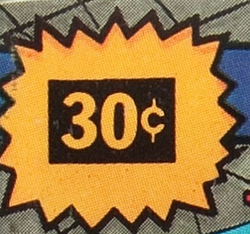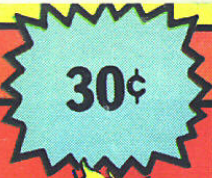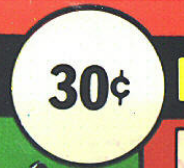 Marvel 30 Cent Price variants were essentially a series of "test price versions" of all the regular Marvel titles, which had formerly been priced at 25 cents.
Between April and August of 1976, Marvel tested out the new price of 30 Cents in six markets.
(Grand Rapids, MI, Baltimore, MD, San Antonio, TX, San Jose, CA, Albuquerque, NM, and several small towns in Massachusetts.)
The experiment was carried out to gauge whether there would be significant blowback from fans for a 5-cent price hike.
Every Marvel title was tested, with only two exceptions: Ka-Zar #16 and Inhumans #5. Every extant copy of those two comics has a 30-cent cover price.
There are a total of 186 30c price variants.
Collectors weren't generally aware of these variants until fairly recently, but since the late 1990s, some collectors have begun amassing complete collections of all 186 variants.
In general, there are more copies of superhero comics in variant form than the other types of comics, and of course, the more popular a comic was, the more copies there are likely to be.
The western titles, in particular, are VERY scarce. Western comic books were dying by this time, and sales of the regular editions were low -- making the variants even rarer.
Some of the titles don't sell for huge amounts, despite their scarcity. It seems that titles reprinting issues like Marvel Tales and Triple Action are not popular.
Marvel 30c Price Variants Had Different Price 'Blurbs' (Boxes, Flashes, Circles)
It is important also to consider the shape of what is called the "price blurb," or the space in which the price is printed.

The price wasn't just different, but the shapes of the blurbs would change in different markets or with different issues.
We've marked the style of price blurb alongside the listing of each issue.
Have Your Marvel 30 Cent Price Variants Valued!
If you've got some Marvel 30-Cent Price Variants, then click here to have them valued FREE by Sell My Comic Books!

Don't Miss Our Marvel 35c Price Variants Page!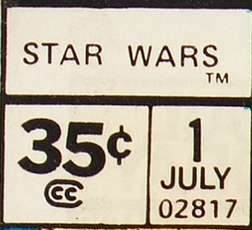 Marvel 30 Cent Price Variants Gallery
We struggled to find images for many of these rare issues. We did our best! Click any image or link to check the market for prices.
We publish record and lowest-known sale of CGC-graded books, and where available, census numbers for each book.
Adventures on the Planet of the Apes #5 30 Cent Price Variant
April, 1976. Starburst Flash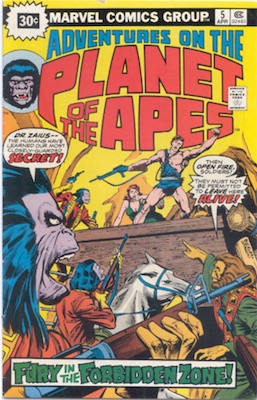 Record sale: $175

Lowest sale: $45
Number in CGC census: 14

 Have Yours Appraised
Adventures on the Planet of the Apes #6 30 Cent Price Variant
June, 1976. Starburst Box
Record sale: $100

Lowest sale: $10
Number in CGC census:8

 Have Yours Appraised
RARE! Adventures on the Planet of the Apes #7 30 Cent Price Variant
August, 1976. Square Box
Record sale: $30 

Lowest sale: $1
Number in CGC census: 7 
Amazing Adventures #36 30 Cent Price Variant
May, 1976. Starburst Flash
Record sale: $250

Lowest sale: $15
Number in CGC census:18 
Amazing Adventures #37 30 Cent Price Variant
May, 1976. Starburst Flash
Record sale: $200

Lowest sale: $11
Number in CGC census:17 
Amazing Spider-Man #155 30 Cent Price Variant
April, 1976. Starburst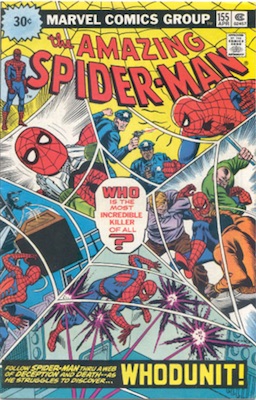 Record sale: $630
Lowest sale: $21
Number in CGC census:51 
Marvel 30 Cent Price Variants:

Amazing Spider-Man #156 30 Cent Price Variant
May, 1976. Starburst Box
Record sale: $2,500

Lowest sale: $9
Number in CGC census:41 
Amazing Spider-Man #157 30 Cent Price Variant
June, 1976. Starburst Box
Record sale: $2,150

Lowest sale: $22
Number in CGC census:59 
Amazing Spider-Man #158 30 Cent Price Variant
July, 1976. Starburst Flash
Record sale: $260

Lowest sale: $18
Number in CGC census:36 

Amazing Spider-Man #159 30 Cent Price Variant
August, 1976. Circle Price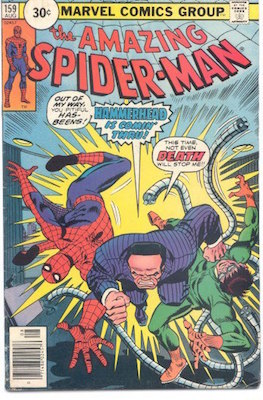 Record sale: $2,400

Lowest sale: $20
Number in CGC census:36 
Marvel 30 Cent Price Variants:

Astonishing Tales #35 30 Cent Price Variant
May, 1976. Starburst Flash
Record sale: $260

Lowest sale: $13
Number in CGC census:22 
Astonishing Tales #36 30 Cent Price Variant
July, 1976. Starburst Flash
Record sale: $750

Lowest sale: $8
Number in CGC census:16 

Marvel 30 Cent Price Variants:

Avengers #146 30 Cent Price Variant
April, 1976. Starburst Flash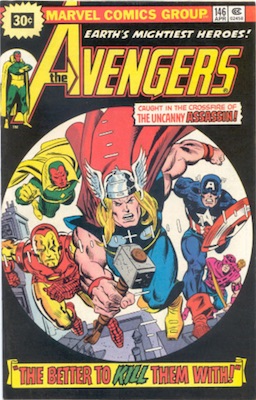 Record sale: $50

Lowest sale: $10
Number in CGC census:15 
Avengers #147 30 Cent Price Variant
May, 1976. Regular Box
Record sale: $630

Lowest sale: $10
Number in CGC census:15 
Avengers #148 30 Cent Price Variant
June, 1976. Starburst Flash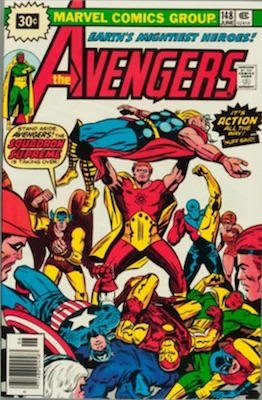 Record sale: $600
Lowest sale: $25
Number in CGC census:38 
Avengers #149 30 Cent Price Variant
July, 1976. Starburst Box
Record sale: $1,790
Lowest sale: $10
Number in CGC census:21 
Avengers #150 30 Cent Price Variant
August, 1976. Square Box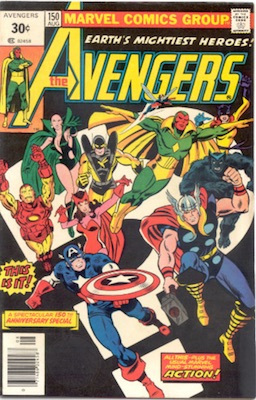 Record sale: $960

Lowest sale: $20
Number in CGC census:12 
Black Goliath #2 30c Price Variant
April, 1976. Starburst Box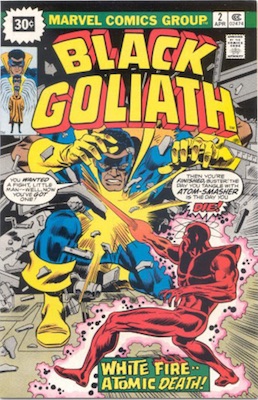 Record sale: $270

Lowest sale: $16
Number in CGC census:18 
Black Goliath #3 30c Variant
June, 1976. Starburst Flash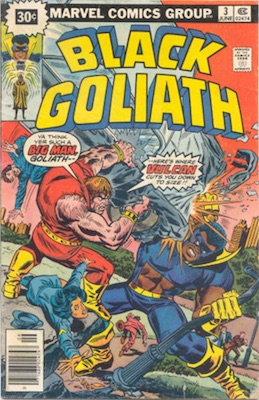 Record sale: $305

Lowest sale: $15
Number in CGC census:12 
Black Goliath #4 Marvel 30c Price Variant
August, 1976. Circle Price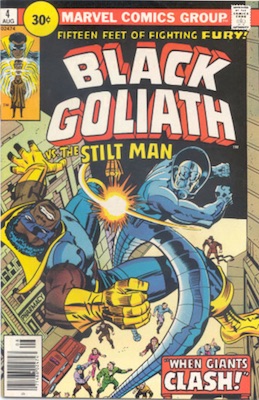 Record sale: $700

Lowest sale: $20
Number in CGC census:9 
Captain America #196 Marvel 30 Cent Price Variants
April, 1976. Regular Price Box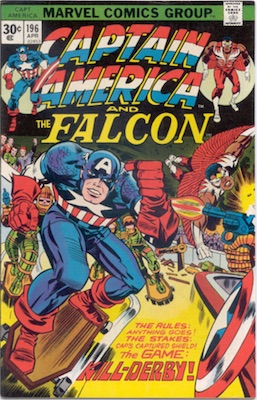 Record sale: $410

Lowest sale: $16
Number in CGC census:12 
Captain America #197 Marvel 30c Price Variant
May, 1976 Flash Box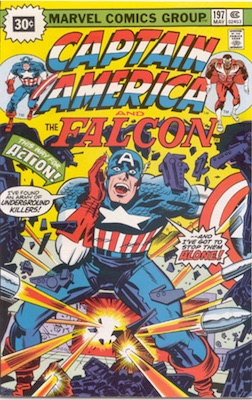 Record sale: $270

Lowest sale: $12
Number in CGC census:22 
Captain America #198 Price Variant
June, 1976. Starburst Flash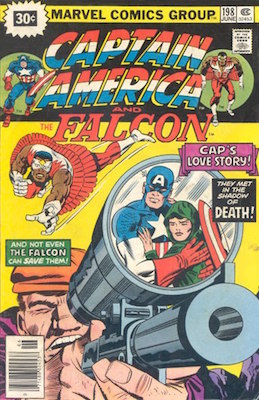 Record sale: $260

Lowest sale: $16
Number in CGC census:16 
Captain America #199 Price Variant
July, 1976. Starburst Flash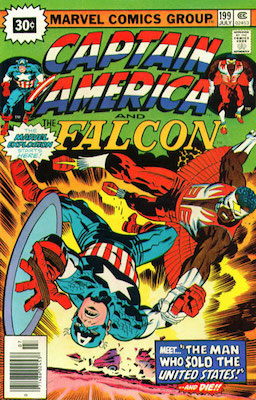 Record sale: $410

Lowest sale: $20
Number in CGC census:18 
Marvel 30 Cent Price Variants:

Captain America #200 Marvel 30 Cent Price Variant
August, 1976. Circle Price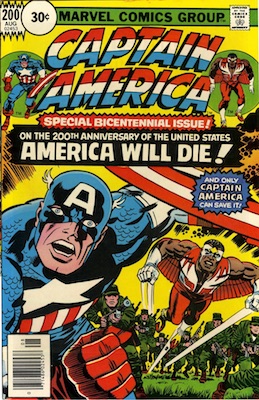 Record sale: $1,550

Lowest sale: $45
Number in CGC census:29 
Captain Marvel #44 Marvel 30c Price Variant
May, 1976.Starburst Flash
Record sale: $410

Lowest sale: $10
Number in CGC census:14 
Captain Marvel #45 30 Cent Variant
July, 1976. Starburst Box
Record sale: $1,140

Lowest sale: $26
Number in CGC census:12 
RARE! Chamber of Chills #22 30 Cent Price Variant
May, 1976. Starburst Flash
Record sale: $190

Lowest sale: $189
Number in CGC census:8 
Chamber of Chills #23 30c Price Variant
July, 1976. Starburst Box
Record sale: $230

Lowest sale: $19
Number in CGC census:13 
Champions #5 Marvel 30c Price Variants
April, 1976. Starburst Flash
Record sale: $220

Lowest sale: $31
Number in CGC census:17 
Champions #6 30c Variant
June, 1976. Starburst Flash
Record sale: $480

Lowest sale: $13
Number in CGC census:13 
Champions #7 30 Cent Price Variant
August, 1976. Circle Price Box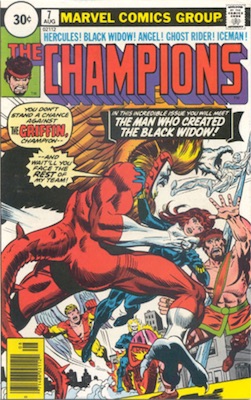 Record sale: $290

Lowest sale: $12
Number in CGC census:9 
Conan the Barbarian #61 30 Cent Price Variant
April, 1976 Starburst Flash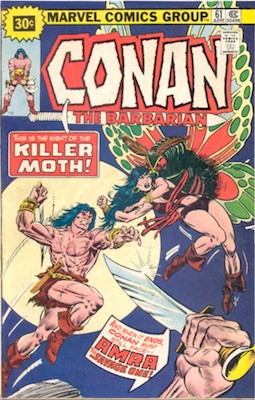 Record sale: $150

Lowest sale: $19
Number in CGC census:34 
Conan #62 30c Price Variant
May, 1976. Starburst Flash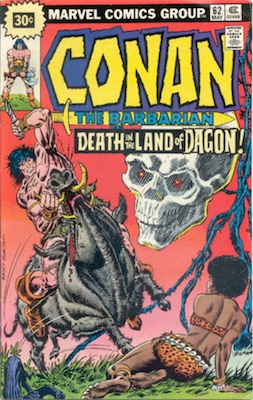 Record sale: $120

Lowest sale: $10
Number in CGC census:19 
Marvel 30 Cent Price Variants:

Conan #63 Marvel 30c Price Variant
June, 1976. Regular Price Box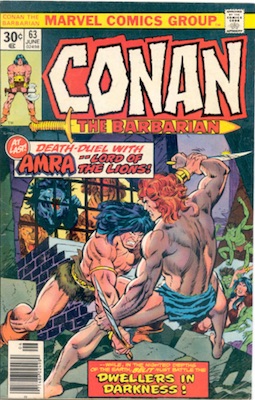 Record sale: $1,830

Lowest sale: $20
Number in CGC census:16 
Conan #64 30 Cent Variant
July, 1976. Starburst Box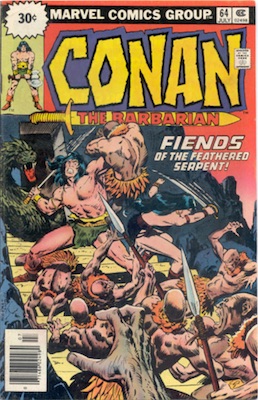 Record sale: $570

Lowest sale: $10
Number in CGC census:20 
Conan the Barbarian #65 30 Cent Marvel Price Variant
August, 1976. Square Price Box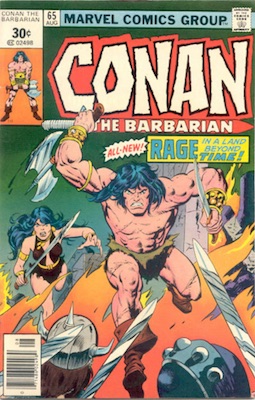 Record sale: $370

Lowest sale: $19
Number in CGC census:20 
Marvel 30 Cent Price Variants:

Daredevil #132 Marvel 30c Price Variants
April, 1976. Regular Price Box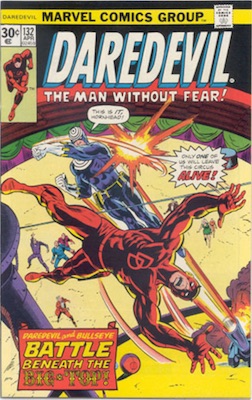 Record sale: $1,570

Lowest sale: $43
Number in CGC census:24 
Daredevil #133 30 Cent Price Variant
May, 1976. Starburst Flash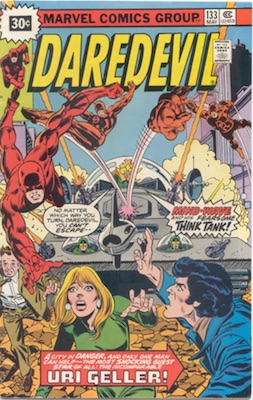 Record sale: $400

Lowest sale: $10
Number in CGC census:24 
Daredevil #134 Marvel Price Variant
June, 1976 Starburst Flash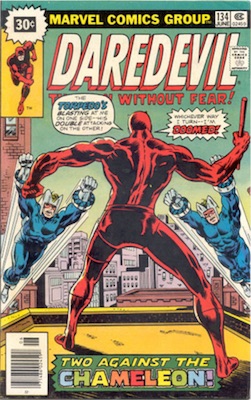 Record sale: $200

Lowest sale: $111
Number in CGC census:17 

Daredevil #135 30c Marvel Price Variant
July, 1976 Starburst Flash
Record sale: $590

Lowest sale: $10
Number in CGC census:19 

Daredevil #136 30c Marvel Price Variant
August, 1976 Starburst Flash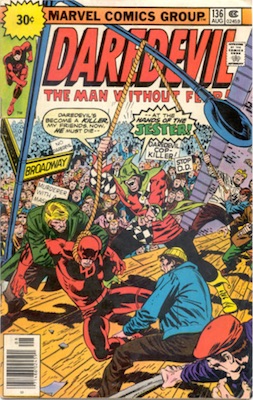 Record sale: $450

Lowest sale: $17
Number in CGC census:18
Defenders #34 Marvel Price Variant 30c Edition
April, 1976. Regular Price Box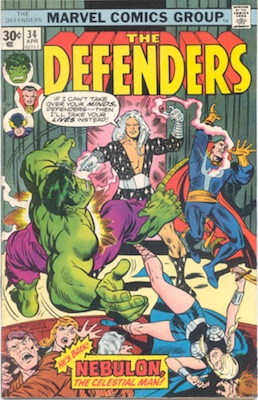 Record sale: $100

Lowest sale: $55
Number in CGC census:16 

Defenders #35 Marvel 30c Price Variant
May, 1976. Starburst Price
Record sale: $270

Lowest sale: $21
Number in CGC census:20

Defenders #36 30 Cent Price Variant
June, 1976. Regular Price Box
Record sale: $350

Lowest sale: $15
Number in CGC census:16 
Defenders #37 Marvel 30c Cover Price Variant
July, 1976. Regular Price Box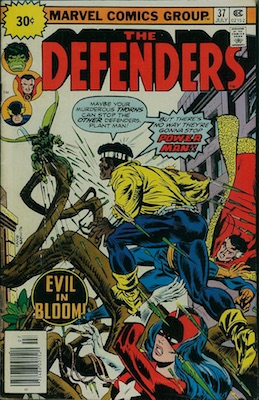 Record sale: $250

Lowest sale: $15
Number in CGC census:12 
Marvel 30 Cent Price Variants:

Defenders #38 Price Variant 30c Edition
August, 1976 Circle Price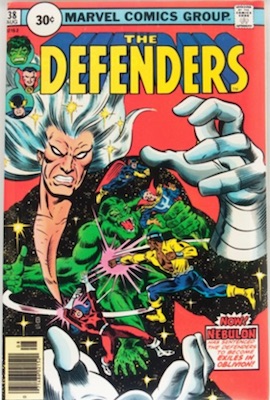 Record sale: $330

Lowest sale: $18
Number in CGC census:16 
Doctor Strange #13 30 Cent Variant
April, 1976. Regular Price Box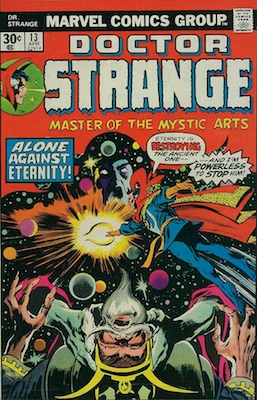 Record sale: $200

Lowest sale: $11
Number in CGC census:17 

Doctor Strange #14 30 Cent Variant
May, 1976. Starburst Flash
Record sale: $200

Lowest sale: $31
Number in CGC census:16 
Doctor Strange #15 30c Variant Edition
June, 1976. Starburst Flash
Record sale: $800

Lowest sale: $12
Number in CGC census:17 
Doctor Strange #16 Marvel 30 Cent Price Variants
July, 1976. Starburst Flash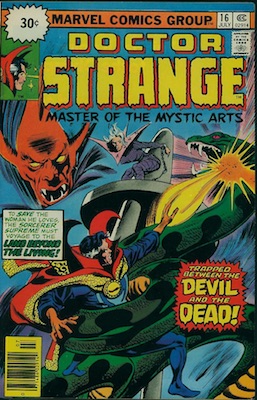 Record sale: $650

Lowest sale: $15
Number in CGC census:12 
Doctor Strange #17 30 Cent Variant
August, 1976. Circle Price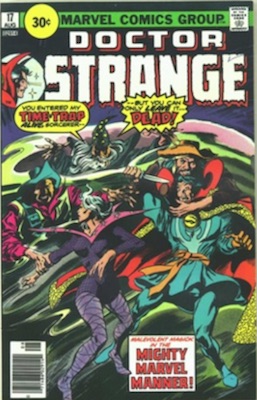 Record sale: $500

Lowest sale: $18
Number in CGC census:18 
The Eternals #1 Marvel 30c Price Variant
June, 1976. Starburst Flash
Record sale: $7,500
Lowest sale: $185
See The Eternals Comics price guide
Number in CGC census:72 
Eternals #2 30 Cent Variant Edition
August, 1976. Starburst Box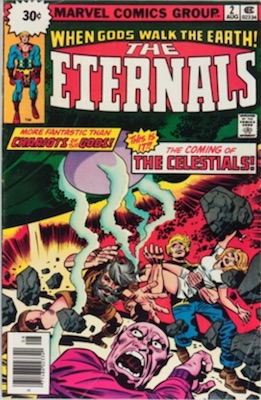 Record sale: $6,1550
Lowest sale: $170
Number in CGC census:31 

Marvel 30 Cent Price Variants: Fantastic Four #169
April, 1976. Starburst Flash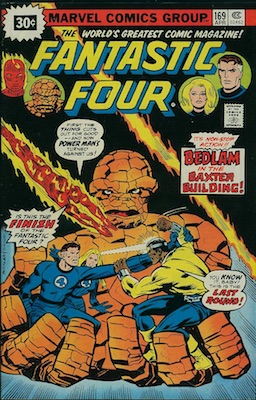 Record sale: $170

Lowest sale: $11
Number in CGC census:18 
Fantastic Four #170 30 Cent Variant
May, 1976. Price in Starburst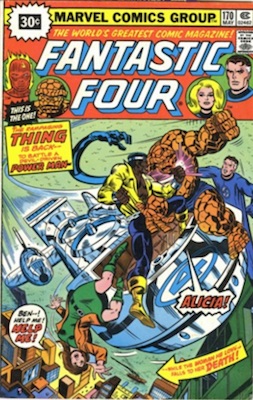 Record sale: $800

Lowest sale: $10
Number in CGC census:27 
Fantastic Four #171 30 Cent Variant
June, 1976. Starburst Flash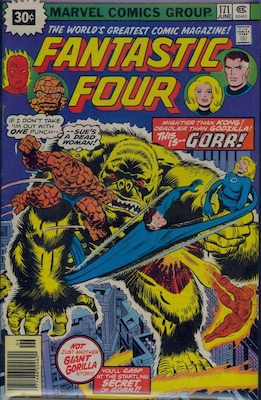 Record sale: $780

Lowest sale: $29
Number in CGC census:26 
Fantastic Four #172 30c Price Variant
July, 1976. Price in Starburst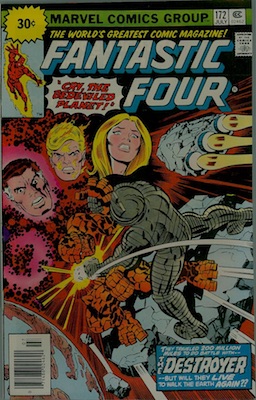 Record sale: $520

Lowest sale: $12
Number in CGC census:22 

Fantastic Four #173 30c Variation
August, 1976. Square Price Box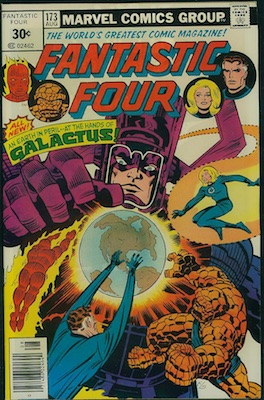 Record sale: $1,200

Lowest sale: $30
Number in CGC census:18 

Marvel 30 Cent Price Variants:

Ghost Rider #17 Marvel 30 Cent Price Variants
May, 1976. Regular Price Box
Record sale: $240

Lowest sale: $21
Number in CGC census:10 
Ghost Rider #18 30 Cent Variant
June, 1976. Price in Starburst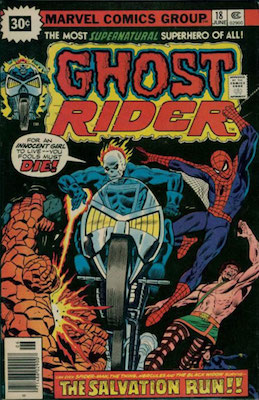 Record sale: $400

Lowest sale: $20
Number in CGC census:20 
Ghost Rider #19 Marvel 30c Variant
August, 1976. Starburst Flash
Record sale: $290

Lowest sale: $31
Number in CGC census:15 
Howard the Duck #3 30c Edition Variant
May, 1976. Price in Starburst
Record sale: $500

Lowest sale: $21
Number in CGC census:97 

Howard the Duck #4 30 Cent Variant
May, 1976. Starburst Price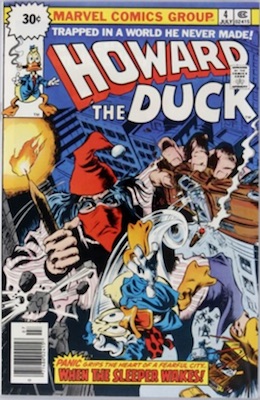 Record sale: $160

Lowest sale: $15
Number in CGC census:35 
Incredible Hulk #198 Marvel 30c Price Variants
April, 1976. Regular Price Box
Record sale: $260

Lowest sale: $22
Number in CGC census:21 
Incredible Hulk #199 30c Variant Edition
May, 1976. Price in Starburst
Record sale: $660

Lowest sale: $11
Number in CGC census:29 
Marvel 30 Cent Price Variants:

Incredible Hulk #200 30c Price Variant
June, 1976. Starburst Flash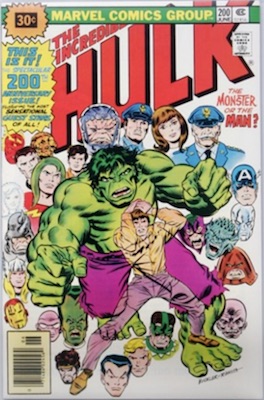 Record sale: $1,430

Lowest sale: $29
Number in CGC census:48 
Incredible Hulk #201 30c Variant Edition
July, 1976. Starburst Flash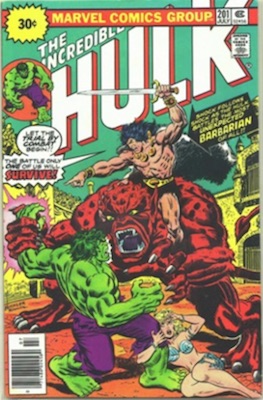 Record sale: $290

Lowest sale: $22
Number in CGC census:20 
Incredible Hulk #202 Marvel 30c Variant
August, 1976. Price in Circle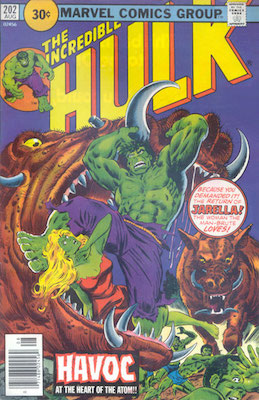 Record sale: $170

Lowest sale: $61
Number in CGC census:22 
Inhumans #4 30c Variant Edition
April, 1976. Price in Starburst
Record sale: $170

Lowest sale: $7
Number in CGC census:19 
Inhumans #6 30 Cent Variant
August, 1976. Circle Price
Record sale: $130

Lowest sale: $47
Number in CGC census:15 
Invaders #6 Marvel 30c Price Variants
May, 1976. Starburst Price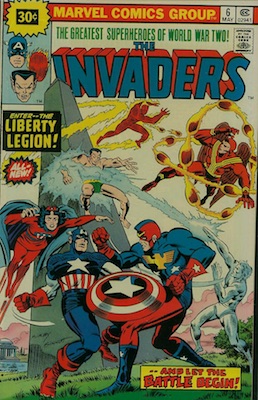 Record sale: $540

Lowest sale: $12
Number in CGC census:24 

Invaders #7 Marvel 30c Variant
July, 1976. Starburst Price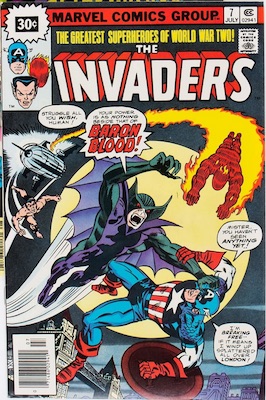 Record sale: $1,500

Lowest sale: $11
Number in CGC census:21 
Record sale: $180

Lowest sale: $40
Number in CGC census:20 
Iron Fist #5 30c Variant
June, 1976. Price in Starburst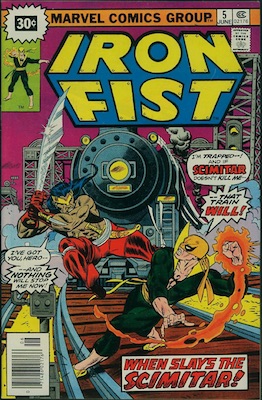 Record sale: $250

Lowest sale: $17
Number in CGC census:20 
Iron Fist #6 30c Variant
August, 1976. Circle Price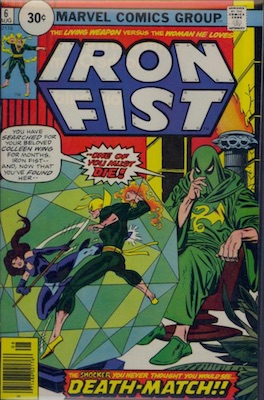 Record sale: $370

Lowest sale: $14
Number in CGC census:21 

Marvel 30 Cent Price Variants:

Iron Man #85 Marvel 30 Cent Price Variants
April, 1976. Starburst Price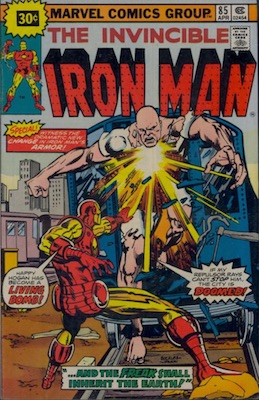 Record sale: $420

Lowest sale: $38
Number in CGC census:24 
Iron Man #86 30c Price Variant Edition
May, 1976. Starburst Price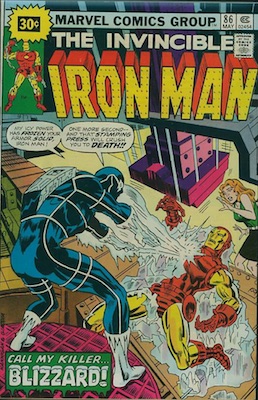 Record sale: $410

Lowest sale: $11
Number in CGC census:17 
Iron Man #87 30 Cent Variant
June, 1976. Price in Starburst
Record sale: $180

Lowest sale: $21
Number in CGC census:19 

Iron Man #88 30c Price Variant
July, 1976. Starburst Flash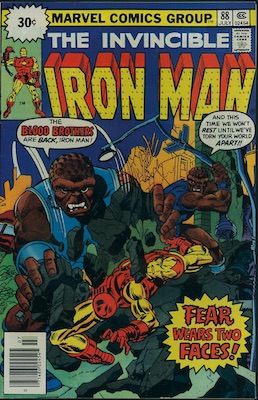 Record sale: $250

Lowest sale: $10
Number in CGC census:14 
Iron Man #89 30c Price Variant
August, 1976. Regular Price Box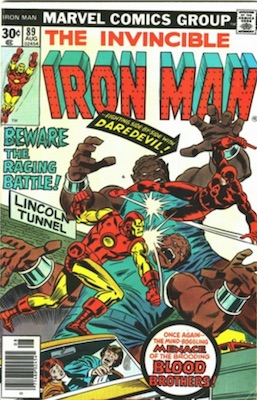 Record sale: $500

Lowest sale: $37
Number in CGC census:12
Jungle Action #21 Marvel Price Variant
May, 1976. Starburst Price
Record sale: $570

Lowest sale: $100
Number in CGC census:9 

Jungle Action #22 30 Cent Price Variant
July, 1976. Price in Starburst
Record sale: $600

Lowest sale: $30
Number in CGC census:13 

RARE! Ka-Zar #15 Marvel 30 Cent Price Variants
April, 1976. Regular Price Box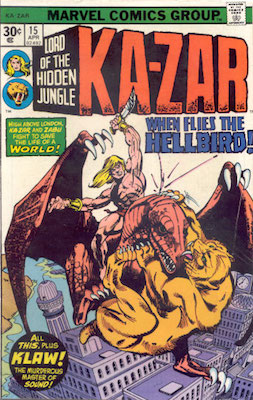 Record sale: $60

Lowest sale: $23
Number in CGC census:8 
RARE! Ka-Zar #17 30c Variant
August, 1976. Price in Starburst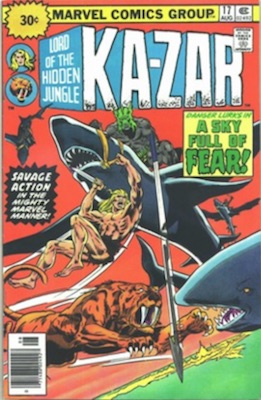 Record sale: $60

Lowest sale: $31
Number in CGC census:7 
RARE! Kid Colt Outlaw #205 Marvel 30 Cent Variant
April, 1976. Regular Price Box
Record sale: $230

Lowest sale: $10
Number in CGC census:10 

Kid Colt Outlaw #206 30c Price Variant
May, 1976. Starburst Price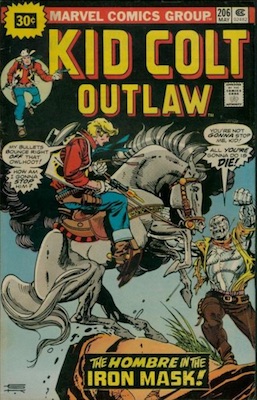 Record sale: $470

Lowest sale: $148
Number in CGC census:11 
Kid Colt Outlaw #207 Marvel 30 Cent Price Variant
June, 1976. Price in Starburst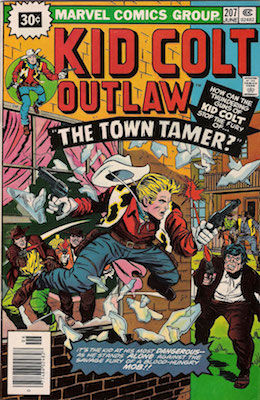 Record sale: $500

Lowest sale: $7
Number in CGC census:15 
RARE! Kid Colt Outlaw #208 30c Price Variant
July, 1976. Starburst Flash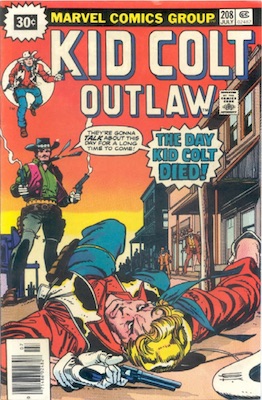 Record sale: $3,000

Lowest sale: $165
Number in CGC census:7 
Kid Colt Outlaw #209 Marvel 30 Cent Price Variants
August, 1976. Price in Circle
Record sale: $230

Lowest sale: $17
Number in CGC census:11 
Kull the Conqueror #16 30c Price Variant,
August, 1976. Circle Price Box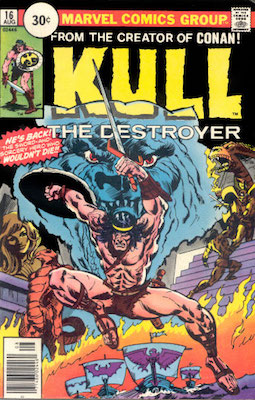 Record sale: $60

Lowest sale: $25
Number in CGC census:9 
Marvel 30 Cent Price Variants:

RARE! Marvel Adventure Featuring Daredevil #3 30c Price Variant Edition, April, 1976. Regular Price Box
Record sale: $300

Lowest sale: $10
Number in CGC census:6 
RARE! Marvel Adventure Featuring Daredevil #4, 30c Variant
June,1976. Starburst Price
Record sale: $100

Lowest sale: $25
Number in CGC census:6 
RARE! Marvel Adventure Featuring Daredevil #5 30 Cent Price Variant
August, 1976. Price in Circle
Record sale: $50

Lowest sale: $30
Number in CGC census:4 
RARE! Marvel Chillers #4 30c Price Variant
April, 1976. Regular Price Box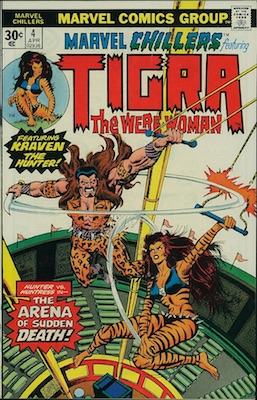 Record sale: $330

Lowest sale: $31
Number in CGC census:7 
Marvel Chillers #5 Marvel 30c Price Variants
June, 1976. Starburst Flash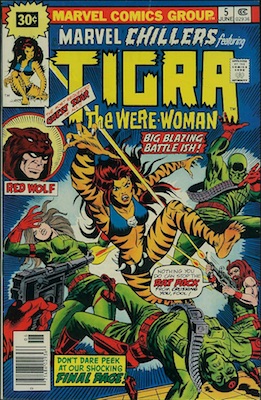 Record sale: $430

Lowest sale: $26
Number in CGC census:12 
RARE! Marvel Chillers #6 30c Price Variant
August, 1976. Price in Circle
Record sale: $250

Lowest sale: $32
Number in CGC census:8 
RARE! Marvel Double Feature #15 Marvel 30c Price Variant
April, 1976. Regular Price Box
Record sale: $350

Lowest sale: $13
Number in CGC census:6 
RARE! Marvel Double Feature #16 Marvel 30 Cent Price Variant
June, 1976. Starburst Flash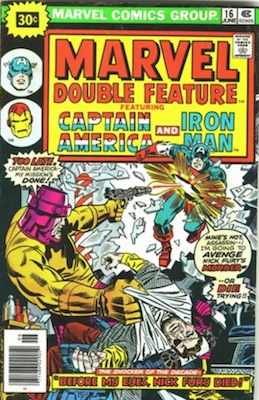 Record sale: $180

Lowest sale: $13
Number in CGC census:7 
RARE! Marvel Double Feature #17 30c Price Variant
August, 1976. Circle Price Box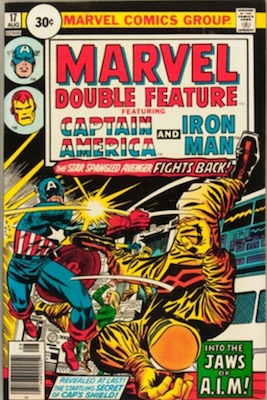 Record sale: $70

Lowest sale: $20
Number in CGC census:6 
Marvel Feature #4 30c Variant
May, 1976. Starburst Flash
Record sale: $1,850 (double cover)
$200 (one cover)

Lowest sale: $40
Number in CGC census:23 

Marvel 30 Cent Price Variants:

Marvel Feature #5 30c Variant
July, 1976. Starburst Price Box
Record sale: $500

Lowest sale: $ 22
Number in CGC census:17 
Marvel Premiere #29 Marvel 30 Cent Price Variants
April, 1976. Regular Price Box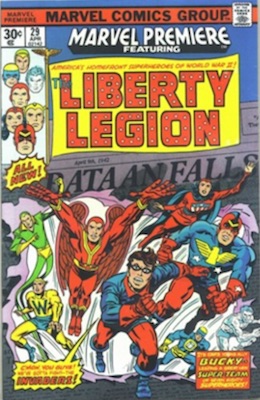 Record sale: $230

Lowest sale: $73
Number in CGC census:11 
Marvel Premiere #30 30c Price Variant
June, 1976. Starburst Flash
Record sale: $280

Lowest sale: $19
Number in CGC census:11 
Marvel Premiere #31 Marvel 30c Price Variant
August, 1976. Price in Circle
Record sale: $260

Lowest sale: $13
Number in CGC census:9 
Marvel 30 Cent Price Variants:

Marvel Presents #4 30c Variant
April, 1976. Starburst Flash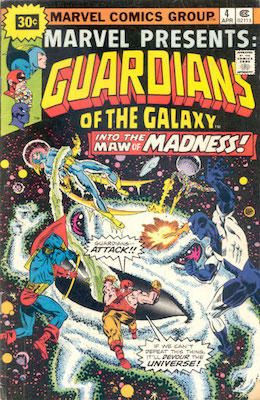 Record sale: $220

Lowest sale: $10
Number in CGC census:24 
Marvel Presents #5 30 Cent Price Variant
June, 1976. Starburst Flash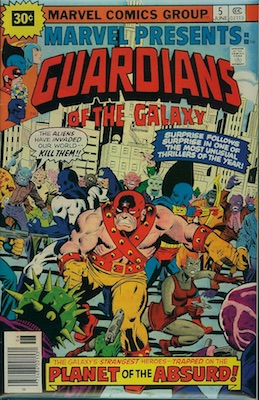 Record sale: $650

Lowest sale: $10
Number in CGC census:26 
Marvel Presents #6 30c Price Variant
August, 1976. Square Price Box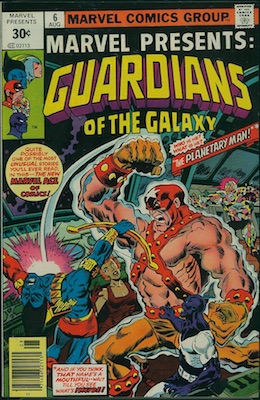 Record sale: $670

Lowest sale: $10
Number in CGC census:19 
RARE! Marvel's Greatest Comics #63 30 Cent Price Variant
May, 1976. Starburst Flash
Record sale: $320

Lowest sale: $45
Number in CGC census:8 
RARE! Marvel's Greatest Comics #64 30c Price Variant
July, 1976. Starburst Price Flash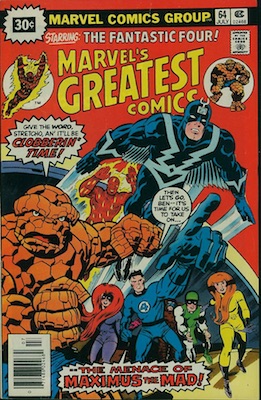 Record sale: $70

Lowest sale: $9
Number in CGC census:8 
RARE! Marvel Spotlight #27 30 Cent Price Variant
April, 1976. Regular Price Box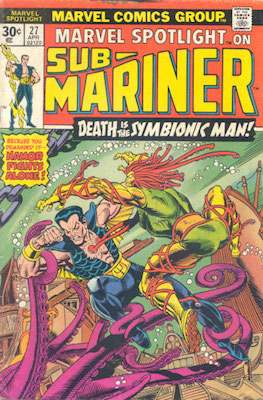 Record sale: $180

Lowest sale: $143
Number in CGC census:8 
KEY ISSUE! Marvel Spotlight #28: 1st Solo Moon Knight
Marvel 30 Cent Price Variants. April, 1976. Starburst Price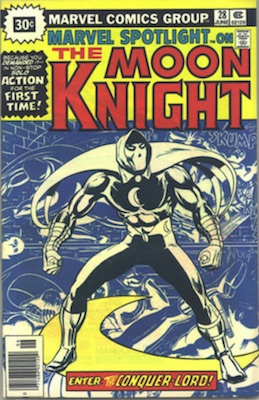 Record sale: $11,000
Lowest sale: $34
Number in CGC census:48 
Marvel Spotlight #29 30c Price Variant
April, 1976. Price in Circle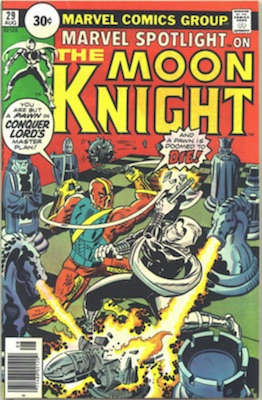 Record sale: $600

Lowest sale: $25
Number in CGC census:21 
RARE! Marvel Superheroes #57 30c Variant
May, 1976. Starburst Flash
Record sale: $100

Lowest sale: $50
Number in CGC census:6 
Marvel Superheroes #58 30 Cent Variant
July, 1976. Starburst Flash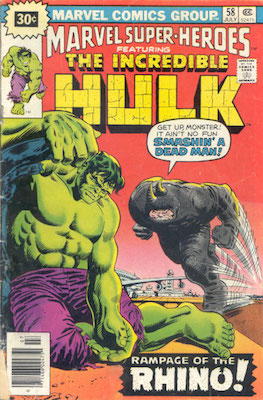 Record sale: $230

Lowest sale: $10
Number in CGC census:13 
Marvel 30 Cent Price Variants:

RARE! Marvel Tales #66 Marvel 30 Cent Price Variants
April, 1976. Regular Price Box
Record sale: $140

Lowest sale: $10
Number in CGC census:5 
RARE! Marvel Tales #67 30c Price Variant
May, 1976. Starburst Flash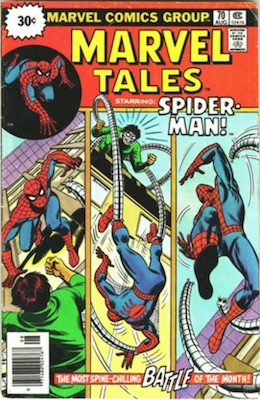 Record sale: $160

Lowest sale: $10
Number in CGC census:8 
RARE! Marvel Tales #68 30c Price Variant
June, 1976. Starburst Flash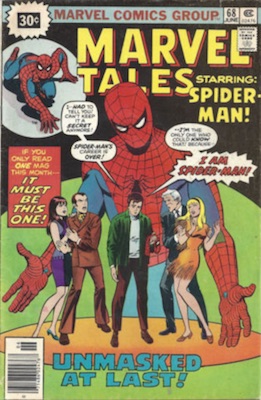 Record sale: $260

Lowest sale: $10
Number in CGC census:6 
RARE! Marvel Tales #69 30 Cent Price Variant
July, 1976. Starburst Flash
Record sale: $50

Lowest sale: $11
Number in CGC census:8 

RARE! Marvel Tales #70 30c Price Variant
April, 1976. Starburst Flash
Record sale: $140

Lowest sale: $10
Number in CGC census:6 
Marvel Team-Up #44 30c Price Variant
April, 1976. Regular Price Box
Record sale: $180

Lowest sale: $23
Number in CGC census:11 
Marvel Team-Up #45 30 Cent Variant
May, 1976. Starburst Flash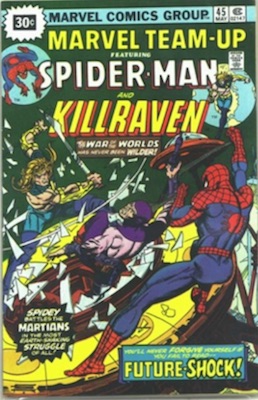 Record sale: $580

Lowest sale: $10
Number in CGC census:13 
Marvel Team-Up #46 30 Cent Price Variant
June, 1976. Starburst Flash
Record sale: $820

Lowest sale: $10
Number in CGC census:25 

Marvel Team-Up #47 30c Price Variant Edition
July, 1976. Price in Starburst
Record sale: $300

Lowest sale: $10
Number in CGC census:11 
Marvel Team-Up #48 30 Cent Variant
April, 1976. Square Price Box
Record sale: $800

Lowest sale: $10
Number in CGC census:14 

Marvel 30 Cent Price Variants:

RARE! Marvel Triple Action #29 30 Cent Variant
May, 1976. Price in Starburst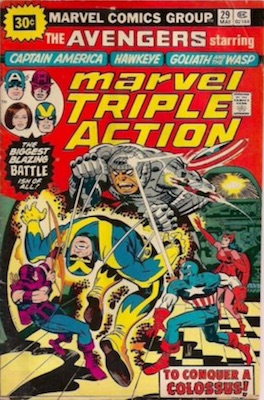 Record sale: $190

Lowest sale: $175
Number in CGC census:5 
RARE! Marvel Triple Action #30 30c Variant
July, 1976. Starburst Flash
Record sale: $250

Lowest sale: $50
Number in CGC census:6 
Marvel Two-In-One #15 30c Price Variant
May, 1976. Price in Starburst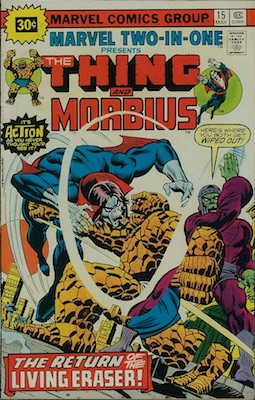 Record sale: $680

Lowest sale: $10
Number in CGC census:15 

Marvel Two-In-One #16 30c Price Variant
June, 1976. Starburst Flash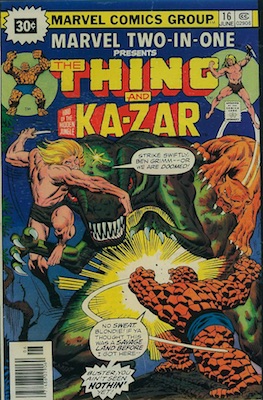 Record sale: $590

Lowest sale: $10
Number in CGC census:20 

RARE! Marvel Two-In-One #17 30 Cent Variant
July, 1976. Starburst Price Flash
Record sale: $1,730

Lowest sale: $12
Number in CGC census:8 

Marvel Two-In-One #18 30c Variant
August, 1976. Price in Circle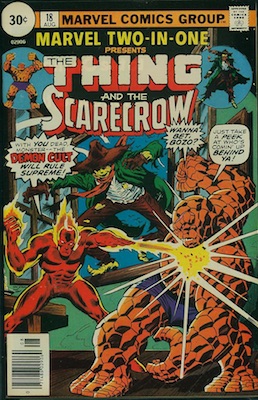 Record sale: $80

Lowest sale: $12
Number in CGC census:15 
RARE! Master of Kung-Fu #39 30 Cent Price Variant
April, 1976. Regular Price Box
Record sale: $360

Lowest sale: $50
Number in CGC census:8 
Master of Kung-Fu #40 30c Price Variant
May, 1976. Price in Starburst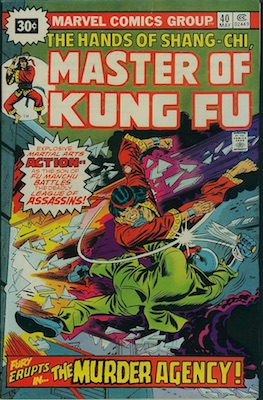 Record sale: $100

Lowest sale: $45
Number in CGC census:12 
RARE! Master of Kung-Fu #41 30 Cent Variant
June, 1976. Price in Starburst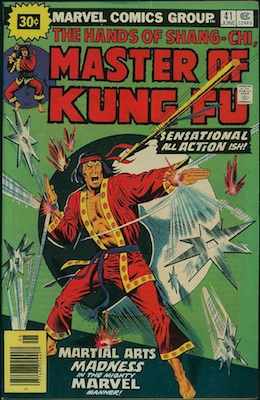 Record sale: $130

Lowest sale: $75
Number in CGC census:5 
Marvel 30 Cent Price Variants:

Master of Kung-Fu #42 Marvel 30c Price Variant
July, 1976. Starburst Flash
Record sale: $750

Lowest sale: $25
Number in CGC census:10 
Master of Kung-Fu #43 30c Price Variant
August, 1976. Price in Circle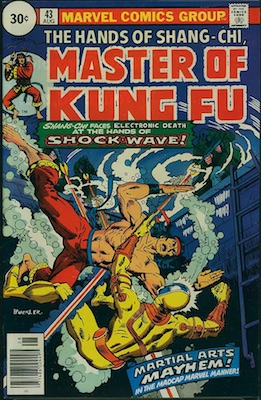 Record sale: $980

Lowest sale: $100
Number in CGC census:9 
Mighty Marvel Western #45 30 Cent Price Variant
July, 1976. Price in Starburst
Record sale: $1,270

Lowest sale: $80
Number in CGC census:10 
Omega the Unknown #2 30c Price Variant
May, 1976. Price in Starburst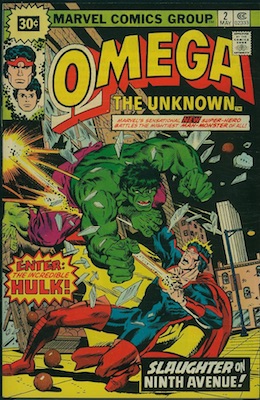 Record sale: $130

Lowest sale: $25
Number in CGC census:19 
Omega #3 30c Variant Edition
May, 1976. Starburst Flash
Record sale: $160

Lowest sale: $22
Number in CGC census:12 
Power Man #30 Marvel 30 Cent Price Variant
April, 1976. Regular Price Box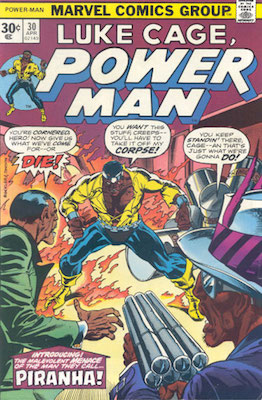 Record sale: $180

Lowest sale: $45
Number in CGC census:14 

Power Man #31 30c Price Variant
May, 1976. Price in Starburst
Record sale: $100

Lowest sale: $16
Number in CGC census:13 
Power Man #32 30c Variant
June, 1976. Price in Starburst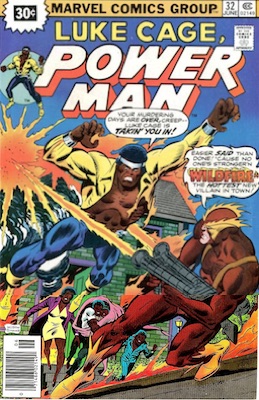 Record sale: $90

Lowest sale: $10
Number in CGC census:12 
Marvel 30 Cent Price Variants:

RARE! Power Man #33 30c Variant Edition
July, 1976. Starburst Flash
Record sale: $90

Lowest sale: $90
Number in CGC census:8 
RARE! Power man #34 Marvel 30 Cent Price Variant
August, 1976. Price in Circle
Record sale: $160

Lowest sale: $25
Number in CGC census:8 
RARE! Rawhide Kid #133 Marvel 30c Price Variant
May, 1976. Starburst Flash
Record sale: $200

Lowest sale: $65
Number in CGC census:8 
RARE! Rawhide Kid #134 Marvel 30 Cent Price Variant
July, 1976. Starburst Box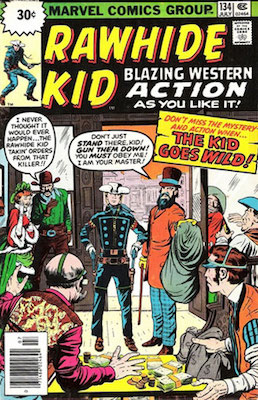 Record sale: $100

Lowest sale: $10
Number in CGC census:7 

Ringo Kid #27 30c Price Variant
May, 1976. Starburst Flash
Record sale: $330

Lowest sale: $130
Number in CGC census:13 
Ringo Kid #28 30 Cent Variant
May, 1976. Price in Starburst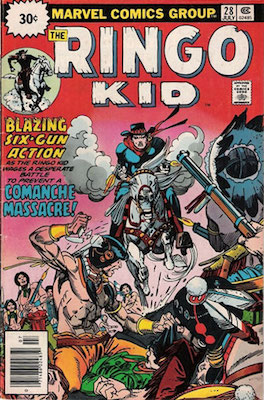 Record sale: $1,430

Lowest sale: $153
Number in CGC census:9 
Sgt Fury #133 30c Variant
May, 1976. Starburst Flash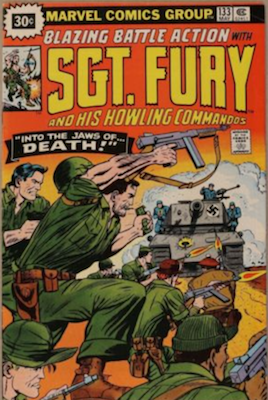 Record sale: $1,140

Lowest sale: $104
Number in CGC census: 13 
Sgt Fury #134 30c Price Variant
July, 1976. Price in Starburst
Record sale: $530

Lowest sale: $60
Number in CGC census: 17 
Skull the Slayer #5 30 Cent Variant
May, 1976. Starburst Flash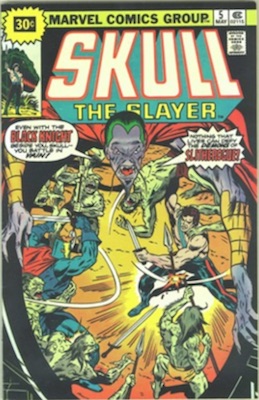 Record sale: $240

Lowest sale: $30
Number in CGC census:12 
Skull the Slayer #6 30c Variant
May, 1976. Price in Starburst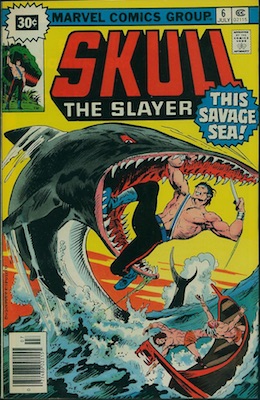 Record sale: $130

Lowest sale: $11
Number in CGC census:13 
RARE! Son of Satan #3 30 Cent Price Variant
April, 1976. Regular Price Box
Record sale: $190

Lowest sale: $25
Number in CGC census:8 
Son of Satan #4 30c Variant
June, 1976. Price in Starburst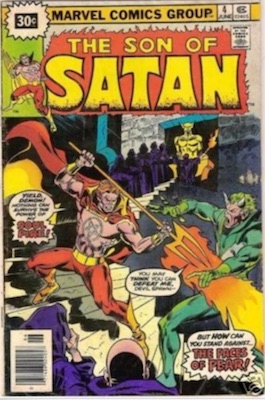 Record sale: $60

Lowest sale: $12
Number in CGC census:12 
Son of Satan #5 30 Cent Price Variant
August, 1976. Price in Circle
Record sale: $140

Lowest sale: $31
Number in CGC census:9 
Marvel 30 Cent Price Variants:

RARE! Strange Tales #185 Marvel 30c Price Variant
May, 1976. Starburst Flash
Record sale: $450

Lowest sale: $57
Number in CGC census:6 
RARE! Strange Tales #186 30c Variant Edition
July, 1976. Starburst Flash
Record sale: $120

Lowest sale: $10
Number in CGC census:8 
Super-Villain Team-Up #5 30c Variant
April, 1976. Regular Price Box
Record sale: $200

Lowest sale: $75
Number in CGC census:10 
Super-villain Team-Up #6 30c Variant
June, 1976. Price in Starburst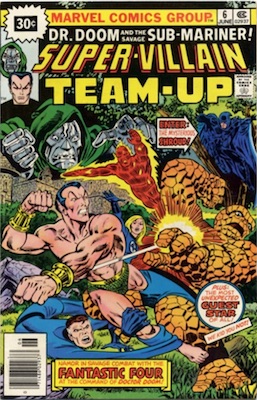 Record sale: $200

Lowest sale: $12
Number in CGC census:21 
Super-villain Team-Up #7 Marvel 30c Price Variant
August, 1976. Price in Circle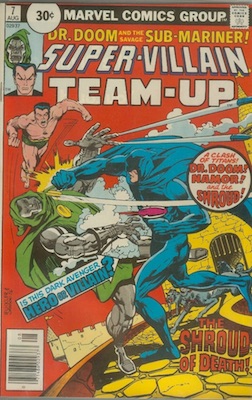 Record sale: $710

Lowest sale: $22
Number in CGC census:12 
Thor #246 Marvel 30 Cent Price Variant
April, 1976. Regular Price Box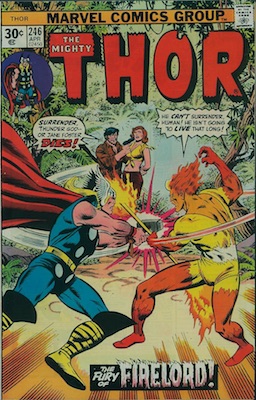 Record sale: $200

Lowest sale: $52
Number in CGC census:15 
Thor #247 30c Variant
May, 1976. Price in Starburst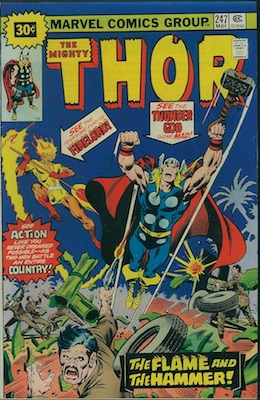 Record sale: $270

Lowest sale: $21
Number in CGC census:13 

Thor #248 Marvel 30c Variant
June, 1976. Starburst Flash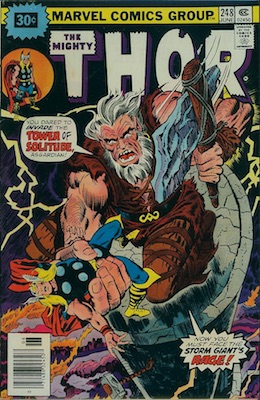 Record sale: $400

Lowest sale: $20
Number in CGC census:18 

Thor #249 Marvel 30 Cent Price Variant
July, 1976. Starburst Flash
Record sale: $1,100

Lowest sale: $19
Number in CGC census:23 
Thor #250 30 Cent Variant
August, 1976. Starburst Flash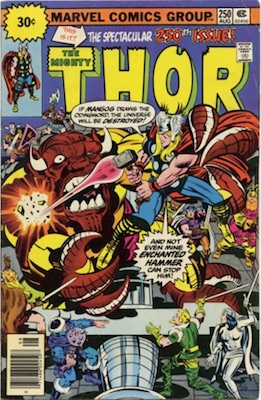 Record sale: $360

Lowest sale: $57
Number in CGC census:14 
Marvel 30 Cent Price Variants:

Tomb of Darkness #20 30c Price Variant
May, 1976. Price in Starburst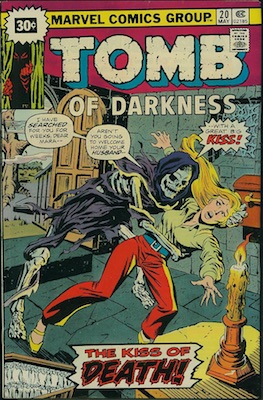 Record sale: $670

Lowest sale: $60
Number in CGC census:10 
Tomb of Darkness #21 30c Variant
July, 1976. Starburst Flash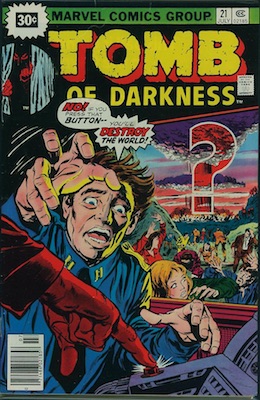 Record sale: $750

Lowest sale: $75
Number in CGC census:10 
Tomb of Dracula #43 Marvel 30c Variant
April, 1976. Regular Price Box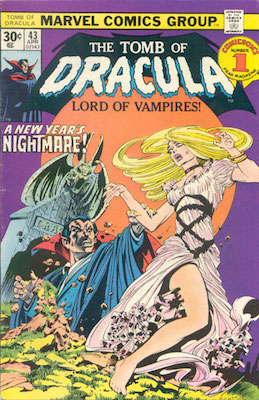 Record sale: $470

Lowest sale: $145
Number in CGC census:13 
Tomb of Dracula #44 30 Cent Variant
May, 1976. Price in Starburst
Record sale: $350

Lowest sale: $28
Number in CGC census:22 

Tomb of Dracula #45 30 Cent Price Variant
June, 1976. Price in Starburst
Record sale: $1,900

Lowest sale: $10
Number in CGC census:15 

Tomb of Dracula #46 Marvel 30 Cent Price Variant
July, 1976. Starburst Flash
Record sale: $400

Lowest sale: $18
Number in CGC census:13 
RARE! Tomb of Dracula #47 30c Variant
August, 1976. Price in Circle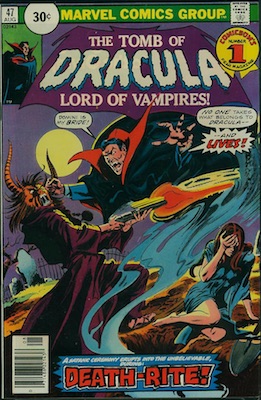 Record sale: $500

Lowest sale: $31
Number in CGC census:7 
Two-Gun Kid #129 Marvel 30c Price Variant
April, 1976. Regular Price Box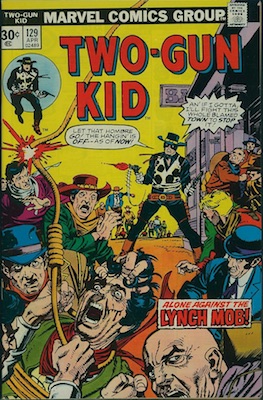 Record sale: $260

Lowest sale: $10
Number in CGC census:10 

Two-Gun Kid #130 Marvel 30 Cent Variant
June, 1976. Price in Starburst
Record sale: $560

Lowest sale: $12
Number in CGC census:14 
RARE! Two-Gun Kid #131 Marvel 30 Cent Price Variant
August, 1976. Price in Starburst
Record sale: $690

Lowest sale: $10
Number in CGC census:8 
Warlock #12 30c Price Variant
April, 1976. Regular Price Box
Record sale: $250

Lowest sale: $16
Number in CGC census:17 
Warlock #13 30c Variant
June, 1976. Price in Starburst
Record sale: $530

Lowest sale: $20
Number in CGC census:28 
Warlock #14 30 Cent Variant
August, 1976. Square Price Box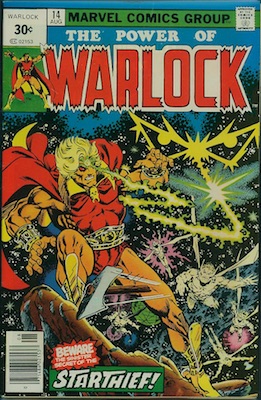 Record sale: $350

Lowest sale: $11
Number in CGC census:12 

Weird Wonder Tales #15 30c Variant
April, 1976. Regular Price Box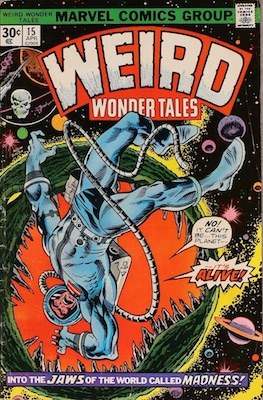 Record sale: $600

Lowest sale: $355
Number in CGC census:10 

Weird Wonder Tales #16 30 Cent Variant Edition
June, 1976. Starburst Flash
Record sale: $200

Lowest sale: $50
Number in CGC census:9 
Weird Wonder Tales #17 30 Cent Price Variant
August, 1976. Price in Starburst
Record sale: $60

Lowest sale: $50
Number in CGC census:12 
Werewolf by Night #38 30 Cent Price Variant
May, 1976. Starburst Flash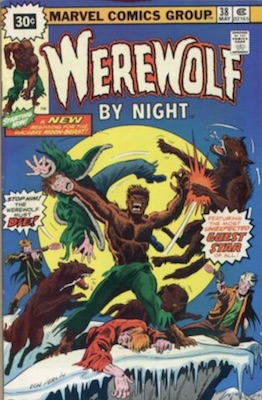 Record sale: $180

Lowest sale: $15
Number in CGC census:13 

Werewolf by Night #39 30 Cent Variant
July, 1976. Price in Starburst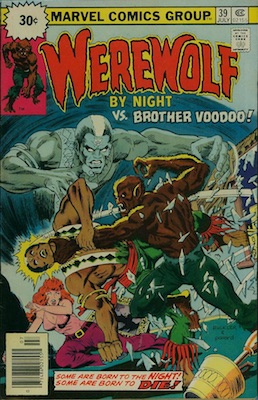 Record sale: $200

Lowest sale: $15
Number in CGC census:15 
X-Men #98 Marvel 30 Cent Price Variant
April, 1976. Starburst Flash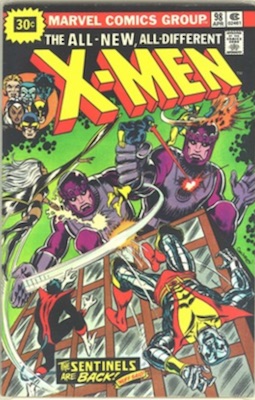 Record sale: $1,620

Lowest sale: $37
Number in CGC census:75 
X-Men #99 30c Price Variant
June, 1976. Price in Starburst
Record sale: $1,000

Lowest sale: $47
Number in CGC census:92 
X-Men #100 30c Price Variant Edition
August, 1976. Price in Circle
Record sale: $1,400

Lowest sale: $59
Number in CGC census:83 
More of our Comic Price Guides
Go from Marvel 30 Cent Price Variants to the Marvel Comics Characters Menu