Before You Buy Comics Online, Ask Us!
We'll save you money when you buy comics online using eBay.
Before you buy and sell comic books on eBay, STOP HERE!
Our FREE comic book appraisal service means you'll NEVER overpay for a comic book online again.
We also have tons of great articles to help you make your collecting dollar go as far as possible.
Why It's Hard to Buy Comics Online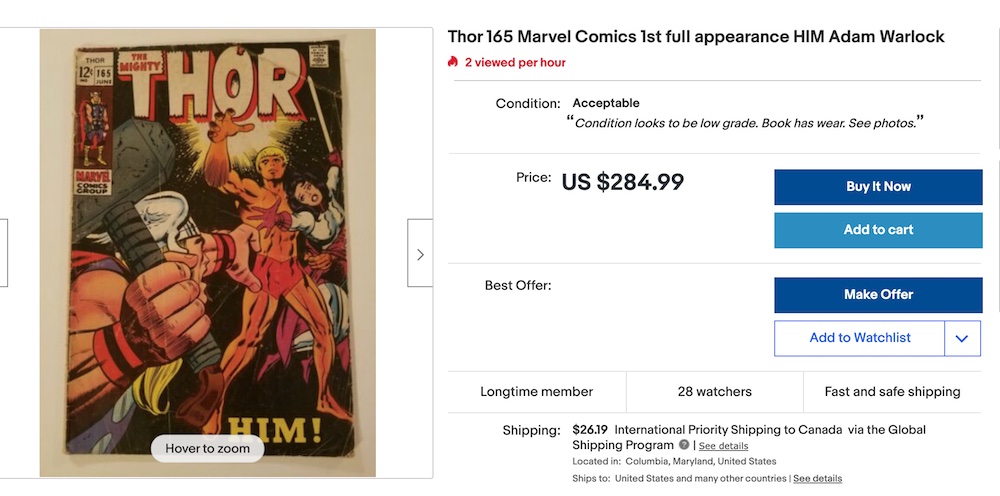 eBay is the world's biggest marketplace. It is easy to get over-excited when you buy comics online
"How much should I pay for this comic book? Is it a 9.8, 9.4, 8.0, 4.0...?"

Way too many eBay sellers claim to "Grade Strict" or have "Years of Experience". We see auction after auction that claims to be NM, when it the book is only a fine.
Why not get an opinion from and impartial third party? We have 30+ years of comic book trading expertise.
We've made millions of dollars buying and reselling comic books.
Why take chances? We'll give you a FREE opinion of an eBay item you're thinking of buying.
Don't bid until you've had our take on whether the comic book you want is value for money.
Testimonials for Our eBay Appraisal Service

"I have used Ashley's eBay Appraisal Service a number of times and always with great success.
"He has prevented me from buying some really overpriced comics with defects that I couldn't see online and let me know about the ones that are truly fairly priced. He also lets me know what to bid for the ones that are in an auction so I don't overbid.
"As long as I continue to buy comics online on eBay, I intend to keep on using the service."
Gary Ryan, USA
"I've tried out your free appraisal service on the website and I am more than happy with the service. Great response time. I'll be sure to use it again in future."

C. P., United Kingdom
"Just like the articles at sellmycomicbooks.com, I got more than I expected with the eBay Comic Book Appraisal. Using the articles as inspiration, I found a comic issue that I thought would definitely go up after the upcoming Ant-Man Movie.

"I searched eBay and found three that might be high enough grade to be considered investment worthy. I asked SellMyComicBooks.com and got a prompt, insightful response that helped me hone on the best choice. In addition, they reminded me the top price to pay for it to reduce risk.

"I won the auction and when the comic arrived, was overjoyed that I had chosen correctly. Having access to such advice really helps when trying decide where to invest. I certainly will continue utilize them whenever I invest in a comic."
Adam J. Horry, USA
"If you're looking to spend money on comics, but want to make sure you're not getting ripped off, then you need to use this free appraisal service."
Anonymous, United Kingdom
Why Get Our Opinion Before You Buy Comics Online?
It's true that most eBay sellers take returns, but who wants the hassle and cost of return shipping? We can't guarantee that you won't want to return the book, but we can reduce the likelihood you will want to. What do you have to lose? The service is FREE! Get started now.
Looking for a specific book in a specific grade? Uncomfortable with navigating the 'real grades' on eBay versus the seller's "Advertised Grade"? Do you have a budget? Let us know what you are looking for, and we can help you find it.
Think of our service as "Real-time third-party grading", without a fee!
We'll help you buy what you THINK you are buying... It's easy for sellers to over-grade their inventory, and then issue the occasional refund. Why waste your time and effort?
Many buyers are either unhappy with their eBay purchase and not willing to do anything about it, or they don't have the knowledge to realize that the advertised 9.4 NM is actually a 8.0 VF, because of a small stain on the back cover. Allow us to enlighten you!
eBay Comic Book Appraisal Service
We'll appraise any comic-related eBay item FREE!
Here's how it works.
1. Find the eBay item you're interested in buying.
Let's say it's this copy of Conan #1...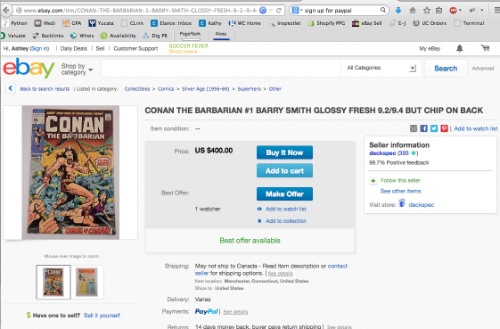 2. Copy the URL from the top of the browser window.
This is done by clicking on the URL, then pressing CTRL-C on a PC, or Command-C on a Mac.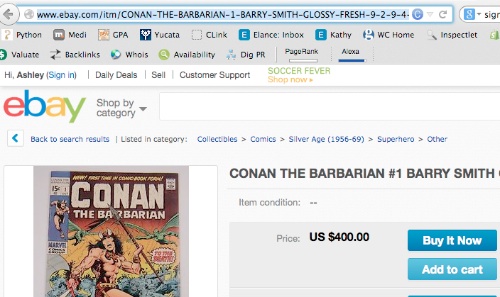 3. Now fill in the simple form below.
Use CTRL-V on a PC and Command-V on a Mac to paste the URL into the form.
Item ending soon?
Check the URGENT box if the item will end within 24 hours!
We'll email you our appraisal as soon as possible.
Please remember that this is a free service. We'll do our best to help you buy comics online, but we can't guarantee a quick response in times of high demand.
More About our eBay Comic Book Appraisal Service
Here's what you can expect from our appraisal service before you buy comics online:
Appraisal of Raw (non-CGC)
Comic Books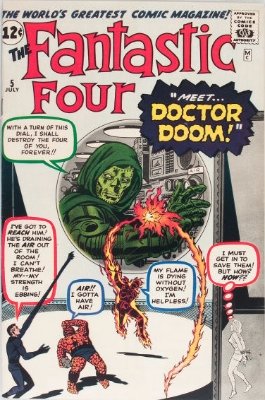 If the comic book is NOT graded:
Our appraisal team will consider the probable grade of the book, with a minimum grade and maximum grade range
Sales history of comic books at that grade will be supplied for comparison
We'll suggest a maximum bid, based on current market conditions and past sales
Appraisal of CGC-Graded
Comic Books
If the comic book is CGC graded:
Our appraisal team will consider the potential for upgrade of the book, where possible (not easy from scans and photos)
We'll provide past sales data, and point out the average return over recent years
Overpaying for CGC-slabbed books is VERY common. We'll suggest a maximum bid value
Just fill in the form below to begin.
Check the URGENT box if your item ends within 24 hours.
We'll do our best to help, but please be patient. This is a free service.
Helpful Articles to Buy Comics Online
These links will take you to other pages on our website. You'll learn the skills you need to successfully buy and sell comic books for the best prices.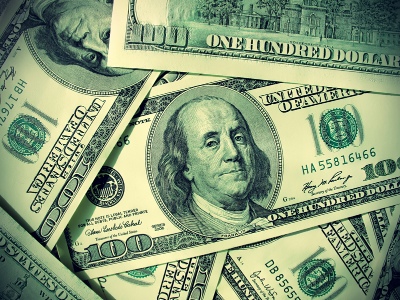 Sell Comics to Us
Find out why Sell My Comic Books is a great place to sell your collection. We pay shipping, and make an immediate cash settlement.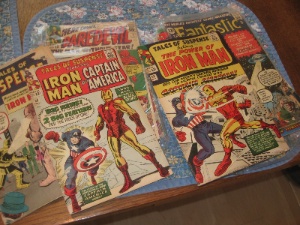 How to Grade Comic Books
Part art and part science, when you buy comics online, the last thing you need is to get the grade wrong! Learn how to tell a VG+ from a VF- here.
All Our Comic Price Guides
We break down major superheroes issue by issue. Includes all the big names from Marvel, DC, and leading independent publishers.
Not sure how much to pay?
Use our FREE eBay item appraisal, and we'll give you our opinion.