100 Hot Comics #66:
Amazing Spider-Man 300, 1st Venom
DOWN 39 PLACES FROM LAST YEAR
Hot Comics: Amazing Spider-Man 300, 1st Venom. Click to buy a copy from Goldin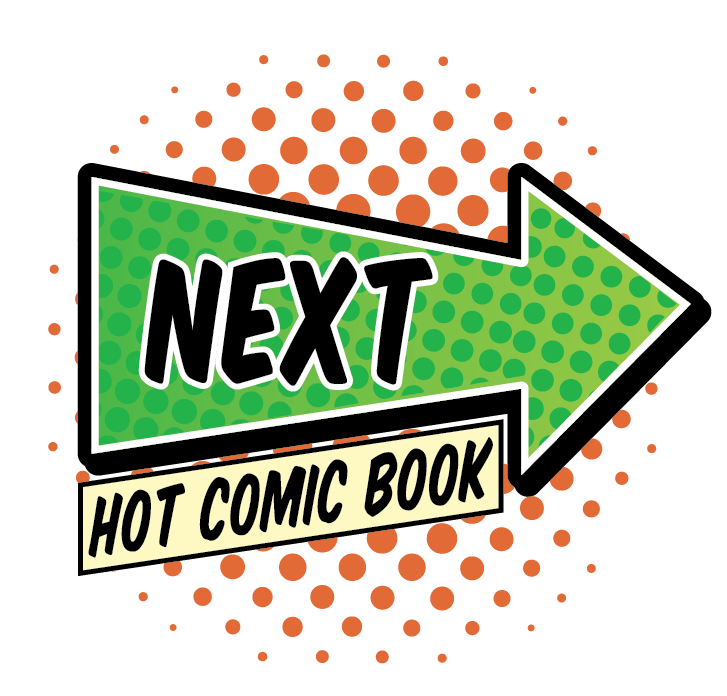 CLICK TO SEE THE NEXT HOT COMIC BOOK!
Why Amazing Spider-Man 300 is a Hot Comic
2023 MARKET REPORT: DON'T SAY I DIDN'T WARN YOU...
Last sale of a CGC 9.8 was under $4K.
'Nuff said.
2022 MARKET REPORT: IDIOTS DRIVE THE MARKET, BUT VENOM IS POISONOUS
You can only call somebody who paid $9,100 for a CGC 9.8 of this oh-so-common book an idiot. Still, there were people paying $60K for Bitcoin -- and at least you get to hold a CGC book in your hands.
The most recent sale of $5,300 is a major ouch for that buyer. It's also down from the heady heights of regular $6K sales last year.
To put how common this book is into context, there are over 1,200 CGC 9.8s alone out of a total census of 27,900.
It's still on the list. It still sells like hot potatoes whenever it's listed.
It's just softened off since last year, and may have a long way down to go yet. Be careful.
Recent sales:
9.8 $5,300
9.6 $2,100
9.4 $960
9.2 $1,050
9.0 $885
8.5 $820
8.0 $640
7.5 $675
7.0 $580
6.5 $490
6.0 $585(!)
5.5 $415
5.0 $415
4.5 $465
4.0 $430
3.5 $375
2021 MARKET REPORT: MASSIVE INCREASES IN HIGH GRADES MAKES ASM #300 ONE OF THE YEAR'S TOP PERFORMERS
Monster sales of CGC 9.8, 9.6 and all the way down to 9.0 have made this a banner year for the first full appearance of Venom.
It's truly defying the supply issue -- this book is SO common. We see multiple copies daily in collections offered to us.
9.8 $4,800
9.6 $1,350
9.4 $925
9.2 $700
9.0 $650 << this is the CGC 9.6 price from 2019!
8.5 $485
8.0 $620(!!)
7.5 $550
7.0 $430

6.0 $450(!)




5.0 $340




4.0 $150
IF YOU BOUGHT MY RECOMMENDED GRADE LAST YEAR:
Here's the bottom line.
CGC 9.6 2020 $946
LAST SALE $1,350
PERCENT CHANGE +42%
2020 MARKET UPDATE: WHAT HAS THE NEW VENOM 2 MOVIE DONE FOR ASM 300?
Generally the sentiment on ASM 300 is negative. But for whatever reason, people are pushing prices higher on mid-grade copies of this so-common book.
Amazing Spider-Man 300 was published in 1988. There are tens or hundreds of thousands of copies in circulation.
We don't feel optimistic about this book, but if you're one of the people who for whatever reason bought around FN-VF, then you've actually seen a price increase this year!
Go figure.
2019 MARKET UPDATE: THE SELL-OFF IS WELL UNDER WAY
The Venom movie met with mixed reviews. Fans of the character loved it, everyday superhero moviegoers liked it, mostly everybody else hated it.
What has this meant to prices? Well, this very common book was over-inflated before, and now the air is being let out of the balloon, big time.
It's time to take your medicine on this book and get your money out if you still hold one.
On the flipside, it's a great book to buy raw and certify, as long as you can accurately grade comic books and be confident of getting at least an 8.0.
Signature Series Stan Lee autograph comics might be different. This was always a popular book with his signature on it. I'll look at prices for those separately.
Sale prices of REGULAR copies:
CGC 9.8: $2,100
CGC 9.6 $650

CGC 9.4 $500

CGC 9.2 $360

CGC 9.0 $348
CGC 8.0 $265
Sale prices of STAN LEE AUTOGRAPH copies:
CGC 9.8: $2,800 Lee
CGC 9.8: $3,650 Lee/McFarlane
CGC 9.6 $2,200 Lee
CGC 9.6: $1,100 Lee/McFarlane

CGC 9.4: $802 Lee

CGC 9.4: $710 Lee/McFarlane

CGC 9.2: $600 Lee

CGC 9.2: $850 (!!) Lee/McFarlane -- more than 9.4 price!

CGC 9.0: $511 Lee
There are dozens of combination signatures with Lee and other members of the team which worked on ASM #300. These include David Michelinie, Neal Adams, John Romita Senior, Tom DeFalco and Jim Salicrup.
Signature Series books are a minefield and very hard to find price comparisons for.
2018 MARKET UPDATE: VENOM, CARNAGE, HOT COMICS MADNESS!
There is a ceiling on this book, and the reason is simple. It's common as dirt.
There are more than 12,000 copies of this book in the CGC census! That is a great indication of its easy-to-find late 80s status. No less than 767 are CGC 9.8.
If you want one, you will find one. It's just a question of how much to pay. With  a few exceptional crazy sales around the time of the movie announcement, CGC 9.8s have bumped against the glass ceiling at $2,000.
We cannot recommend CGC 9.8 as a buy at this point, but it belongs on the hot list, and if you have a copy, it is probably still a hold, at least until the Venom movie comes out.
CGC 9.6 copies might still have some upside.
Here are recent sales:
CGC 9.8: $2,000
CGC 9.8 SS Lee/McFarlane: $2,550
CGC 9.6 $730
CGC 9.6 SS Lee/McFarlane: $1,100
CGC 9.4 $415
CGC 9.4 SS Lee/McFarlane: $1,025 (!!)
CGC 9.2 $400 (!!)
CGC 9.0 $355
CGC 8.0 $255
2017 MARKET UPDATE:
Sony shelved one movie project, and announced Venom as their 2018 superhero movie release. Prices, predictably enough, went berserk overnight, as speculators and investors piled into this already hot book.
While Stan Lee continues to astound observers with his longevity and ability to continue raking in cash for signing comic books, eventually he WILL expire. Copies of ASM 300 signed by Stan Lee in a Signature Series holder are particularly popular when combined with Todd McFarlane's signature.
CGC 9.8: $1,650
CGC 9.8 SS Lee/McFarlane: $2,500
CGC 9.6 $590
CGC 9.6 SS Lee/McFarlane: $750
CGC 9.4 $370
CGC 9.4 SS Lee/McFarlane: $800 (!!)
CGC 9.2 $320
CGC 9.0 $300
CGC 8.0 $200
Venom is one of the hottest properties in the Spider-Man universe right now, and it's understandable that his first full appearance is on the Hot 100 list.
Movie rumors won't leave this character alone. Sony and Marvel have agreed to work together on the second Spider-Man movie reboot, and along with Carnage, and the various Symbiote (black costume) first appearances, there are few affordable books we could recommend more highly.
Other Spider-Man villains which appear in the Hot 100:
Amazing Spider-Man #2 (1st Vulture)
Amazing Spider-Man #14 (1st Green Goblin)
Amazing Spider-Man #50 (1st Kingpin)

Amazing Spider-Man #101 (1st Morbius)
Amazing Spider-Man #129 (1st Punisher)
Amazing Spider-Man #361 (1st Carnage)
What to Invest In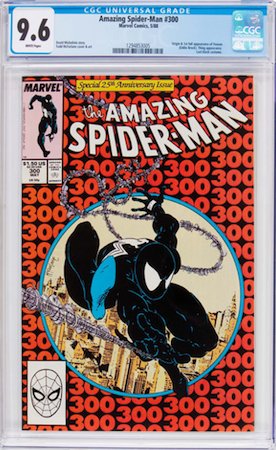 Amazing Spider-Man #300 is the 1st Venom appearance. Look for a CGC 9.6 with white pages. Click to buy a copy from Goldin
Have this book? Click to appraise its value NOW!

Related Pages on Sell My Comic Books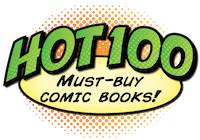 Click to return to the Hot 100 Investment Comic Books menu