Hot Comics #42:
Harbinger #1 (Valiant Comics)
UP 17 PLACES FROM LAST YEAR!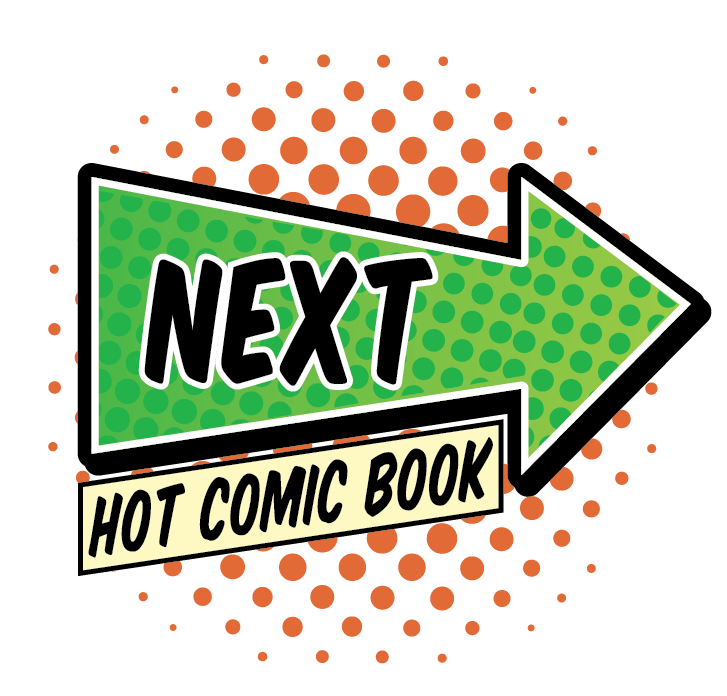 Why Harbinger #1 is Hot
2019 MARKET UPDATE: PROFIT-TAKING AFFECTS TOP GRADE
This is a tough comic book to predict the future for. So much depends on whether or not the movie or TV series (both have been rumored) materializes.
This year, sales have reached $1,100 in CGC 9.8, but also been as low as $889. That doesn't sound like a lot of variance, but it's a swing of 20 percent.
IF YOU BOUGHT MY RECOMMENDED GRADE LAST YEAR:
Here's the bottom line.
CGC 9.8 2018 $1,000
LAST SALE $950
PERCENT CHANGE -5%
This is a comic book of fine margins. 20 percent is a huge difference if you're relying on making a profit of 15 percent to get your money out!
I would not put new money into this book, but if you have $1K tied up, then I would wait for the right moment. I don't see it breaking out upwards or dropping like a stone.
If you're NOT in this book yet, then I don't think it's exciting enough to commit to.
CGC 9.6, 9.4, 9.2 and 9.0 have shown gains since last year. Make sure your copy has the coupons to order #0 if you buy one raw.
Recent sales:
CGC 9.8: $950

CGC 9.6 $300

CGC 9.4 $215

CGC 9.2 $160

CGC 9.0 $160 (!)

CGC 8.0 $78
2018 MARKET UPDATE: HARBINGER #1 BREAKS THE $1,000 BARRIER!
One of the few indies on the 100 Hot Comics list, Harbinger #1 now has sold for $1,000 in CGC 9.8 -- quite the milestone.
There are price increases lower down, but nothing exciting.
CGC 9.8: $1,000

CGC 9.6 $250

CGC 9.4 $150

CGC 9.2 $115

CGC 9.0 $95

CGC 8.0 $95
2017 MARKET UPDATE:
This book is hot -- but only really hot in CGC 9.8. New records are being set in that grade, but lower examples are not returning well.
You'd be $200 up if you had taken my advice to buy a 9.8 this time last year.
CGC 9.8: $925

CGC 9.6 $280

CGC 9.4 $150

CGC 9.2 $140

CGC 9.0 $100

CGC 8.0 $95

As usual, movie hype is driving the value of this book. Paramount Studios acquired the movie rights to Harbinger. A main movie and crossover sequel were planned.
While there is some confusion over the status of the movie projects, resulting in a slight softening of prices at all grade levels, CGC 9.8s still sell for more than double the price in 2014.
WARNING! A reader incentive program invited buyers of early Harbinger issues to clip out coupons and send off for a mail order copy of Harbinger #0. Copies with coupons clipped are considered incomplete.
Check your copy before you invest in it to ensure the coupon is present, and avoid green label Qualified graded examples in CGC holders, as these are worth far less.
What to Invest In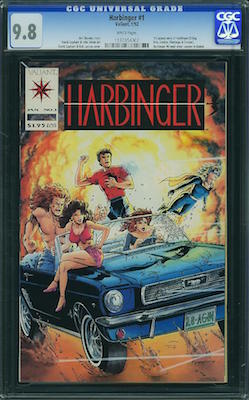 Owning a copy of Harbinger #1 from 1992 in CGC 9.8 shape with coupons intact is a good idea. Click to find yours from eBay
Have this book? Click to appraise its value NOW!

Related Pages on Sell My Comic Books
Top 60 Most Valuable Modern Comic Books
Make Money When You Buy and Sell Comic Books
Most Expensive Valiant Comics Price Guide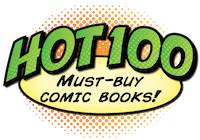 Click to return to the Hot 100 Investment Comic Books menu