Hot Comics #41:
Amazing Spider-Man 361, 1st Carnage
NEW ENTRY!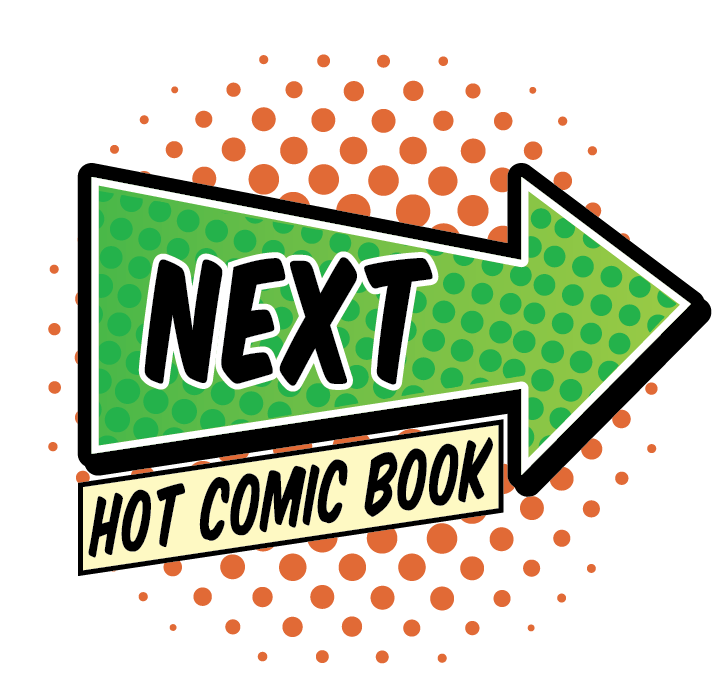 Why Amazing Spider-Man 361 is a Hot Comic
2018 MARKET UPDATE: NEW ENTRY ON THIS YEAR'S 100 HOT COMICS LIST!
The first thing to say about Amazing Spider-Man #361 is that it's a REALLY common book. This means you can afford to be very picky.
They are not at all hard to find in high grade, having been printed at a time when ASM was at its height, and Marvel were pumping out Spider titles. I know of one dealer who had 200 copies of this book a few years ago...
There really is only one end of the market in play here.
CGC 9.8: $300
CGC 9.6 $160
CGC 9.4 $115
CGC 9.2 $90
CGC 9.0 $75
Really, you aren't expecting to get rich with this book. While a glut of supply never hurt the value of New Mutants #98, for example, even the strong movie connection hasn't made prices break out of their holding pattern.
There is a steady upward curve of sales, and lots of volume, which is why this book justifies its place on the list. Most investors will be able to afford multiple copies.
You can buy high-grade raw copies on eBay (if you know what you're doing) and send them to CGC for profit.
What to Invest In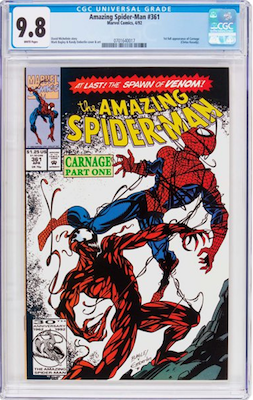 Don't go below a CGC 9.6, but our recommendation is a CGC 9.8 of Amazing Spider-Man #361 (First Carnage). Click to find yours
Don't let your standards slip. There are so many copies of this book available (at the time of writing, no less than 1,987 copies at CGC 9.8 in the census) that you can not only afford to be picky on price, but also on eye appeal.
Two CGC 9.8s are not created equal. This book is commonly found slightly miscut. You want a perfectly centered book with the binding square, and no back cover wrapped around to the front.
There are two copies graded CGC 9.9 in the census. If one of those comes to market around the time of the movie, I'd expect it to sell for between $2,000 and $3,000.
That might turn out to be the best investment of all, if you can afford it and happen to be alert at the right time.
Have this book? Click to appraise its value NOW!
Related Pages on Sell My Comic Books
Most Valuable Comic Books from the Modern Age
Amazing Spider-Man Comic Book Price Guide: Later Key Issues
Value of Key Issue Venom Comics
Carnage Marvel Comics Price Guide
Other Amazing Spider-Man Comics on the 100 Hot Comics list:
ASM #1 | ASM #2 | ASM #14 | ASM #20 | ASM #50 | ASM #101 | ASM #129 | ASM #194 | ASM #300 | ASM #607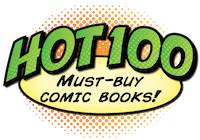 Click to return to the Hot 100 Investment Comic Books menu
Go from Amazing Spider-Man #361 to the 100 Hot Comics menu