Hot Comics LOSER:
Green Lantern #59, 1st Guy Gardner
DROPPED OUT OF THIS YEAR'S LIST
Why Green Lantern #59 is a Hot Comics LOSER
2017 MARKET UPDATE:
This book barely made it onto the list last year, and this year it slips unceremoniously off it again.
There are no real positives in any grade below the rare 9.2. Everything else is cold.
CGC 9.4 $900

CGC 9.2 $900 (!)

CGC 9.0 $600

CGC 8.5 $340

CGC 7.0 $190

CGC 6.0 $145

Guy Gardner is a vital character in the Green Lantern comic book series.
TV shows and video games based on the Green Lantern have featured him, and though he was written out of the final draft, he was slated to appear in the unsuccessful Green Lantern Hollywood movie of 2011.
While that was a commercial failure, Green Lantern has been talked about as a movie franchise due for a reboot, and with JLA movies and tie-in movies appearing, Guy Gardner could yet make an appearance on the Silver Screen.
Even without movie speculation, this book seems under-valued to us, and therefore a good gamble.
What to Invest In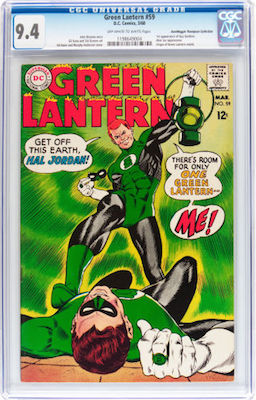 Green Lantern #59 has price compression at higher grade. A 9.4 costs almost the same as a 9.2! Click to get yours
Have this book? Click to appraise its value NOW!
Related Pages on Sell My Comic Books
Green Lantern Silver Age Comic Book Price Guide
Green Lantern Golden Age Comic Book Values
DC Comic Superheroes and Villains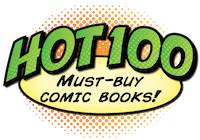 Click to return to the Hot 100 Investment Comic Books menu
Go from Green Lantern #59 to the 100 Hot Comics menu
Want to sell, appraise or buy comics online? Start here!