100 Hot Comics #2:
Incredible Hulk #180, Brief 1st Wolverine
UP 14 PLACES FROM LAST YEAR!
NOTE: We use eBay to provide references to live prices of comic books. Clicking a text link or image marked 'Check live prices' will take you to eBay.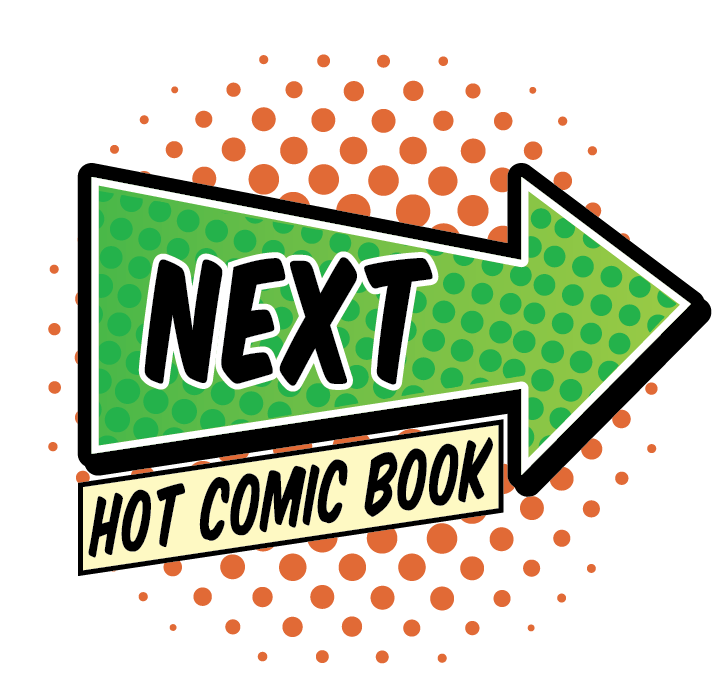 Why Incredible Hulk 180 is a Hot Comic
2020 MARKET UPDATE: FIRST TIME AHEAD OF INCREDIBLE HULK #181 ON THE HOT LIST
Some collectors have started to agitate against Incredible Hulk #181 being the hot Wolverine issue, saying that the true first appearance is #180.
This, along with many people being priced out of the 181 market, has seen big increases in many grades on this book. While 181 has lost ground, 180 has prospered.
IF YOU BOUGHT MY RECOMMENDED GRADE LAST YEAR:
Here's the bottom line.
CGC 9.2 2019 $1,284
LAST SALE $1,600
PERCENT CHANGE +24%
Most recent sales by grade.
9.8 $6,900
9.6 $3,150
9.4 $2,000
9.0 $1,225

8.5 $876
8.0 $900(!)
7.0 $550

6.0 $450

5.0 $400

4.5 $400(!)
4.0 $400(!!)
3.5 $325
2019 MARKET UPDATE: 47 PERCENT INCREASE THIS YEAR
Hulk 180 is definitely still hot, but the percentage returns on this book are far lower than on its big sister, Hulk 181, which has doubled in many grades.
The price of entry is less too, in fairness.
I would probably be happy with a 47 percent increase in 12 months. If I were you, I would be very careful about buying into this book now.
There were strong signs that the heat had gone out of #181 until Stan Lee died, when it kicked off again.
I think this book will take a hit before #181 does. Could be time to cash in.
2018 MARKET UPDATE: THE POOR MAN'S HULK #181...
This is a decent book to already own, though we are not super-bullish about buying them at this time. That is, if you're not holding a CGC 9.8 hoping for a miracle. All other grades have seen nice appreciation. 9.8s are DOWN.
We cannot really justify this anomaly, other than saying that maybe people would rather have a CGC 9.4 of Incredible Hulk #181 than a 9.8 of #180...
CGC 9.8 $5,500
CGC 9.6 $2,000
CGC 9.4 $1,180
CGC 9.2 $730
CGC 9.0 $550
CGC 8.5 $415
CGC 7.0 $230
CGC 6.0 $220
As the sales above show, the market is driving the price of this book higher. It's definitely a very hot comic book.
2017 MARKET UPDATE:
Surprisingly, there hasn't been a sale in CGC 9.8 for over a year, but all other grades above fine are doing very nicely.
Collectors tired of saying "HOW MUCH?!!" when they see 181s selling have been snapping up desirable examples of this book instead. Prices drop far more rapidly as you move down the grades than 181.
CGC 9.6: $1,600
CGC 9.4 $1,050
CGC 9.2 $520
CGC 8.5 $385
CGC 7.0 $270
CGC 6.0 $280(!)
If you cannot afford a decent copy of Incredible Hulk #181 (and let's face it, you probably can't), then the 'poor man's #181' is where your money should go.
Why has this heated up in value? Mainly because Wolverine is still the #1 most popular character to appear in the X-Men comics series, and this is, technically, his actual first appearance. Despite the cameo nature of it.
Let's not delude ourselves, it's still only worth a fraction of the #181 prices, but the gap is slowly closing, especially in higher grades.
For the same price as our recommended 9.2, you would only be able to afford a pretty ragged-looking 4.5 of #181. No contest!
What to Invest In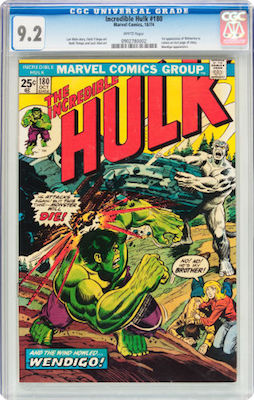 A nice clean CGC 9.2 copy of Incredible Hulk #180, preferably with white pages, is a good, relatively affordable investment. Click to buy a copy
Have this book? Click to appraise its value NOW!

Related Pages on Sell My Comic Books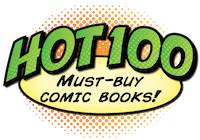 Click to return to the Hot 100 Investment Comic Books menu
Go from Incredible Hulk 180 to the 100 Hot Comics menu