Hot Comics #26:
Avengers 8, 1st Kang the Conqueror
DOWN 1 PLACE FROM LAST YEAR
NOTE: We use eBay to provide references to live prices of comic books. Clicking a text link or image marked 'Check live prices' will take you to eBay.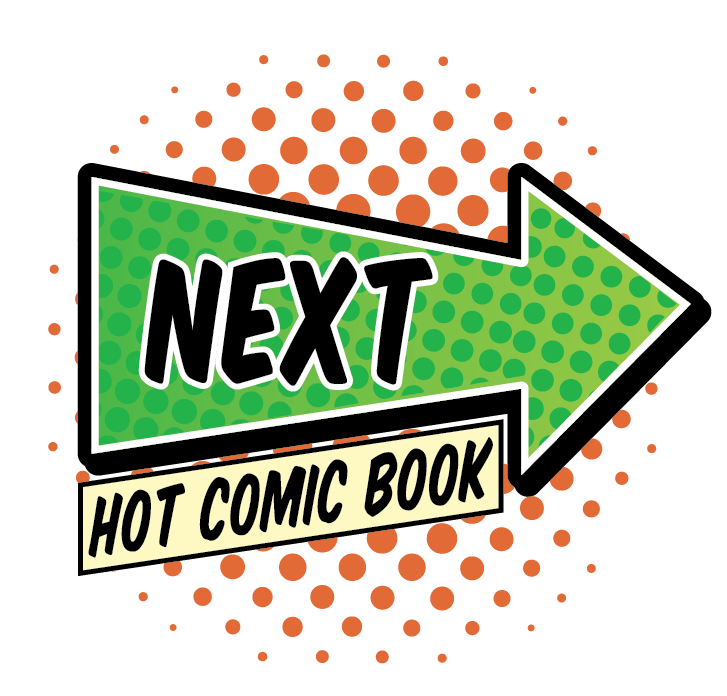 CLICK TO SEE THE NEXT HOT COMIC BOOK!
Why Avengers 8 is a Hot Comic
2021 MARKET REPORT: KANG ON TO THIS ISSUE
While it's not the biggest percentage gainer this year, Kang's first appearance is still increasing in value in most grades.
The freeze on movies due to the pandemic is not helping.
Recent sales:
9.4 $4,400



9.2 $3,160
9.0 $2,075
8.5 $1,880
7.5 $1,325

7.0 $1,000
6.5 $810
6.0 $1,030 (knucklehead buy)
5.5 $760
5.0 $650
4.5 $500
4.0 $470
3.5 $370
3.0 $350
2.5 $250
IF YOU BOUGHT MY RECOMMENDED GRADE LAST YEAR:
Here's the bottom line.
CGC 8.0 2020 $1,362
LAST SALE $1,589
PERCENT CHANGE +16%
2020 MARKET REPORT: NEW ENTRY ON THE HOT 100!
What does Kang the Conqueror have to do with the MCU?
I'm not clear yet (I don't have contacts in Marvel Studios), but clearly SOMETHING, because this among many potential candidates has been hot for a couple of years now.
It's a pretty tough book, mid-1960s, white cover which shows dirt and dust.
I still see upside and suggest you own a nice high-grade copy as soon as you can afford one.
Recent sales:
9.8 $16,500 (new record!)
9.4 $3,120

9.2 $3,300
9.0 $1,824
8.5 $1,680
7.5 $720

7.0 $600
6.5 $495
6.0 $449
5.5 $400
5.0 $330
4.5 $390(!)
4.0 $210
3.5 $249(!!)
3.0 $137
2.5 $175(!)
2019 MARKET REPORT: NEW ENTRY ON THE HOT 100!
Avengers 8 is quietly becoming one of the hottest books in the series, thanks to renewed rumor of the FF movies coming to the Marvel Cinematic Universe.
There is some confusion about the rights to the Kang character, with James Gunn commenting that 20th Century Fox has the rights.
Mind you, that was back in 2015, so things may well have changed since then with the generally upbeat Homecoming mood and Disney's purchase of Marvel.
Avengers is one of the classic Marvel titles of the Silver Age, and this is an issue in the first ten. That in itself is enough to recommend most key issues.
We see this way less often than #1 and #4 believe it or not -- this book seems scarcer than many of the same period.
The mostly white cover also shows dust and sun shadowing easily, so a high-grade copy is pretty hard to come by.
What to Invest In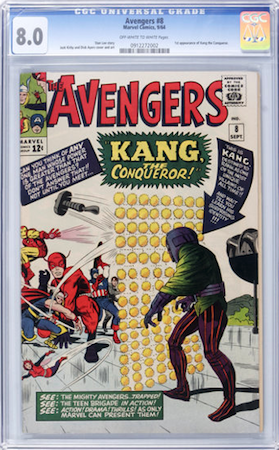 Hot Comics #61: Avengers 8, 1st Kang the Conqueror. Look for CGC 8.0. Click to order a copy

In common with most Silver Age comic books, you should look beyond VG condition -- the average well-read copy won't excite potential buyers when it comes time to cash in.
Here are some recent sales:
CGC 2.5 $129
CGC 3.0 $72  (!)
CGC 4.0 $240
CGC 5.0 $300
CGC 6.0 $355
CGC 7.0 $500
CGC 8.0 $950
CGC 9.0 $1,050
The price of an 8.0 has increased threefold since 2017, and that's where I'd put your money if it was up to me. I doubt whether you'll get one for less than $1,000 now.
Try to find a copy with at least Off-White to White pages.
Don't buy fixed price listings. As you can see from the 3.0 sale above, the 2.5 was an impatient buyer who over-paid for the lower-grade example.
The jump in price from 5.0 to 6.0 is not very big, so if your budget doesn't stretch to an 8.0 then I would look to the FN level.
Have this book? Click to appraise its value NOW!
Related Pages on Sell My Comic Books
Avengers Comic Book Price Guide
175 Most Valuable Comics of the Silver Age (1960s)
Other Avengers comics on the 100 Hot Comics List:
Avengers #1 | Avengers #4 | New Avengers #11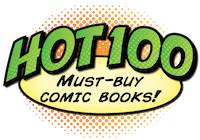 Click to return to the Hot 100 Investment Comic Books menu
Go from Avengers 8 to the 100 Hot Comics menu
Sell My Comic Books is the inventor and home of the 100 Hot Comics list!