Want to Value or Sell Comic Books? Talk to Us! We're the #1 Comic Book Buyers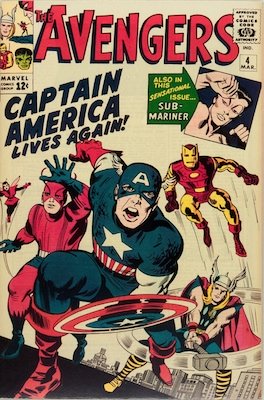 Sell My Comic Books helps you sell comic books you have inherited, bought, or found in your home for the maximum return.
So you've got some vintage comic books. Question is, what is your comic book worth?
If you've stumbled across a treasure trove of comics, then Sell My Comic Books is a great place to find out what you have.
Use our articles to identify and value the comic books in your collection, or let us do the hard work for you with a free appraisal.
When you want to sell comics FAST, then we should be your first point of contact.

Click Here to Get Your Free Appraisal or Consign Your Books to Auction!
Click Here to Get Your Free Appraisal or Consign Your Books to Auction!
Massive New Jersey Horror Collection Discovered!
More than 56 boxes of comics, from Golden Age to Silver Age, with multiple copies of many key issues, and runs of super-scarce Suspense and Horror comics.
We are delighted to have helped the original owner's family to find a new home for the collection. Here is the testimonial from his nephew:
Expertly handled my Uncle's estate collection
by: Scott, New Jersey
Let me begin by saying, when I became in charge of handling my uncle's lifetime comic collection after he passed away, I was purely an "average comic fan" at best. I had no idea where to begin or where the task would take me.
I had over 12,000 comics (50 long boxes), tons of stuff graded and not, and all the classics. I happen to stumble across Sean and Ashley's site during my inventory phase and was instantly struck, not only by their knowledge, but how they could relay that information to me and have it make sense.
Without them ever knowing, they were instrumental in helping me wrap my head around the collection and seeing its great value and potential.
When it came time to finally take in offers I felt it only right to include them, and I was so happy I did. They approached the collection with the respect and dignity I know my Uncle would have desired.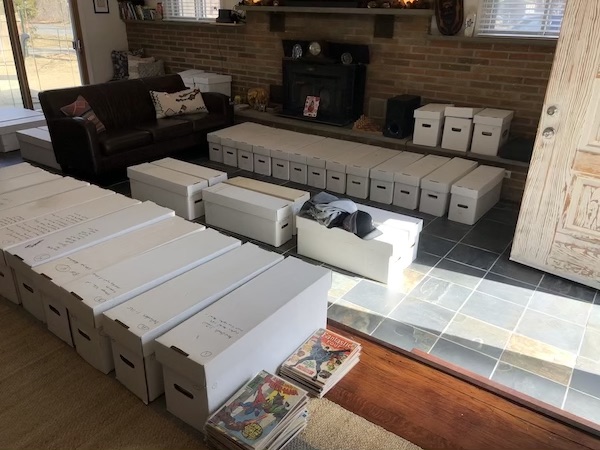 56-box comic book collection purchased in New Jersey, March 2020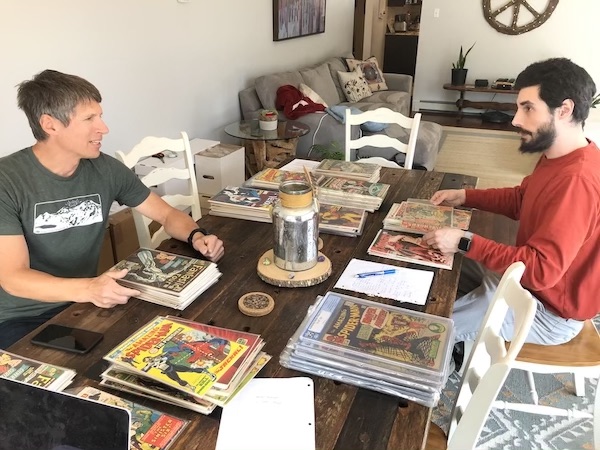 Sean and Ethan of Sell My Comic Books examine the 56-box comic book collection
I received numerous offers on the collection, but no one really approached the process like Sean and Ashley. I never once felt uncomfortable with them, from our initial emails, to the hours they spent surveying the collection on the purchasing day. I felt they were always honest and upfront with me.

Their offer was the best offer for us in the end, not just because of the money we received but also because of how comfortable they made my whole family feel during this process.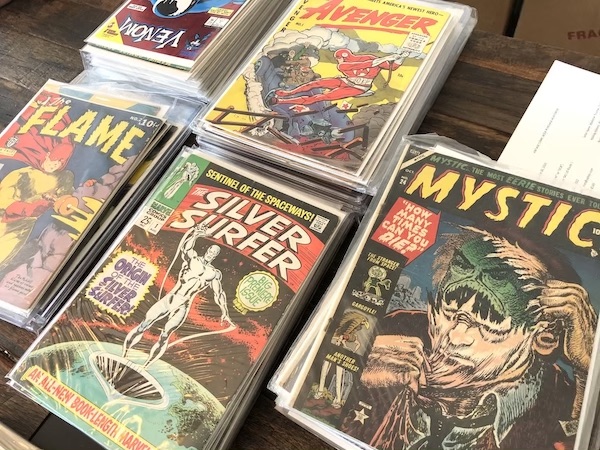 Close-up of some of the key books in the 56-box comic book collection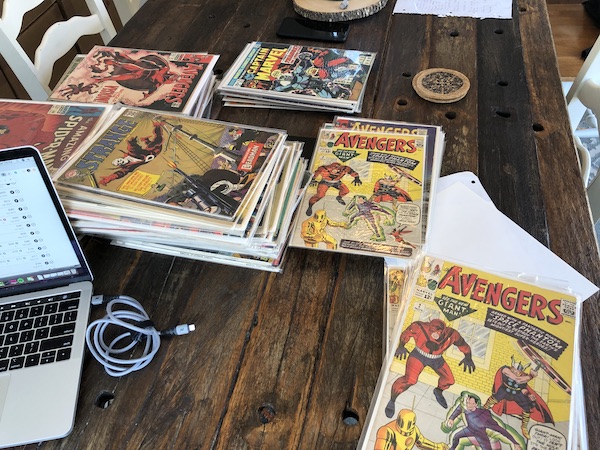 Great Silver Age finds in the 56-box comic book collection
Stumbling across their site was the absolute best thing that happened to me. I received a very respectable offer and I left knowing that my uncle's lifetime collection of comics had gone to a group of guys who truly loved comics the way he loved them.
I cannot recommend this company enough. Whether you are just looking to appraise or sell a couple comics or your uncle's lifetime collection lands in your lap, Sean and Ashley will absolutely give you and your comics the honesty and respect they deserve.
CLICK TO SEE ALL OUR CUSTOMER REVIEWS!

SMCB Discovers All-American #16 in Montreal!
Less than 50 of these known in the world! Here's a copy of All-American Comics #16 we just acquired. Sorry for the bad hair day...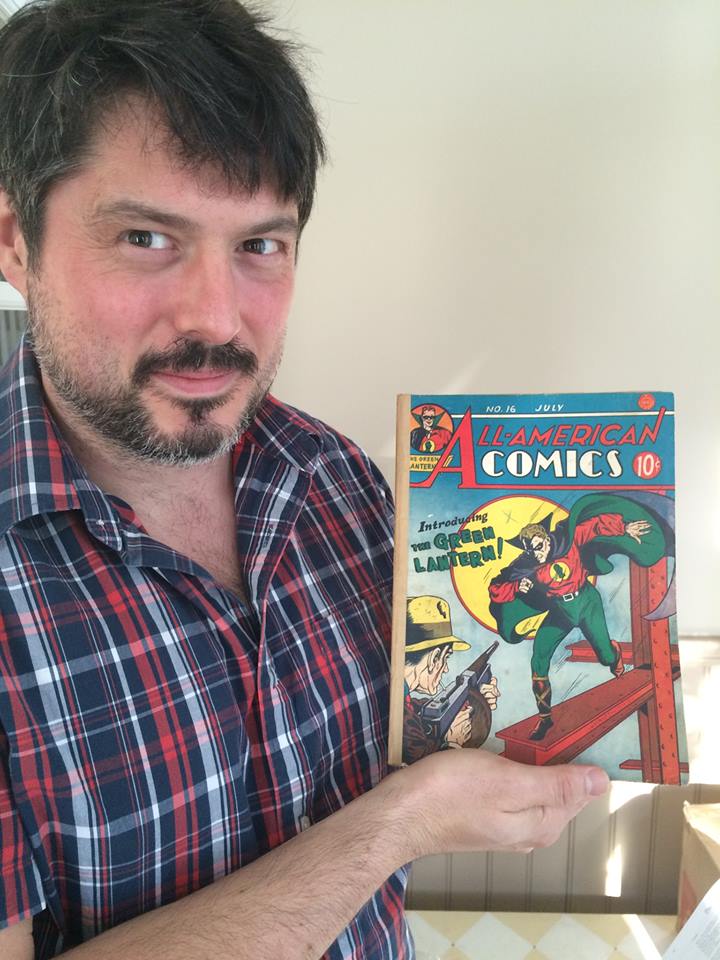 "Upon finding a set of old comics in my grandfather's home, I figured they had some value.
"I found this site and followed the easy procedure of sending Ash a list of what we had. This saved so much time than I thought would be necessary, as comics are not anything I have background in dealing with.
"Ash was very fair with his offer and made this process very easy and painless and I would absolutely recommend this site."
Matthew S, California

We just received a collection of over 1,000 near mint Bronze Age issues, including keys such as Star Wars #1-28, Ms Marvel #1, Iron Fist #14, Nova #1, some awesome Conan issues, and even runs of Howard the Duck and Logan's Run!
"I had a great experience with SellMyComicBooks.com. They were very upfront with me during the process of selling my comics to them.
"They were quick to respond to me and give me feedback through the entire experience with them.
"I felt very comfortable dealing with them. I would definitely use them again and will refer everyone to them."
Curt, Utah
I'm a busy media professional and wanted to start selling my comic collection; it was time to let it go.  I knew a brick and mortar store wouldn't give me what I wanted and eBay takes a lot of time and energy. Ashley gave me terrific offers on some highly sought after items and I pulled the trigger.
I was worried to sell to someone with a web business, but his procedure made me feel at ease. Ashley is a straight shooter and quick to respond to emails; again, being a busy person, this means a lot. I would conduct business with him again in a heartbeat.
P.S. I accidentally shipped him a comic that wasn't part of our final agreement, and he did not screw me over but gave me an awesome price for that too.
Tim Guest, Los Angeles, CA, USA
CLICK TO SEE ALL OUR CUSTOMER REVIEWS!
Do You Need Fast Cash For Your Comics?
Click here to Sell Your Comics Today!
Click Here to Get Your Free Appraisal or Consign Your Books to Auction!
Is There Treasure in YOUR Attic?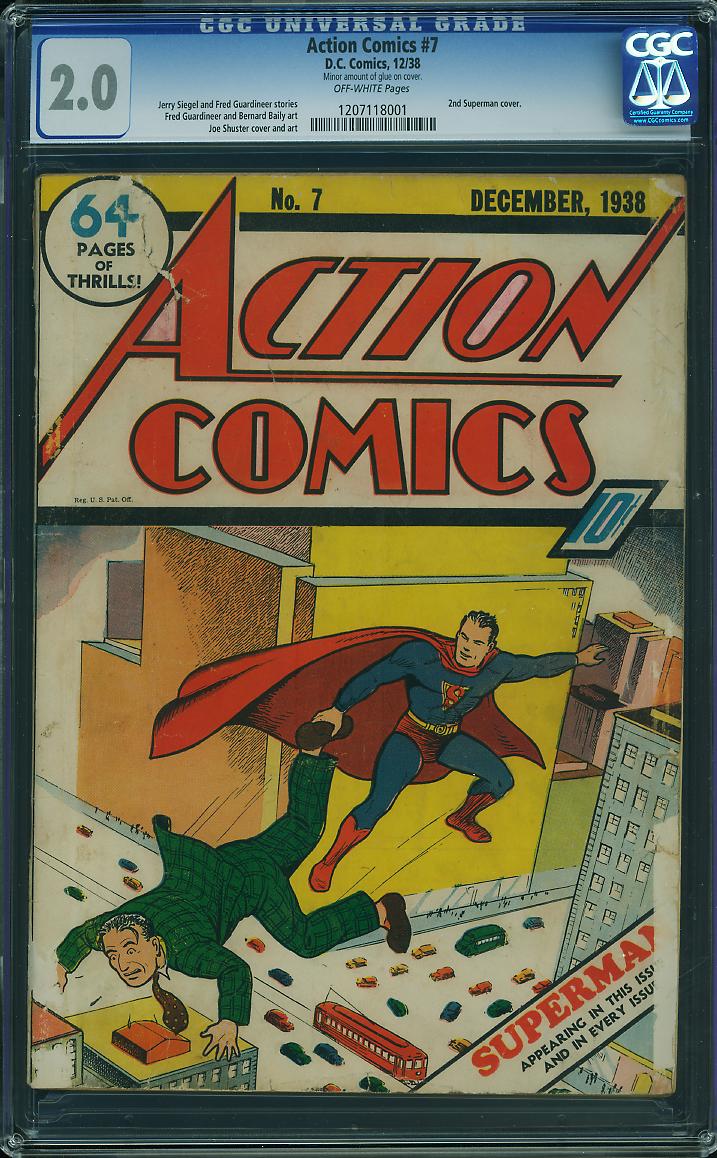 We unearthed this never-before-offered copy of Action Comics #7.
Only the second time Superman appeared on a comic book cover.
We paid $40,000 for this book!
What do YOU have in your attic or basement?
Click Here to Get Your Free Appraisal or Consign Your Books to Auction!
Want to Sell Old Comic Books FAST? Try the 1-2-3!
To see the fastest way to sell old comic books, click here.
Let's start with some happy customers...
CLICK TO SEE TESTIMONIALS FROM
PEOPLE WE'VE BOUGHT COLLECTIONS FROM!
Search Our Comic Price Guides
Here is a list of all our comic price guides.
Alternatively, use the search box at the top of every page to find what you're looking for.
1 Check Our Rare Comic Book Cover Gallery

We have created a "who's who" of rare comic books. Simply scan through the covers. If you see any of them in your collection, WOW! You're in the money.
Contact us immediately and we'll figure out the best way to maximize your return!
Don't see any of the rare comics we listed in the gallery? Don't worry. These are the crown jewels of comic book collecting, and don't turn up very often.
We can still identify, and value, anything else you may have found. Read on to discover more ways to identify your find.
Contact us for a FREE comic book appraisal, and if you wish, sell comic books to us for TOP DOLLAR.
1A I Have Some Comics Which Look a LOT Like One of the Rare Comic Books Here...

That still could be good news. Superhero comic books published before 1975 are generally strong sellers, even if they're not in perfect shape.
Let us know what you have. We'll help you identify its value and give you the best price, if you wish to sell.
Or read our free, online comic book price guides, focusing on each character, to determine their current market value.
Click Here to Get Your Free Appraisal or Consign Your Books to Auction!
2 The Big Two: Marvel and DC Comics

The majority of comics people find in their attic or basement, at an auction, storage unit, or garage sale are published by Marvel or DC.
Marvel Comics are most famous for the huge budget superhero movie characters: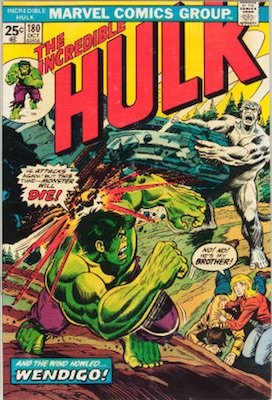 DC Comics are best-known for some very long-running and famous characters: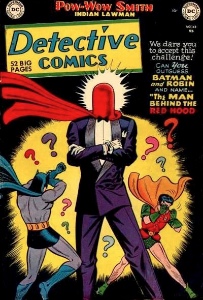 It's usually easy to identify a Marvel or DC comic book. The company names are on the cover.
If you want to sell comic books published by Marvel or DC, then please contact us for help in appraising them.
Click Here to Get Your Free Appraisal or Consign Your Books to Auction!
Origin and First Appearance of Key Characters
Many of the most valuable comic books feature the first appearance of some superhero or super villain. When you come to sell comic books, you may find that dealers tend to price only your key books.
Check out our growing database of issue-by-issue guides to first appearance prices here. This should give you an advantage before you sell comic books.
3 They're Not DC or Marvel...

Okay! Check out our list of comic book publishers. We added covers for each publisher, so you can see what's what.
We'll add to this list over time to help you sell comic books by different publishers.
Before you can sell comic books, you need to know exactly what you have.
4 I Found Some REALLY Gross Horror Comics...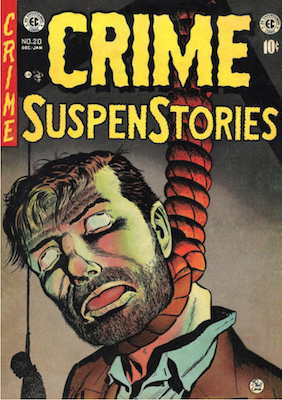 Most likely, these were published by EC Comics. The ickier the better!
Our top 60 horror comic books page has the best of them.
EC's gross stories and edgy artwork led to the introduction of the Comics Code Authority, which effectively censored comic books from the 1950s onwards.
So, if your books have decapitation, drug use, severed limbs etc. then they are probably pre-Code horror comics, which are VERY collectable.
Send us details of what you have, and we'll help you sell comic books to horror collectors.

5 I Found Some Western Comics...

Most Westerns are focused on a famous movie star, such as Gene Autry and Roy Rogers, or a big-name character like The Lone Ranger.
The majority of these were published by Dell, or Gold Key.
The average "find" of western comics is usually in really beaten-up shape, but if you find ones that look almost as new (be really objective about this -- see our article on comic book grading for more info), then it's worth getting in touch.
It's hard to sell comic books with a Western theme unless they are in top shape. They are not very popular these days.
Some of the most valuable comic books have covers by artist Matt Baker.
6 I Found Some War Stories Comics....

War comics are a very specialist field.
Most of the old ones were read (many times) by soldiers, and they are extremely hard to find in really fine condition.
Because they sold in smaller numbers than superhero comics, they are found less often.
The most important (key) war comics are worth money no matter what their condition.
If you've found a collection of war comics, let us know and we'll do a free comic book appraisal for you.

How Much is My Comic Book Worth?

Really, a very difficult question to answer without seeing it in person, but condition is everything in comics.
A "little crease in the corner" is a big deal. Sorry to say, most people's idea of what a mint comic looks like is simply not accurate.
Read our article on comic grading to understand just how finicky comic book collectors are about condition, and see sample photos of what each grade looks like.
Still, "key" (important) comics are always worth money.
These tend to be the #1 of a series, the first appearance of a famous character or villain, the death of a character, the "origin" of somebody (how they got their super powers, how Batman's parents were killed and inspired him to fight crime, etc.).
When you come to sell comic books, it pays to be armed with this knowledge!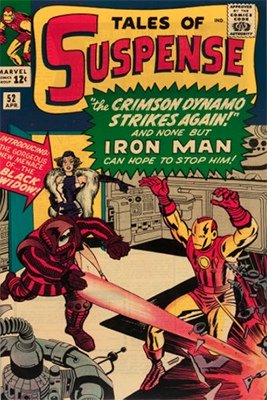 Tales of Suspense 52 is an example of a comic book which has jumped in value due to movie appearances. In this case, it's Black Widow's first appearance. Click for values
Sometimes, crossovers (when one comic book hero enters the story of another) are more valuable, because instead of one group of collectors seeking them out, now there are two.
For example, when Spider-Man and the X-Men appear in the same comic, Spider-Man and X-Men collectors both want a copy of that book.
This phenomenon was best illustrated by the Avengers movie of 2012. Its universal appeal was due to so many popular characters appearing at once: Captain America, Hulk, Thor, Iron Man, Black Widow etc.
The effect that superhero movies have on comic book prices is extreme. We'll talk about this in individual articles.
If you want to know any vintage comic book values, get in touch with a list of what you have, and we'll do our best to help.
I Just Want to Sell Comic Books For Cash!

That's fine. Send us details, and we'll be in touch to help you sell comic books in record time.
Click Here to Get Your Free Appraisal or Consign Your Books to Auction!