Hot Comics #48:
Amazing Fantasy #15, 1st Spider-Man
DOWN 47 PLACES FROM LAST YEAR
NOTE: We use eBay to provide references to live prices of comic books. Clicking a text link or image marked 'Check live prices' will take you to eBay.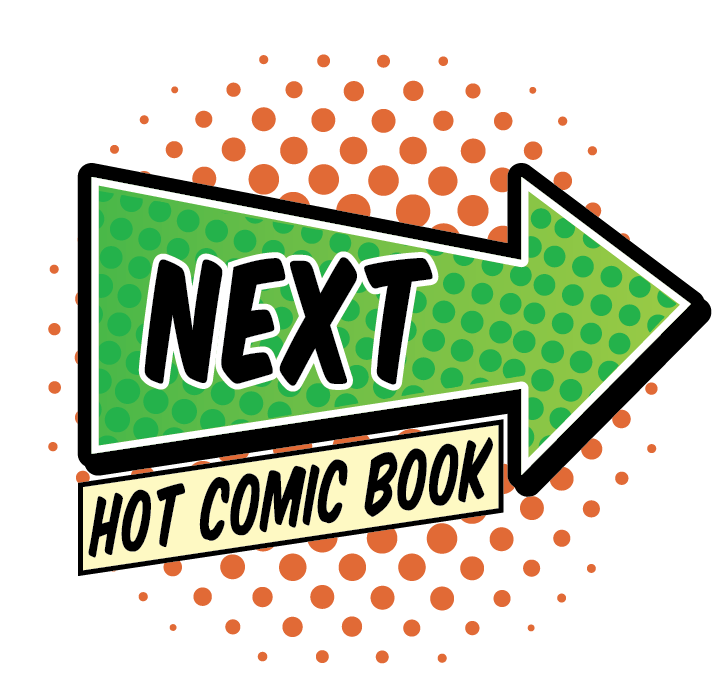 CLICK TO GET YOUR HOT 100 BONUSES!
Why Amazing Fantasy #15 is a Hot Comic
2019 MARKET UPDATE: HOW DO YOU DEFINE HOTNESS?
There will never be a shortage of people who want to own the first appearance of Spider-Man. I'm not questioning its place on the 100 Hot Comics, it will probably never be relegated.
Copies on the market sell. Period. That means hotness in my book.
HOWEVER! It has truly fallen in the "Ash hotness barometer" stakes. Gains are limited, smaller. It feels less urgent than in the past.
IF YOU BOUGHT MY RECOMMENDED GRADE LAST YEAR:
Here's the bottom line.
CGC 3.5 2018 $20,694
LAST SALE $19,999
PERCENT CHANGE -4%
I am not dealing with Stan Lee autograph signature series books -- those are a whole different ball game -- but here are recent sales with a few notes.
CGC 7.5 $134,500 (vs. $140,000)

CGC 7.0 $114,000
CGC 6.5 $65,800 (vs. $65,000)
CGC 6.0 $63,600 (vs $47,800 !)
CGC 5.0 $40,800
CGC 4.5 $28,906
CGC 3.0 $18,800 (vs. $16,700)
CGC 2.0 $15,000 (vs. $11,250)
CGC 1.5 $10,800
CGC 1.0 $7,500
CGC 0.5 $9,900 (!!)
CGC 0.5 INCOMPLETE! $7,800
2018 MARKET UPDATE: THE KING RETAINS HIS WEBBY CROWN!
Here are some incredible reasons why AF15 is not going anywhere. It is truly the Bitcoin of comic book investing -- not so much in the lowest grades, but above 5.0 for sure.
CGC 9.4 $705,000 (vs. $454,000 in 2016!)
CGC 7.5 $140,000 (vs. $82,500 a year ago!)
CGC 6.5 $65,000
CGC 6.0 $47,800
CGC 5.0 $35,800
CGC 4.5 $27,500
CGC 3.0 $16,700
CGC 2.0 $11,250
CGC 1.5 $9,800
CGC 1.0 $7,200
CGC 0.5 $5,000
CGC 0.5 INCOMPLETE! $7,350 <<-- Yeah, really
What we've seen towards the tail end of 2017 and early part of 2018: some of the heat went out of the lower mid-grade market. At one point, CGC 4.0 through 5.0 were nuts.
CGC 4.0 high for 2017 was $35,000. Yet the highest 4.5 sale was $27,500. Even nuttier was a sale of $57,000 in CGC 5.0 -- compare that to the last sale of just $36,000. You'd be mad if you paid $20K more.
As stated last year, 0.5 grades are static. They are not attractive to investors; there are many of these super-low grade books on the market; prices of CGC 0.5 copies have not moved significantly for years now.
0.5s are the closest thing to a bad investment in AF15 as you can get.
But in general, Spider-Man's first appearance is red hot.
2017 report:
It was impossible NOT to make AF#15 the world's hottest comic this year.
There are SO MANY record sales in all kinds of grades, it's hard to know what to focus on.
Let's just say, if you've been waiting to invest in this comic book, then you're losing time and profit opportunity. It shows no signs of slowing down!
CGC 7.5: $82,500
CGC 6.0 $41,550
CGC 5.0 $29,500
CGC 4.5 $26,000
CGC 3.0 $12,000
CGC 2.0 $10,500
CGC 1.5 $8,600
CGC 1.0 $6,500
CGC 0.5 $5,250
CGC 0.5 INCOMPLETE! $6,500 <<-- Yeah, really

There is no hotter comic book series than Amazing Spider-Man. It's the world's most collected comic book run, with some of the classic stories of the Marvel era.
It won't surprise you, then, to find several issues on the Hot 100 list:
The book which began it all, AF15, is getting unaffordable for many collectors.
Marvel chipping is hard to avoid on this issue, especially in lower grades. Try to find a VG-ish copy with minimal chipping and good eye appeal from the front.
Click Here to Get Your Free Appraisal!
What to Invest In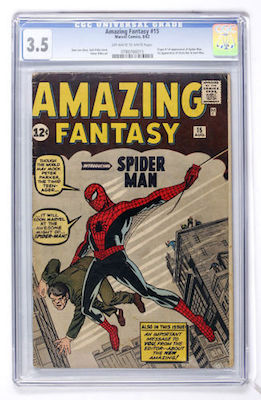 You can only be so picky when buying lower grade copies of Amazing Fantasy #15. Try to find a copy with minimal damage to the front. Click to invest
Reprints of Amazing Fantasy #15
This landmark book has been reprinted more than once. If you have one of the reprints, then unfortunately it's not got a huge value.
Have this book? Click to appraise its value NOW!
Go from Amazing Fantasy 15 to the 100 Hot Comics menu