Hot Comics #77: Comico Primer 2, 1st Grendel
UP 11 PLACES FROM LAST YEAR!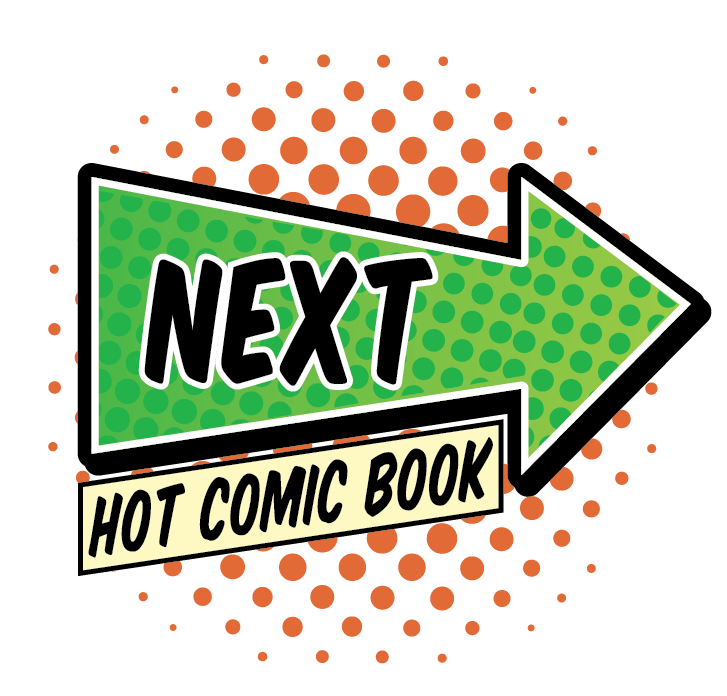 CLICK TO SEE THE NEXT HOT COMIC BOOK!
Why Comico Primer 2 is a Hot Comic
2021 MARKET UPDATE: AN OVERLOOKED KEY ISSUE WHICH STILL HAS POTENTIAL
In CGC 9.8, you would have made a 15 percent return this year. In general, what sales there were increased in value, but it's a low-volume, off-the-radar kind of book.
Recent sales:
9.8 $3,200
9.6 $1,150
9.4 $495
9.2 $475
9.0 $415
8.5 $700 (knucklehead buy!)
IF YOU BOUGHT MY RECOMMENDED GRADE LAST YEAR:
Here's the bottom line.
CGC 9.6 2020 $1,123
LAST SALE $1,150
PERCENT CHANGE +1%
Grendel is one of the 1980s comic book characters that's becoming more popular, as children of that decade now have disposal income to chase their sentimental memories with.
The character has crossed over with various super heroes, including Batman, and while it's still possible to find copies "in the wild", Primer was a fairly niche comic book by an independent publisher.
The all-black cover of Comico Primer 2 makes it very unlikely that you will stumble across a high-grade copy by chance.
This combination of factors makes this a new must-have comic book of the 1980s, along with other better-known issues:
Caliber Presents #1
John Byrne's Next Men #21
What to Invest In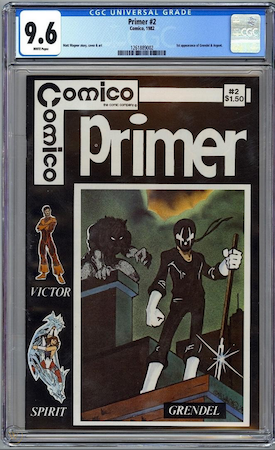 Comico Primer 2 is not really much more expensive in CGC 9.6 than in 9.4. Click to buy a copy

In common with a bunch of the most valuable comic books of the 1980s, Comico Primer 2 is pretty scarce in CGC 9.8. This book is from the first half of the decade too.
I normally preach 9.8 or nothing from the 1980s, but this is a tough book and you will probably have to beat the last sale price of $2,400 to get one. Ouch!
There are 33 9.8s in the census, which means you can find one if your pockets are deep enough, but there is more choice of CGC 9.6s out there.
This is our recommended grade, giving you better value for your investment Dollars than CGC 9.4, which is not much cheaper.
9.8 $2,400
9.6 $650
9.4 $500
9.2 $340
9.0 $380(!!)
8.5 $260
8.0 $220
7.5 $150
Avoid getting into the scrum for copies around 8.0 to 9.2. You can see how the demand for any nice copy has created price compression.
Don't be the mug who pays more for a 9.0 than a 9.2 will sell for -- it will take you years to make good on that error.
Have this book? Click to appraise its value NOW!
Go from Comico Primer 2 to the 100 Hot Comics menu
Sell My Comic Books is the creator and home of the 100 Hot Comics list!