EC Comics Online Price Guide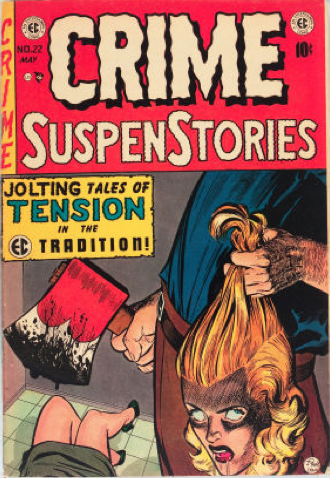 EC Comics Online History and Price Guide
Entertaining Comics, commonly known as EC Comics, is a popular comic book publisher of horror, crime, military, satire, and science fiction, particularly through the 1940s and 1950s.
If you've found old comic books with 10c cover prices by EC, then you can find out more about their values here.
Note that reprints exist of all EC back issues. You can tell because the cover prices will be different, anywhere from 15c through $2 each.
Detailed Comic Book Price Guides for EC Series
Click any link to see full details of issue-by-issue prices for the series!
Value of EC Comics Key Issues
Here are key comics. Condition is vital of course, so please read our article on comic book grading before you get too excited.

We'll be adding detailed price guides for each individual series as time allows, so come back again to Sell My Comic Books soon.
The easiest way to have your EC books valued is to send us details for a free appraisal.
Click Here to Get Your Free Appraisal or Consign Your Books to Auction!
Record sale: $24,000
Minimum value: $280

Record sale: $1,750
Minimum value: $40

Record sale: $4,750
Minimum value: $100

Record sale: $11,950
Minimum value: $400

Record sale: $6,900
Minimum value: $250

Record sale: $7,400
Minimum value: $300

Record sale: $6,600
Minimum value: $195

Record sale: $15,500
Minimum value: $200

Record sale: $3,500
Minimum value: $80

Record sale: $8,900
Minimum value: $125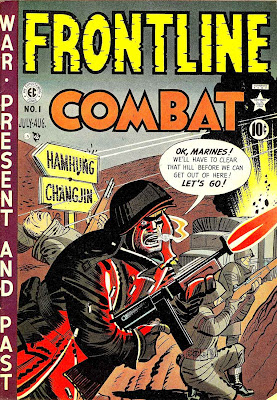 Record sale: $2,600
Minimum value: $200
Detailed Comic Book Price Guides for EC Series
Click any link to see full details of issue-by-issue prices for the series!
Full List of EC Comics Titles
This list is courtesy of Wikipedia.
Click any link to find current values for these comics.
Why This Guide is AWESOME for Wannabe Comic Investors

If you have either tried (and failed) to make money flipping comic books, or are frustrated by the huge array of choice out there, then this is the eBook for you.

It's packed with 32 in-depth analyses of easy-to-buy and sell comic books from the Bronze to Modern ages.

These are titles we have personally made a lot of money buying and selling. So can you.

Make more than your money back with your first successful trade (or by NOT buying a losing book!).

If you are not completely satisfied, we have a 365-day money-back guarantee.

Click to read more, or order your copy today!
More History of EC
Notable for the humorous MAD Magazine and creepy Tales from the Crypt comic book, EC was founded by Max Gaines, the former editor of All-American Publications.
Gaines died in 1947 and left his comics business to his son William, who would go to start several new books featuring military fiction, science fiction, and horror.
He also worked with several prominent freelance artists, including Jack Davis, Will Elder, Graham Ingels, and Joe Orlando.
EC Comics was known for being one of the first comic book companies to connect with fans through a letters to the editor section in each book.
It also encouraged its artists to not only develop their own style, but sign and promote their artwork. The company even published a one-page biography of each artist in their comic books.

With an eclectic line of comics, EC developed familiar themes and storylines. Among them included ironic plot twists, Siamese twins (oddly, the company published numerous stories involving the odd human phenomenon), and political plots, including police corruption and lynchings.
Under pressure from government censors in the 1950s, it began to focus on its popular magazine MAD, which is still published today and has become a cultural icon.
EC Comics eventually was sold to Kinney Parking Company, which later bought National Periodicals, later known as DC Comics.  
Among the most popular books published by EC Comics were The Vault of Horror, The Haunt of Fear, and Tales from the Crypt, which was adapted into a motion picture and cable network television series.
Censorship of EC Comics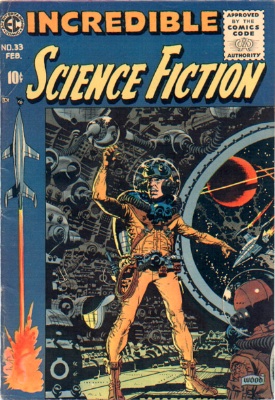 At the height of EC Comics' popularity, its horror comics — Tales from the Crypt, The Vault of Horror, and The Haunt of Fear — were extremely popular with young men.
However, they were often criticized by parents, politicians, and school officials for their graphic content, and were blamed as the cause of illiteracy and high rates of juvenile delinquency at the time.
In fact, a Congressional subcommittee in 1954 on the allegedly harmful effects of comic books on children led EC Comics to cancel its entire line of horror comic books, as well as crime and science fiction books. 
In the late 1950s, the Comics Code Authority was established to monitor and regulate the content of comic books. William Gaines fought vigorously with the self-governing body over a number of stories.
None were perhaps more famous than the science fiction story "Judgment Day", which was printed in Incredible Science Fiction #33. 
In that story, an astronaut from the Galactic Republic visited the planet Cybrinia to consider the planet for membership into the Republic. Cybrinia was occupied by two races of robots — one orange, the other blue.
The astronaut noticed that one of the robot races has fewer rights and privileges than the other. Because of their bigotry, the astronaut recommended that the Republic not invite Cybrinia into its ranks.
At the end of the story, the astronaut removed his helmet, revealing himself to be black. 
Censors demanded that the color of the astronaut had to be changed. Gaines ultimately refused to back down and published the story as it was originally intended.
MAD Magazine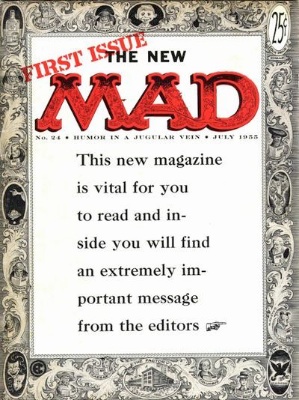 Founded in 1952 by Harvey Kurtzman and William Gaines, MAD is the sole surviving book of the EC Comics line and a significant part of its legacy and success.
Printed in a comic book format for the first 23 issues, MAD switched to a magazine format in 1955, which ultimately removed it from the regulations of the Comics Code Authority. It was well-known for its biting commentary on various aspects of American politics and pop culture. 
The face synonymous with Mad is that of Alfred E. Neuman, whose face first appeared on the cover of MAD Magazine #30 in November 1954.
Over the years, his face and likeness has been altered to ridicule celebrities, politicians, and other notable public people.
MAD magazine reached its peak in the 1970s when it had a readership of more than two million. Though initially advertising-free, Mad abandoned that policy in 2001 when it began printing paid advertisements among its pages.
Initially printing only eight issues annually, Mad changed its print schedule several times over the decades before finally setting on six issues annually in 2010.
Throughout the course of its publishing history, the magazine has been involved in several United States Supreme Court cases. The most infamous and impactful was Irving Berlin et al. v. E.C. Publications, in which Mad was sued for $25 million due to alleged copyright infringement.
The plaintiffs claimed that Mad's parody song collection "Sing Along With Mad", which was published by the magazine and meant to be "sung to the tune of" popular songs of the time, violated copyright law.
The plaintiffs alleged that only the song's writers were entitled to parody it. The Supreme Court largely ruled in MAD's favor, setting a precedent for future parodies of pop songs.
Horror Comics and Tales From the Crypt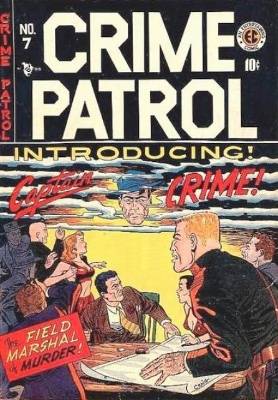 After World War II, horror comics became popular with young men tiring of standard crime stories. Notably, Eerie Comics, published in 1947, is considered the first horror comic. 
A bi-monthly anthology series that pioneered the horror comic genre, Tales from the Crypt was first published in 1950. In EC Comic's Crime Patrol, Al Feldstein wrote a story titled "Return from the Grave!"
The story featured the Crypt-Keeper, the beloved character that is synonymous with Tales from the Crypt.
This is widely considered to be the origin of the Crypt series. The Crime Patrol series was later renamed Tales from the Crypt, starting with issue 20. 
With the success of Tales from the Crypt, EC Comics published additional horror books, including The Vault of Horror and The Haunt of Fear. The three books even shared characters amongst them. 
Ultimately the comic book industry created the self-governing Comics Code Authority, which banned the use of the words "terror" and "horror" in comic book titles.
It also banned the depiction of werewolves, zombies, and other morbid characters. This ultimately led to the demise of Tales from the Crypt and other horror comics.
Some of the storylines from Tales from the Crypt have been reprinted in other books, and others were used for the cable television series of the same name.
Two-Fisted Tales and Frontline Combat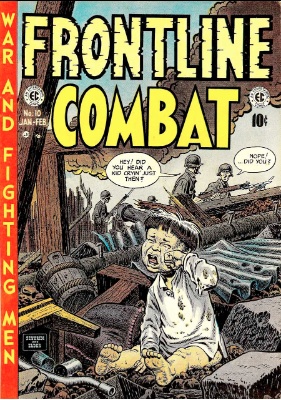 Two-Fisted Tales and Frontline Combat, both notable war comics, were known for not only tackling controversial political and social issues of the time, including American culture, sex, and drugs, but providing a substantive view of war. 
Prior to Two-Fisted Tales, many books took a rather unrealistic view of war, only depicting fight scenes in which the hero won or was concocting a plan to foil the enemy.
Two-Fisted took an honest, no-holds-barred approach to war, focusing on the atrocities experienced by innocent people. A number of its stories took place in other historical wars, including the Civil War and the Revolutionary War. 
Though it ended in 1955, its storytelling legacy influenced many comics of the 60s, 70s, and 80s. Two-Fisted Tales was ultimately adapted for television.
Frontline Combat, written by Harvey Kurtzman, was first published in 1951 and served as a companion piece to Two-Fisted Tales. It ended in 1954.
Like Two-Fisted, it expressed a realistic viewpoint of war instead of glamorizing it like many other war comics did.
Reprints of EC Comics
There have been various reprints of the EC titles over the years. Most have limited value.
You can tell the reprints because EC titles were Golden Age comic books, which had a 10c cover price.
Any issue you have with a different cover price is a reprint. Though there are collectors of reprints, they will not pay more than a few bucks for mint reprints, so don't expect much for your books.
Have Your EC Comics Valued
Send us details of your EC collection and we'll value it for free.
Alternatively, click here to search for current market values.
Click Here to Get Your Free Appraisal or Consign Your Books to Auction!
More of our Comic Price Guides