Hot Comics #100:
Iron Fist 14, 1st Sabre-Tooth
DOWN 12 PLACES FROM LAST YEAR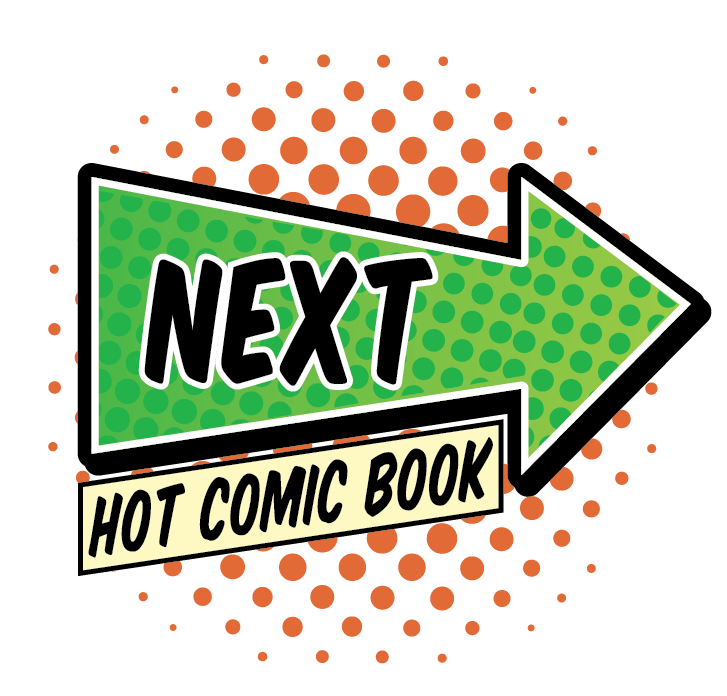 Why Iron Fist 14 is a Hot Comic
2023 MARKET UPDATE: CLINGING TO ITS PLACE ON THE HOT LIST
The coldest of hot books this year, despite which Iron Fist #14 prices are stable and maybe even on the rise in some grades.
2022 MARKET UPDATE: MUCH-NEEDED REBOOT COULD GIVE THIS A BOOST
The Marvel TV series of Iron Fist was poorly received (to say the least), so there is a lot of hope in rumors of a reboot starring an Asian actor.
Meanwhile, no Saber-Tooth news either means this book has dropped like a stone. Most grades are down from last year's highs. News needed or this may lose its place on the Hot 100.
Recent sales:
9.8 $4,800
9.6 $1,740
9.4 $1,350
9.2 $1,210
9.0 $1,000
8.5 $725
8.0 $640
7.5 $555
7.0 $525
6.5 $410
6.0 $440
5.5 $335
5.0 $405
4.5 $350
4.0 $375
3.5 $180
3.0 $340(!)
2021 MARKET UPDATE: STICK TO HIGH GRADES
The top tier of books has appreciated more strongly than the lower grades. Nothing is spectacular though. There are hotter books to be found.
My grade pick of CGC 8.0 returned 26 percent.
Recent sales:
9.8 $2,750
9.6 $1,260
9.4 $780
9.2 $515
9.0 $500
8.5 $350
8.0 $375
7.5 $340
7.0 $290
6.5 $255
6.0 $250
5.5 $260
5.0 $200
IF YOU BOUGHT MY RECOMMENDED GRADE LAST YEAR:
Here's the bottom line.
CGC 8.0 2020 $297
LAST SALE $375
PERCENT CHANGE +26%
2020 MARKET UPDATE: CGC 9.8 IS RED HOT, OTHER GRADES SO-SO
Iron Fist 14 has posted a decent gain in CGC 9.8 this year.
The big money is in the very rare 35 cent price variant. If you have one of these, it's money in the bank.
2019 MARKET UPDATE: THIS BOOK IS SHOWING SOLID GAINS
IF#14 broke through some of the price resistance points which had held it back in recent reports, though it's being out-performed by other keys on the 100 Hot Comics list.
Really, there isn't much to say about this book, as rumored (and confirmed) movie and TV shows affect lots of other Marvel Comics characters.
Recent sales:
CGC 9.8: $2,250

CGC 9.6 $750

CGC 9.4 $575

CGC 9.2 $356

CGC 9.0 $315

CGC 8.0 $279

CGC 7.0 $215
2018 MARKET UPDATE: HOLDING PATTERNS APART FROM 9.8
This year saw record sales of the rare 35 cent price variant, and CGC 9.8 copies also bumped against the $2K ceiling.
Everything else stayed more or less the same as last year. Recent sales:
CGC 9.8: $1,910

CGC 9.6 $700

CGC 9.4 $380

CGC 9.2 $350

CGC 9.0 $280

CGC 8.0 $180

CGC 7.0 $145
2017 MARKET UPDATE:
High grade, this book is still a beast. It's setting records. And don't even talk about the uber-rare Marvel 35 Cent Price Variant edition, which is insanely hot.
Any lower than 9.0, and it's like a lump of clay. Repeat after me: DO NOT BUY THIS BELOW 9.0.
CGC 9.8: $1,875

CGC 9.6 $750

CGC 9.4 $475

CGC 9.2 $340

CGC 9.0 $230

CGC 8.0 $220

CGC 7.0 $200
Iron Fist is set to debut on TV in the upcoming Marvel series, and it's odds-on that Sabre-Tooth will make an appearance at some stage.
A book you ought to consider is Wolverine #10 from the 1988 series, which features the first Wolverine vs Sabre-Tooth battle. It's much more affordable, though a lot more common in high grade than Iron Fist #14.
Values of this book are complicated by the existence of a 35c price variant. The Marvel price variants were experiments in the 1970s in small test markets.
Our advice is to stay clear of these rare books if you're on a budget, as their value is hard to predict, but suffice it to say if a nice one comes along, and you can afford it, buy it for sure.
For a regular 30c edition, stick to CGC 9.8 with white pages. "Centering" is important (how nicely squared up the front cover is) on books like this, which are desirable but relatively common.
Any advantage you can get when it comes time to sell is a bonus.
What to Invest In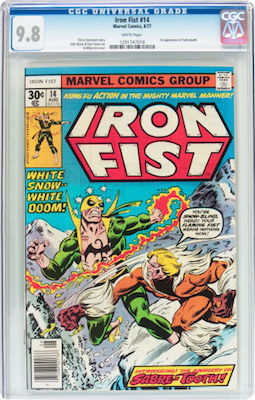 Click to buy Iron Fist #14 from Goldin
Have this book? Click to appraise its value NOW!

Related Pages on Sell My Comic Books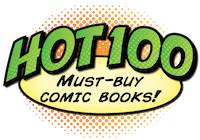 Click to return to the Hot 100 Investment Comic Books menu