Hot Comics #43:
Daredevil 1, 1st Matt Murdock
DOWN 9 PLACES FROM LAST YEAR
100 Hot Comics: Daredevil 1, 1st Matt Murdock. Click to buy a copy at Goldin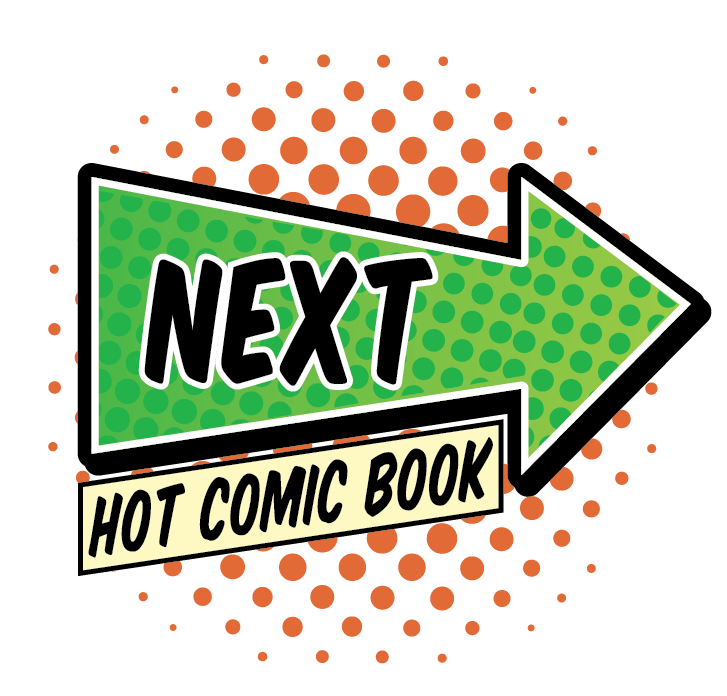 CLICK TO SEE THE NEXT HOT COMIC BOOK!
Why Daredevil 1 is a Hot Comic
2023 MARKET UPDATE: THE BLIND LEADING THE BLIND
Record sales in 2021-22 have been followed with consolidation.
I think it was overdone before. DD#1 is after all one of the more common of the Marvel keys, being published later than the others.
Some grades have tracked sideways, but a 1/3 drop on most of the higher grades is probably a realistic reflection of this book's place in the food chain.
2022 MARKET UPDATE: WHO'S CRAZY NOW?
You thought $102K was a crazy price for a CGC 9.6? Try $250K on for size. A 9.8 sold in March 2021 for that landmark amount, followed by a 9.6 for $150K.
The word is out. DD#1 is actually properly hot.
I still couldn't bring myself to pay that kind of money, but there you go!
$1,200 is the entry point now.
Recent sales:
9.8 $250,000
9.6 $150,000
9.4 $60,000
9.2 $30,000
9.0 $36,000(!)
8.5 $22,800
8.0 $22,800
7.5 $14,400
7.0 $12,360
6.5 $9,500
6.0 $8,400
5.5 $7,200
5.0 $6,200
4.5 $5,880
4.0 $4,680
3.5 $4,550
3.0 $3,960
2.5 $3,075
2.0 $3,200
1.8 $2,800
1.5 $2,800
1.0 $2,650
0.5 $1,200
2021 MARKET UPDATE: INSANE 9.6 SALE PUTS DD#1 ON THE SIX-FIGURE MAP!
Yes, somebody paid $102,000 for a DD1 CGC 9.6. It didn't even have White pages.
That is more than double what a White page 9.6 sold for in a private auction during 2020.
27 copies in the census are certified at 9.6. I think this is an idiotic purchase.
Meanwhile, our target grade returned a 40 percent increase.
IF YOU BOUGHT MY RECOMMENDED GRADE LAST YEAR:
Here's the bottom line.
CGC 6.0 2020 $3,203
LAST SALE $4,500
PERCENT CHANGE +40%
2020 MARKET UPDATE: LOWER GRADE COPIES ARE NO LONGER BLIND
If you're wondering where the value is in the hot-as-heck Marvel Silver Age key issue comic books, then look at Daredevil 1 in GD-FN.
There hasn't been much action above FN, but bargain hunters are driving up the low-grade copies to new highs.
Entry level of CGC 0.5 for this book is now $500! That's really significant for a book which is a bit more common than the other mega-keys of the 1960s.
Recent sales:
9.4 $26,681

9.2 $14,500
9.0 $9,300
8.5 $6,955
8.0 $5,357
7.5 $4,250
7.0 $3,360
6.5 $2,297
5.5 $2,000

5.0 $1,976
4.5 $1,400
4.0 $1,405
3.5 $1,200
3.0 $1,250
2.5 $975
2.0 $1,000
1.8 $795
1.5 $938(!!)
1.0 $700
0.5 $500
2019 MARKET UPDATE: FOGGY TIMES AHEAD
It seems funny to be disappointed with a 33 percent return on a 12-month investment. The fact is, Daredevil 1 is doing pretty well -- I just can't get excited about the character.
The Netflix series has been popular for a while, and has helped books like Amazing Spider-Man #50 (1st Kingpin) to find new fans.
I can't really see where this book is going to go next. There are so many hot Marvel comics at the moment that anything's possible. I just feel in my gut that there are not enough back issues with real value to keep DD near the top of the heap.
Here are recent sales.
CGC 9.4 $29,000
CGC 9.0 $9,000

CGC 7.5 $4,959
CGC 7.0 $4,201
CGC 6.0 $3,325
CGC 4.5 $1,700
CGC 3.5 $1,325
CGC 2.5 $1,250
CGC 1.0 $765
2018 MARKET UPDATE: THE ONLY DD COMIC BOOK WORTH OWNING?
Not quite true! But pretty close. We promoted Daredevil #131 to the 100 Hot Comics list this year, thanks to Bullseye being an anti-hero in the TV series.
But apart from that and a few other exceptions, Daredevil is not shaking off its reputation as a second-string Marvel Silver Age title.
Still, sales of #1 have been hot this year, with strong gains seen at many levels. There has been a general sense of searching for value, as the super-keys have become too expensive for many casual investors.
Here are some recent sales. Lower grade levels have keep this book high on the hot list.
CGC 9.4 $22,500
CGC 9.0 $9,000

CGC 7.5 $4,300
CGC 7.0 $3,700
CGC 6.0 $2,500
CGC 4.5 $1,500
CGC 3.5 $1,225
CGC 2.5 $1,075
CGC 1.0 $465
2017 MARKET UPDATE:
This book is STILL an under-valued key issue, despite the DD series being extended, and while it's certainly more common than other Marvel #1s from the 1960s, it's becoming harder to find at affordable prices.
The white cover does make it genuinely tough in higher grades. Try to find one that presents well from the front and which is free of stains and dust/sun shadows.
CGC 9.6: $35,850
CGC 9.2 $10,000
CGC 9.0 $8,880
CGC 8.0 $5,000
CGC 7.0 $3,300
CGC 5.0 $1,500
Marvel's Daredevil TV series dragged this comic book kicking and screaming into the limelight.
Sure, only a handful of back issues have value (including the origin and first appearance of the Purple Man in Daredevil #4, and Daredevil #168, 1st Elektra) also on the Hot 100 list), but there is no doubting Daredevil #1 is a Marvel mega-key.
It's still relatively affordable, too, so unlike, say, Incredible Hulk #1 or Amazing Fantasy #15, those on a limited budget can actually afford a decent-looking copy.
What to Invest In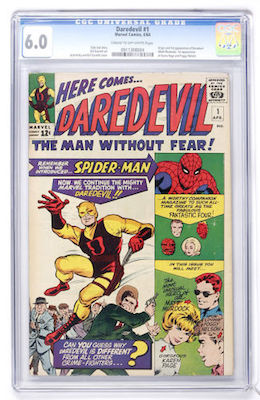 A clean, nicely-presenting CGC 6.0 of Daredevil #1 is going to be a good investment. Click to buy your copy at Goldin
Have this book? Click to appraise its value NOW!

Related Pages on Sell My Comic Books
Value of Daredevil Marvel Comics
Top 175 Most Expensive Silver Age Comic Books
Origin and First Appearance of Daredevil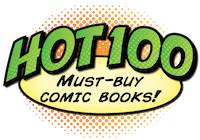 Click to return to the Hot 100 Investment Comic Books menu