100 Hot Comics #14:
House of Secrets 92, 1st Swamp Thing
UP 34 PLACES FROM LAST YEAR!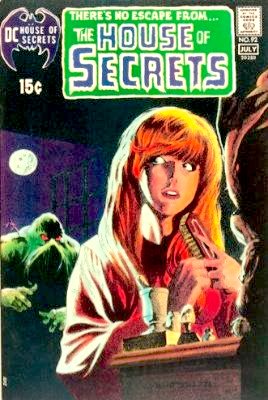 100 Hot Comics: House of Secrets 92, 1st Swamp Thing. Click to buy a copy from Goldin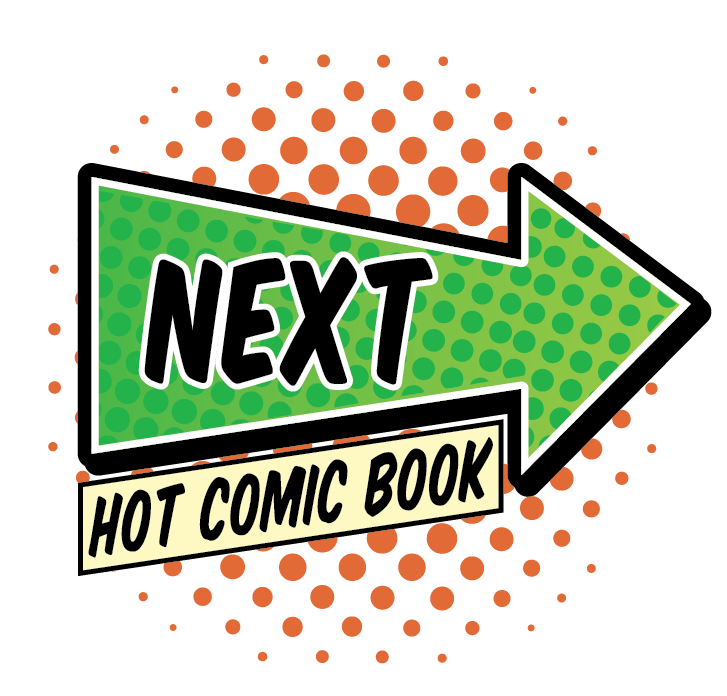 Why House of Secrets 92 is a Hot Comic
2023 MARKET UPDATE: WRIGHTSON IS HOT IN A COLD MARKET
While prices are not where they were two years ago, HOS #92 is rising on the hot list.
Wrightson joins other DC Comics keys in rising in people's interest.
Marvel has struggled to change gears in the MCU and DC back issues are the winners.
2022 MARKET UPDATE: RECORD SALES IN TOP GRADES!
Horror is moving the market. And, while most of that is inevitably Marvel horror, even DC horror is having its day in the sun. The massive $90K sale of 9.8 was followed up with a monster 9.6 sale of $33,600.
One to keep an eye on in VF grade ranges.
Recent sales:
9.8 $90,000
9.6 $33,600

9.2 $7,000



9.0 $6,000
8.5 $3,515
8.0 $3,300
7.5 $2,855
7.0 $1,850
6.5 $1,800
6.0 $1,850
5.5 $1,600
5.0 $1,500
4.5 $1,275
4.0 $1,150
3.5 $900
3.0 $1,020
2.5 $720
2.0 $655
1.8 $570
2021 MARKET UPDATE: THE FLIGHT FROM DC COMICS CONTINUES
Even the hottest of non-A-list DC titles don't seem to be doing well at the moment. House of Secrets #92 is a huge key issue, and yet prices are softer than they ought to be.
DC just doesn't do enough with its properties. The turnover of movies and TV shows is pitifully slow.
Recent sales:
IF YOU BOUGHT MY RECOMMENDED GRADE LAST YEAR:
Here's the bottom line.
CGC 8.5 2019 $2,245
LAST SALE $2,100
PERCENT CHANGE -6%
2020 MARKET UPDATE: DC NOT A SOLID PLACE TO INVEST THIS YEAR
Another DC comic back issue which used to be hot, and now is barely, House of Secrets 92 is probably not a new place to park money.
Some grades are still seeing returns, but my advice from last year stands. Get out if you're in this, and don't buy one if you're not -- unless you can afford a very high-grade copy and are prepared to hold it forever.
Here are recent sales:
9.4 $6,750

9.2 $3,750
9.0 $2,850
8.0 $1,815

7.5 $1,288
7.0 $1,300(!)
6.5 $1,050
6.0 $849
5.5 $900(!)
5.0 $760
4.5 $736
4.0 $445
3.5 $500(!!)
3.0 $466(!!)
2.5 $630 (OMG)
2.0 $390
1.8 $326
1.5 $399(!!)
2019 MARKET UPDATE: DC BACK ISSUES SMELL LIKE A SWAMP
While certain books like this one have bucked the trend, many DC keys have dropped out of the 100 Hot Comics list this year.
House of Secrets 92 has also begun to trail off, though it has been a pretty spectacular performer (one of the best on this list) in the past 12 months. Now is a good time to get out.
Recent sales in many grades are coming off the peaks. I predict negative growth on this book by next year's list update.
Recent sales:
CGC 9.4 $6,500

CGC 9.2 $5,000
CGC 9.0 $3,500
CGC 8.5 $3,300
CGC 8.0 $2,075
CGC 6.0 $1,200
CGC 4.0 $715
2018 MARKET UPDATE: MARKET SWAMPED WITH NEW RECORD PRICES!
If you invested in House of Secrets #92 anytime in the past couple of years, then you're sitting MUCH prettier than the Swamp Thing itself.
We simply don't see this book anywhere near as often as other Bronze Age key issues.
The dark cover is really tough to find in higher grade, with only two CGC 9.8s in the census (and 20 9.6s), competition for the top grades when they come to market is fierce.
CGC 9.6 $11,000
CGC 9.4 $7,600

CGC 9.2 $3,100
CGC 9.0 $2,500
CGC 8.5 $1,300
CGC 8.0 $1,650 (!!)
CGC 6.0 $950
CGC 4.0 $500
Prices are very strong, and we continue to see upside in this book's future.
2017 MARKET UPDATE:
There is no special reason for this book to be hotter this year, but it's a notoriously tough book that's under-valued in high grade. Its dark cover makes it almost impossible to find in grades of 9.0 or above.
Wrightson is only second to Neal Adams in popularity of 1970s artwork.
CGC 9.4 $4,400

CGC 9.2 $3,400
CGC 8.5 $1,600
CGC 8.0 $1,000
CGC 6.0 $600
CGC 4.0 $375
Bernie Wrightson is a hot comic book artist at the moment, and Swamp Thing is without doubt his finest hour.
Swamp Thing TV and Movie rumors are rife. Along with HoS92, there are two other Swamp Thing books on the Hot 100 list:
Swamp Thing #1 (classic cover by Wrightson, tough in high grade)
Saga of the Swamp Thing #37 (1st John Constantine)
House of Secrets #92 is among the most expensive 1970s comic books, especially in high grade. The dark purple cover featuring the classic "woman realizing she's not alone" image is awfully prone to wear and creasing.
Stick to VF+ or better. If you can't afford such a nice copy, wait until you can. Lower-grade examples are common, and make poor investments in our opinion.
What to Invest In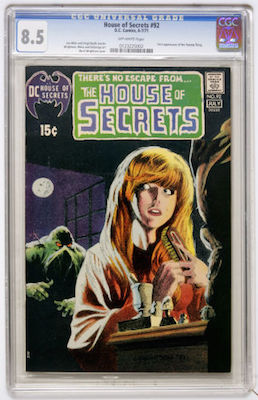 House of Secrets #92 is expensive in high grade. It's not worth buying below VF+. Click to get your CGC 8.5 or higher copy from Goldin
Have this book? Click to appraise its value NOW!

Related Pages on Sell My Comic Books
Most Valuable Comic Books of the 1970s (Bronze Age)

House of Mystery and House of Secrets Comic Book Price Guide
Top 60 Horror Comic Books by Value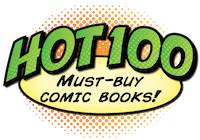 Click to return to the Hot 100 Investment Comic Books menu