NEW ENTRY!

Hot Comics 2021 #84: Tales to Astonish 93, Classic Silver Surfer cover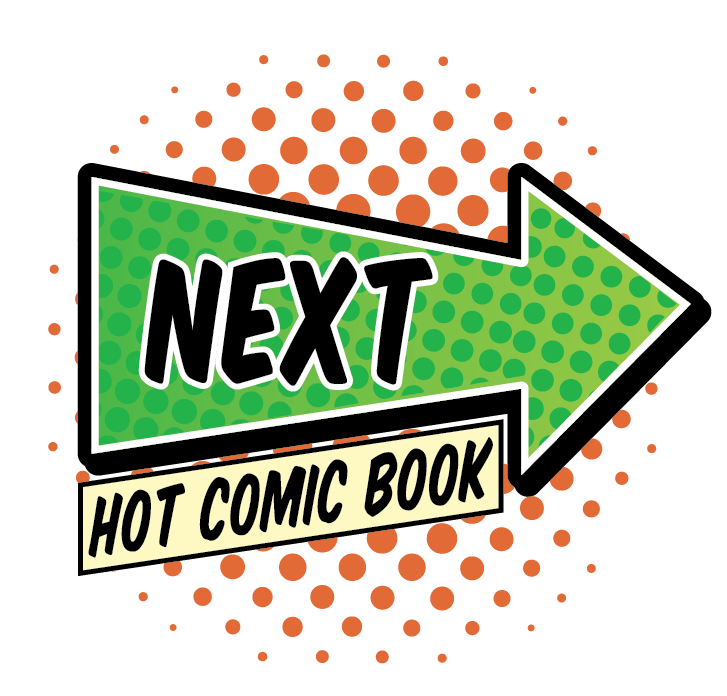 CLICK TO SEE THE NEXT HOT COMIC BOOK!
Why Tales to Astonish 93 is a Hot Comic
Starting with his first appearance in Fantastic Four #48, anything featuring the Silver Surfer is red hot this year, and shows no signs of cooling down.
This classic cover featuring the Incredible Hulk and the Surfer livens up the late run of TTA.
It's one of the more affordable Silver Age key issue comic books featuring the surfer.
So if your budget doesn't stretch to an FF#48 or FF#72, then perhaps this book will find a home in your portfolio.
What to Invest In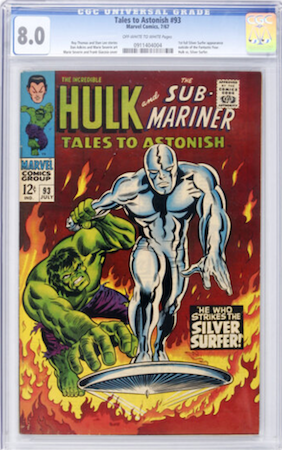 A nice crisp CGC 8.0 of Tales to Astonish 93 will cost you under $350! Click to buy a copy

This is a late issue from the long-running TTA series, and as such it's one of the more common Silver Age covers featuring the Silver Surfer.
Don't be tempted to drop down the grade levels too much. Any Silver Age comic in VF or nicer is going to have an appreciative audience when you come to sell it.
This is a desirable book in any condition, but copies without major damage to the front cover look great, and sell for a premium over copies with creasing and other front cover faults.
Really, when a CGC 8.0 is under $350, why look any further? Try to find one with White pages for an even better deal.
9.8 $7,500
9.6 $4,080
9.4 $1,195
9.2 $900
9.0 $695
8.5 $410
8.0 $335
7.5 $235
7.0 $240
6.5 $115
6.0 $140(!)
5.5 $115
5.0 $130(!)
4.5 $75
4.0 $80
3.5 $85
3.0 $90(!)
This is probably a book you should consider selling once the Fantastic Four / Silver Surfer movie comes out in the next phase of the MCU.
It's too common, and not special enough, to form part of a long-term investment portfolio. Recognize the reason that this is hot -- FF Homecoming, Silver Surfer involvement -- and let this go when the time is right.
Don't be the one selling pumpkins on November 1st.
Have this book? Click to appraise its value NOW!
Click Here to Get Your Free Appraisal!
Related Pages on Sell My Comic Books
175 Most Expensive Comics of the 1960s (Silver Age)
Silver Surfer comics price guide

Tales to Astonish comic book values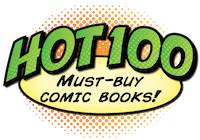 Click to return to the Hot 100 Investment Comic Books menu
Go from Tales to Astonish 93 to the 100 Hot Comics menu
Sell My Comic Books is the creator and home of the 100 Hot Comics list!