100 Hot Comics #79:
Marvel Premiere #15, 1st Iron Fist
UP 12 PLACES FROM LAST YEAR!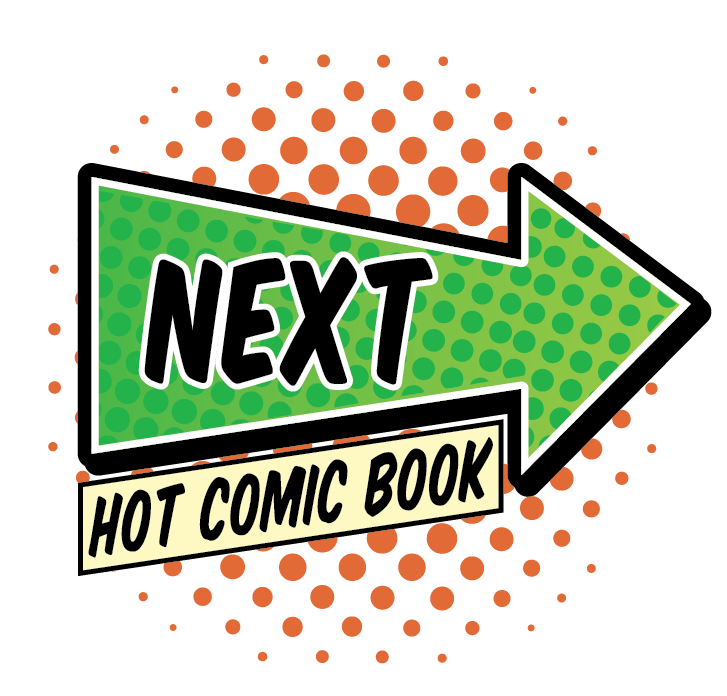 CLICK TO SEE THE NEXT HOT COMIC BOOK!
Why Marvel Premiere 15 is a Hot Comic
2019 MARKET UPDATE: IRON FIST IS RECOVERING FROM HIS KICKING
The unfortunately average Iron Fist Netflix show didn't help sentiment on this book, and although it's recovered a little, I doubt whether it will be truly red hot again anytime soon.
IF YOU BOUGHT MY RECOMMENDED GRADE LAST YEAR:
Here's the bottom line.
CGC 9.6 2018 $895
LAST SALE $1,020
PERCENT CHANGE +13%
A 13 percent increase on a generally cooling book feels like a result to me.
Other grades are posting similar gains, though the odd level has fallen. It might be time to give up on this book.
Recent sales:
CGC 9.8: $3,350
CGC 9.6 $1,020
CGC 9.4 $810
CGC 9.2 $375
CGC 9.0 $370 (!)
CGC 8.0 $224
CGC 6.0 $180
CGC 4.0 $110
2018 MARKET UPDATE: BARELY CLINGING TO ITS PLACE ON THE HOT LIST
Last year, we mentioned that prices had begun to soften, and warned you to be careful. Now we can clearly state: the price of this book is falling like a stone.
There are simply too many around.
Recent sales:
CGC 9.8: $3,300
CGC 9.6 $895
CGC 9.4 $600
CGC 9.0 $380
CGC 8.0 $200
CGC 6.0 $165
CGC 4.0 $125
2017 MARKET UPDATE:
It's all about Netflix, again. Iron Fist may not have set the world on fire (I didn't make it past episode 2), but it's driven prices crazy on this book, with many record sales.
It's a fairly tough book in high grade, which has not done anything to damp down enthusiasm when those 9.6s and 9.8s have appeared.
Note that prices have JUST begun to soften, which is pretty common when a book is hot due to TV or movie interest. Proceed with caution.
CGC 9.8: $4,150
CGC 9.6 $1,300
CGC 9.4 $830
CGC 9.0 $520
CGC 8.0 $350
CGC 6.0 $190
CGC 4.0 $135
Iron Fist is one of the hot new things on the Marvel streaming series circuit. Just like Luke Cage's bow in Hero for Hire #1 (also on the Hot 100 list), the show's confirmation has made the first appearance of Iron Fist into a sensational Bronze Age key issue.
Marvel Premiere #15 is more common than Hero for Hire #1, with no less than 40 CGC 9.8s in the census. That is reflected in its market value, around 5 times less expensive in 9.8.
Still, for most collectors and investors, a 9.6 is going to prove more affordable, and has just as much potential for appreciation over time. Especially if the TV series is a hit.
What to Invest In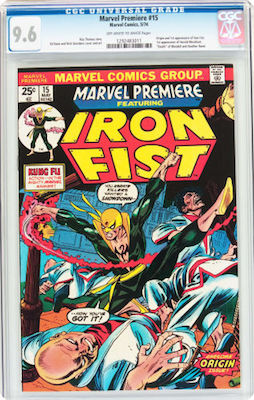 A clean copy of Marvel Premiere #15 in CGC 9.8 makes a fine investment in the 1st Iron Fist appearance. Click to buy from eBay
Have this book? Click to appraise its value NOW!

Related Pages on Sell My Comic Books
Most Valuable Comic Books of the 1970s (Bronze Age)
Origin and First Appearance of Iron Fist
Marvel Premiere Comic Book Price Guide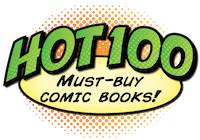 Click to return to the Hot 100 Investment Comic Books menu