War Comics Price Guide
War comics can be nostalgic, even for today's long-team comics readers, or at least for those who grew up as lately as the 1980s.
Many war titles ran into the 80s, although by that time many were simply reprints of older issues.
In fact, one could argue that superheroes have their roots in the wars that war comics looked at in a more realistic manner.
Several of today's superheroes are, of course, inspired by the hopes that in many nations preceded WWII, for an übermensch figure.
This article explores many of the different war titles, and helps you to identify and value them if you have some in your attic, basement, or collection.
Captain America Comics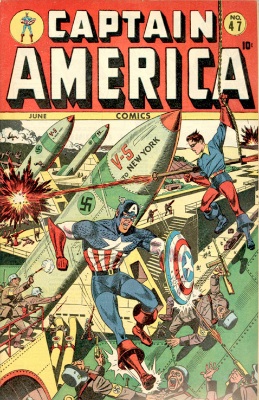 Captain America could not rightly be called a "war comic" per se; however, the series merits at least brief mention here.
For those hoping for instant gratification at a time when the US still remained neutrality in World War II, the cover of the first Captain America Comics, published by Timely Comics in 1941.
Many of these WW2 issue covers features Captain America decking a defenseless Adolf Hitler, or fighting Swastika-clad tanks, planes or soldiers, while Hitler's bodyguards futilely attempt to intervene.
If you want to read more about Captain America comics, then click the link to see our full issue by issue comic book price guide.
Don Winslow of the Navy
A title so bad, it's good. Don Winslow of the Navy started in 1934, as a comic strip. In 1943 it made the transition to comic book form.
This comic was actual Navy-endorsed propaganda, with ex-Navy consultants helping to ensure both verisimilitude and a pro-Navy image.
The second issue of the comic book series, of Winslow fully upright, storming one of the Japanese-occupied Solomon Islands with dry pants, a big smile, and a pistol waved aloft, is worth a look for sure.
There are very few Don Winslow comics on sale most days. That reflects the unpopularity of the character, as well as the scarcity of earlier issues. Check out prices here.
Military Comics
This is another of the early war comics, running from 1941 to 1945. Military Comics was published by Quality Comics.
This was a sort of clearing house title, like the later G.I. Combat. Military Comics didn't just focus on a hero or team; instead, it rotated out groups of heroes in different issues. 
One important legacy of the title is the Blackhawks Squadron. Co-created by Will Eisner and Chuck Culdera, the Blackhawks appeared in the inaugural issue of Military Comics. They went on to become a fringe part of the DC Universe.
The nostalgia value, at least, of the Blackhawks was demonstrated in their stand-along comic, which ran from 2011-2012.
Sgt. Fury and his Howling Commandos
Unlike the Blackhawks, Sgt. Nick Fury is an example of a war comics hero who eventually made it to 'mainstream' success.
He even hit ultra notoriety in the recent Avengers movie, played by Samuel L. Jackson.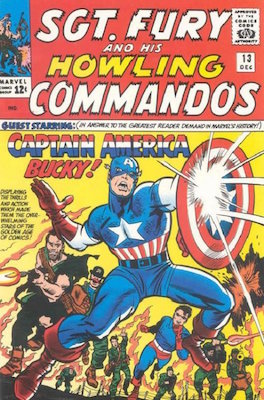 Before Colonel Nick Fury was the cigar-smoking, hard-nosed director of S.H.I.E.L.D., Sgt. Nick Fury was the cigar-smoking, hard-nosed NCO of a group of World War II commandos.
As you can imagine, Sgt. Fury and his commandos were a free-roving unit, moving at will behind enemy lines on special missions and causing mayhem disproportionate to their numbers.
The comic was a creation of Stan Lee and Jack Kirby. It had a run lasting until 1981, although in fact much of its run consisted of reprints from the early series. Sgt. Fury #1 is a key issue, as is Sgt. Fury #13, which is an early Silver Age Captain America appearance.
By the end of the series, Fury had already been thoroughly entrenched in the Marvel Universe, starring in his own series, Nick Fury, Agent of S.H.I.E.L.D., beginning in 1968 and continuing in a sporadic fashion ever since.
Why This Guide is AWESOME for Wannabe Comic Investors

If you have either tried (and failed) to make money flipping comic books, or are frustrated by the huge array of choice out there, then this is the eBook for you.

It's packed with 32 in-depth analyses of easy-to-buy and sell comic books from the Bronze to Modern ages.

These are titles we have personally made a lot of money buying and selling. So can you.

Make more than your money back with your first successful trade (or by NOT buying a losing book!).

If you are not completely satisfied, we have a 365-day money-back guarantee.

Click to read more, or order your copy today!
Our Army at War Comics
This title ran for quite some time, from 1952 to 1977. Like Military Comics and G.I. Combat, what we find in Our Army at War is a series of episodic adventures of different heroes and units.
Live market offers for this collectible series are shown below. You can click to research each issue.
Probably the most notable aspect of this comic is the introduction of the hero Sgt. Rock in Our Army at War #83 (1959). Rock went on to be the title hero of the renamed series.
The renaming did not take place until issue 302 (1977), and many, many adventures took place under the marquis Our Army at War.
Sgt. Rock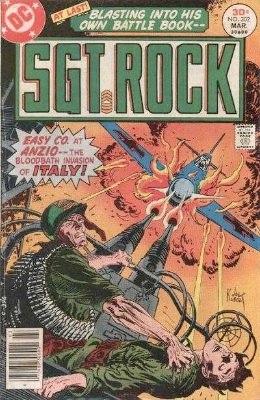 Sgt. Rock retains the numbering of its predecessor, Our Army at War, beginning at Sgt. Rock #302 (pictured) in 1977.
The series ran until #422, a spectacular run by any standard.
Sgt. Rock had many afterlives in comic books.
He's a difficult character for collectors who want to be completist, because soe many of the early issues are hard to find.
In a DC alternative universe crossover, Flashpoint, he becomes a member of the Wildstorm Comics franchise Team 7.
He is killed in this crossover special.
In general, Rock seems to be brought back to die.
The Unknown Soldier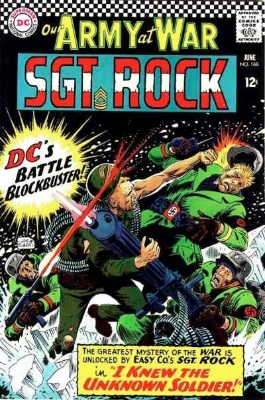 Another DC spinoff from Our Army at War was The Unknown Soldier, drawing on the mystique of the Tomb at Arlington, Virginia. 
He appeared first in Our Army at War #168, an issue bearing the Sgt. Rock subtitle.
He then had appearances in a series called Star Spangled War Comics, which as of issue #205 (1977) transformed into The Unknown Soldier.
The idea behind this character was that, having been badly burned in action, he now relies on disguises and serves in special operations and intelligence.
There was a Garth Ennis miniseries of The Unknown Soldier for Vertigo in 1997, another testament to how influential these war heroes were on budding comics writers of the present generation.
Combat Kelly and the Deadly Dozen
This one is interesting, because the series Combat Kelly, and the series Combat Kelly and the Deadly Dozen, are published in different decades and take place in different wars.
Both are published by Atlas, and yet it isn't clear if there's intended to be continuity between them.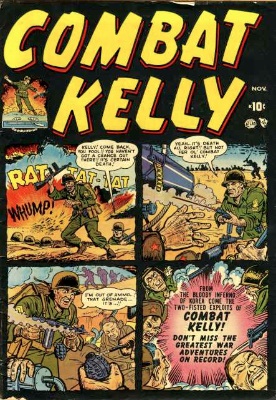 Moreover, the first series (1951-1957) takes place during the Korean War, while the second (1972-1973) is a WWII narrative.
Both series are gritty. But the later series, befitting its Vietnam-era run, is also darker, with the hero having been convicted of manslaughter.
War Comics: G. I. Combat
This title keeps the action interesting and fresh by revolving among various characters and theaters of war.
G.I. Combat #68 is the first prototype of Sgt. Rock.
The most noteworthy independent element of G.I. Combat was the Haunted Tank, premiering in use G.I. Combat #87 (1961), and making appearances until the final year of the comic.
In this outlandish feature, the ghost of Civil War Confederacy hero J.E.B. Stuart protectively watches over a WWII soldier name Jeb Stuart, along with the tank (also named Jeb Stuart) that he drives.
The series ran from 1952-1956 under the Quality Comics publisher. Beginning in 1957 it was picked up by DC, and ran all the way to 1987!
DC recently revived the series, but cancelled it around the end of 2012.
Star Spangled War Stories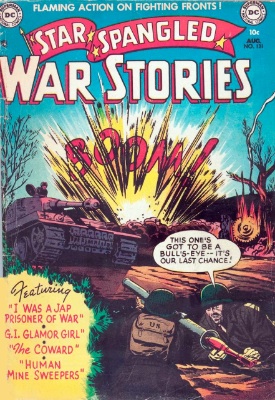 Beginning its publication run in 1952, Star Spangled War Stories became The Unknown Soldier in 1977.
This only took place after the Unknown Soldier had dominated the pages of its predecessor comic for some time.
Star Spangled War Stories in its turn had supplanted Star-Spangled Comics.
Its title is a bit misleading, since Star Spangled War Stories is as gritty as other war comics of its day.
The first few issues are definitely worth having, for those who somehow managed to acquire them.
Weird War Tales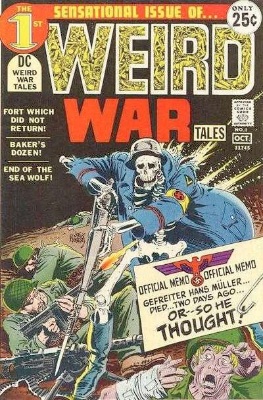 Weird War Tales is an interesting title, combining horror fiction with war.
DC Comics ran this series from 1971 to 1983.
The primary setting involves US vs. Nazi action, although it certainly explores other periods and conflicts as well.
Like The Unknown Soldier, Weird War Tales intersects with Star Spangled War Stories.
This makes it a challenge for collectors who want to complete runs and story arcs, but also keeps the value of issues higher.
There was a brief revival of this title under DC's Vertigo in 1997.
War is Hell
Lastly, one quirky, short-lived war comic worthy of note is War as Hell, a Marvel comic book that started out reprinting stories from the older war comics.
It then shifted to a series of tales about the ill-fated John Kowalski.
Kowalski is killed early in the war, and has the misfortune to be selected by death for a perverse role: to inhabit the consciousness of individuals on the verge of being killed.
Kowalski experiences the horrors of war again and again, and each time Death brings him back to experience a new form of destruction...
At least until the series was cancelled in 1975.
Why War Comics Appeal to Us
In the decades after Darwin, the idea of evolution via the "survival of the fittest" prompted hopes for the possibilities of eugenics, or genetic engineering.
The goal, with which most of us are familiar, would be to accelerate evolution by encouraging the strong and culling the weak.
Hitler, as we know, hoped to breed a super race. The Soviets harbored similar hopes, and Americans were not entirely immune to such aspirations.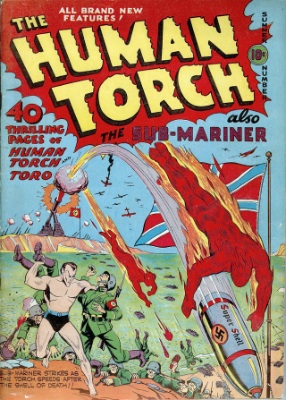 In our social imagination, heroes like Superman filled the space that history, for good or ill, failed to fulfill. Captain America and his nemesis, Red Skull, for example, are ways of imagining advanced genetic and biological engineering personified and taken to extremes.
In a sense, then, the era of competing world powers and world wars gave birth to the superheroes themselves. At a more down-to-earth level, though, there were also war comics that documented the lives of ordinary soldiers fighting overseas.
Most of these comics are products of the Korean War. Their heyday is the 1950s, though they continue through Vietnam (and sometimes beyond).
A contemporary superhero more directly inspired by these heroes would be Marvel's The Punisher.
The Punisher fought in Vietnam and has no special powers, and could easily be imagined in the trenches with figures like Nick Fury (with and against whom he has indeed fought).
Get Your War Comics Valued
If you have a stack of old war comics, especially in great condition, then get in touch.
We'll value them for free, and make you a Dollar offer if you want to sell.
Click Here to Get Your Free Appraisal or Consign Your Books to Auction!
More of our Comic Price Guides