100 Hot Comics #42:
Fantastic Four 52, 1st Black Panther
DOWN 12 PLACES FROM LAST YEAR
NOTE: We use eBay to provide references to live prices of comic books. Clicking a text link or image marked 'Check live prices' will take you to eBay.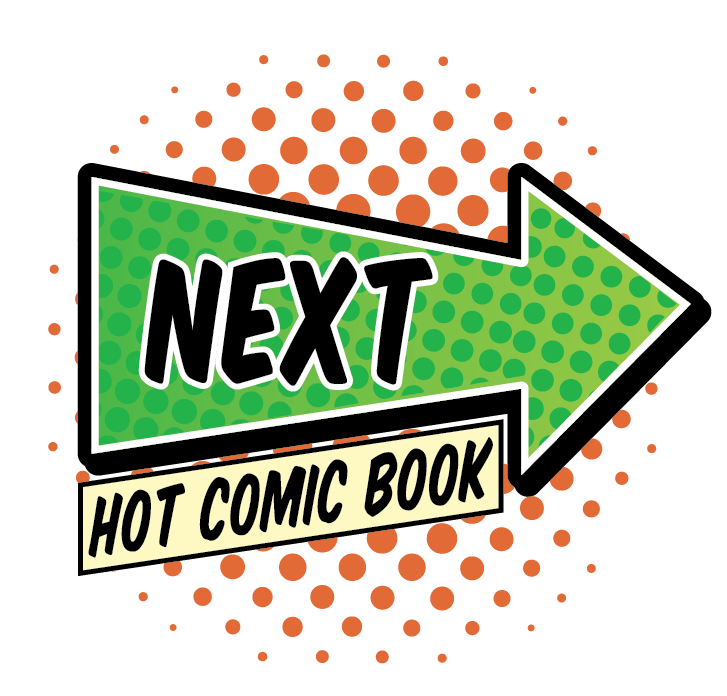 Why Fantastic Four 52 is a Hot Comic
2022 MARKET UPDATE: PANTHER CLAWING ON WHILE WE WAIT ON FATE OF NEW CHARACTER
For a long time, Shuri was "sure" to be the next Black Panther.
Now it looks like Tosin Oduye is "sure" to be the next Black Panther instead.
Until the MCU resolves this question, the affected books will be in a holding pattern. No 9.8 sales this year, but a beefy 9.6 catches the headlines.
Recent sales:
9.6 $43,200




9.2 $8,700



9.0 $13,000 (ouch)
8.5 $4,560
8.0 $5,600(!)
7.5 $3,480
7.0 $2,640
6.5 $2,250
6.0 $1,690
5.5 $1,450
5.0 $990
4.5 $980
4.0 $1,000(!)
3.5 $730
3.0 $625
2.5 $650
2.0 $610
1.8 $375
1.5 $675 (OMG!)
1.0 $450
2021 MARKET UPDATE: GRADES UP TO 9.0 RETURNING HANDSOMELY
The sad death of Chadwick Boseman (Black Panther actor) has hastened the succession that seems to be occurring anyway within the MCU.
Now that Chadwick is gone, it seems certain that a new, female Black Panther will take his place in the movies.
Prices of the first appearance in FF#52 have been very solid, with our target grade of 9.0 returning 30 percent this year.
HIgh-grade copies have softened, as they are out of reach for most collectors and investors.
Recent sales:
9.6 $21,000



9.4 $11,400
9.2 $10,500
9.0 $7,700
8.5 $4,800
8.0 $4,000
7.5 $2,295
7.0 $1,700
6.5 $1,200
6.0 $975
5.5 $825
5.0 $640
4.5 $760
4.0 $590
3.5 $500
3.0 $400
2.5 $370
2.0 $300
1.8 $320
1.5 $275
1.0 $200
IF YOU BOUGHT MY RECOMMENDED GRADE LAST YEAR:
Here's the bottom line.
CGC 9.0 2019 $5,900
LAST SALE $7,700
PERCENT CHANGE +30%
2020 MARKET UPDATE: HIGH GRADES IN THE BLACK, EVERYTHING ELSE IS RED
Fantastic Four 52 has been over-cooked for a long time, and this year saw profit taking on most grades.
The exception was very high grades, which are rare due to the all-black cover.
CGC 9.6 sold for $24,500 and 9.4 $16,200.
Happily, 9.0 was also strong:
2019 MARKET UPDATE: OSCAR FEVER CONTINUES TO DRIVE THIS BOOK
More good news if you followed last year's advice. Fantastic Four52 is just one of many from this series to see significant gains in the past 12 months.
It's hard to know where this book can go from here.
On one side, Black Panther is sure to continue ripping up the MCU. On the other, unless a second standalone movie is announced, where will the excitement for this book come from?
I mentioned Bitcoin last year. If you'd held Bitcoin, then you'd be suffering severe losses. Holding an FF#52 seems like a decent option.
It's not easy to predict where the hot books of today will be tomorrow, but I still like this book as a hold. Be cautious about investing new money though.
Recent sales:
CGC 9.4 $15,600

CGC 9.2 $6,540

CGC 9.0 $5,800

CGC 8.0 $2,500

CGC 7.0 $1,300

CGC 6.5 $1,015
CGC 6.0 $735

CGC 4.0 $465
CGC 2.0 $270
2018 MARKET UPDATE: PANTHER SPRINGS AHEAD 45 PERCENT YEAR-ON-YEAR!
The fuss about the Black Panther movie is already priced into this book, but recent sales have been very positive.
No new records at the top of the market, but plenty in the upper middle...
You'd have made 45 percent if you invested in the CGC 9.0 we recommended last year. Not too shabby, even if it's not Bitcoin returns!
CGC 9.4 $12,400

CGC 9.2 $5,000

CGC 9.0 $3,700

CGC 8.0 $2,000

CGC 7.0 $1,230

CGC 6.5 $700
CGC 6.0 $660

CGC 4.0 $375
CGC 2.0 $270
2017 MARKET UPDATE:
Whenever a comic book breaks the $50,000 barrier, it's exciting. A sale in CGC 9.8 of $65,725 is newsworthy, even for such a big key issue.
This year's drop is due to the fuss around his movie debut being over, but we still like this book long-term. Black Panther is not done with the Marvel Cinematic Universe, and vice-versa.
CGC 9.8: $65,725

CGC 9.6 $15,500

CGC 9.4 $8,050

CGC 9.2 $4,700

CGC 9.0 $2,500

CGC 8.0 $1,275

CGC 7.0 $750

CGC 6.5 $695
CGC 6.0 $430

CGC 4.0 $260
It's Marvel movie madness, again. Black Panther has long been the subject of rumor about a big screen appearance, and during the recent round of Marvel movie announcements, his participation in a movie was not only confirmed -- he was THE movie.
Coupled with that interest is the fact that this back issue has a largely black front cover. Black covers are notoriously hard to find in great condition.
Here we have another Silver Age book that has been overlooked for years. Fantastic Four comic books, in general, are less valuable than Marvel counterparts like Amazing Spider-Man, so it's nice to see more key issues emerging.
Aim for a VF-NM example, if you can afford it. Lower grades have actually seen declines, but in high grade this book is still red-hot. GROOWLLLL.
FF #52 is a key issue comic that's here to stay.
Other FF comics on the Hot 100 list:
Fantastic Four #5 (1st Doctor Doom) | Fantastic Four #48 (1st Silver Surfer and Galactus)
What to Invest In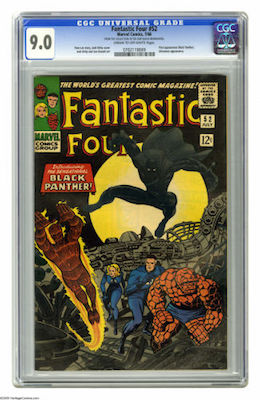 The mostly black cover of Fantastic Four #52 makes finding a copy in high grade a challenge. Look for a CGC 9.0. Click to buy a copy from eBay