100 Hot Comics #70:
Detective Comics 359
1st Bat Girl (Barbara Gordon)
DOWN 28 PLACES FROM LAST YEAR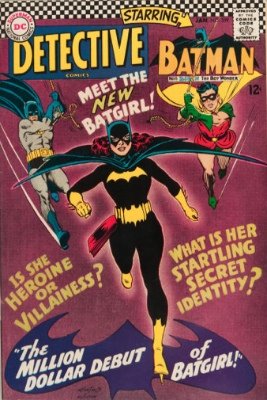 100 Hot Comics: Detective Comics 359, 1st Bat Girl (Barbara Gordon). Click to buy a copy from Goldin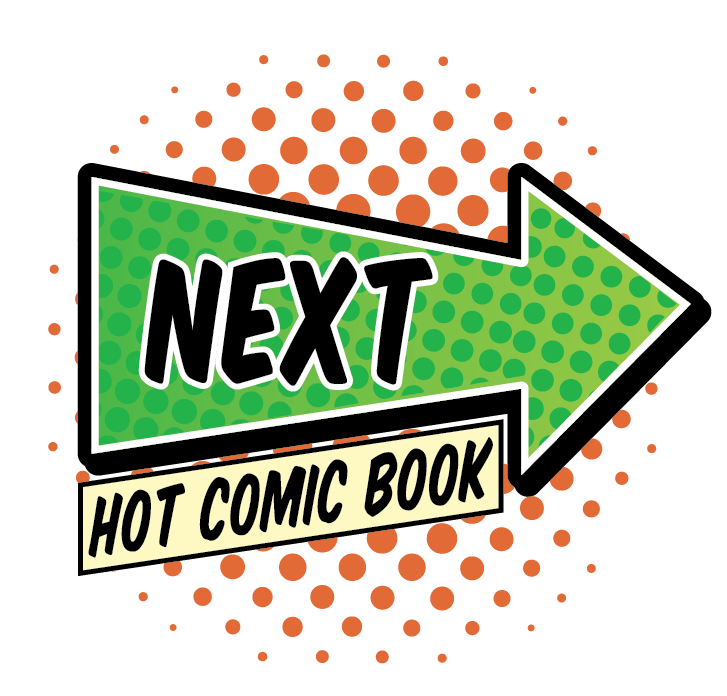 CLICK TO SEE THE NEXT HOT COMIC BOOK!
Why Detective Comics 359 is a Hot Comic
MARKET REPORT 2023: A STRONG DC SILVER AGE KEY AMONGST MANY UNDER-VALUED BOOKS
There are plenty of under-valued comic books, but Silver Age DC is the worst performing.
Surely there will be a time when that changes...
MARKET REPORT 2022: THE AFFORDABLE DC 1960s KEY
While this book has remained a little quiet as far as big prices are concerned (one 9.6 sale aside), it deserves this year's higher list position because it's consistently selling and increasing.
As DC keys go, it's relatively hot. Yet it's not priced out of reach of the average collector in many grades. As usual, no news of DC movies or TV shows is holding books like this back. There is still time to act.
Recent sales:
9.6 $66,000




9.0 $5,760



8.5 $3,200
8.0 $4,000(!)
7.5 $3,450
7.0 $2,200
6.5 $1,800
6.0 $1,525
5.5 $1,500
5.0 $1,200
4.5 $1,050
4.0 $900
3.5 $800
3.0 $660
2.5 $625
2.0 $475
MARKET REPORT 2021: $132,000
Yes, it was a CGC 9.8. Yes, it was from the Boston Pedigree.
Still. $132K on a mid-60s second-string key is ludicrous!
Most other grades were totally flat. This book barely clings to hot status. But the big sale was worth the story.
Recent sales:
9.8 $132,000 (WOW!)

9.4 $9,700



9.2 $6,315
9.0 $4,800
8.5 $3,100
8.0 $1,780
7.5 $1,440
7.0 $1,400
6.5 $1,195
6.0 $850
5.5 $800
5.0 $525
4.5 $520
4.0 $535
3.5 $495
3.0 $335
2.5 $300
2.0 $340
1.8 $200
1.5 $195
IF YOU BOUGHT MY RECOMMENDED GRADE LAST YEAR:
Here's the bottom line.
CGC 9.0 2020 $4,800
LAST SALE $4,800
PERCENT CHANGE N/A
MARKET REPORT 2020: UP AND DOWN LIKE THE BAT COPTER
It seems like all DC comics are suffering this year from hit-and-miss sales. Detective Comics 359 has the same problem, despite the interest in Bat Girl.
MARKET REPORT 2019: NOT EVEN BAT GIRL CAN ESCAPE THE DC EXODUS
Most of the big fallers and books which dropped off the list entirely this year feature DC Comics characters.
Why is DC so cold this year? It's really market forces. There is only so much money to go around, and Marvel is soaking up all the speculator cash.
Detective Comics 359 is still undoubtedly hot. It is showing price rises in various grades. It's just not as hot as the dozens of books which deserved to be higher on the list this year.
Grades below 7.5 are showing FALLING prices. Stick to nicer copies.
Recent sales:
CGC 9.6 $22,500
CGC 9.4 $11,875
CGC 9.2 $6,988
CGC 8.5 $3,010
CGC 8.0 $2,199
CGC 7.5 $1,725

CGC 6.0 $745
CGC 5.0 $550
CGC 3.0 $385
MARKET REPORT 2018: STILL TOP TEN, STILL A HOTTIE!
There are fine margins when it comes to deciding which of our 100 Hot Comics deserves a place at the top. There is nothing but upward momentum on Detective Comics #359, but the books above it are even hotter.
We are still extremely bullish on the future of this character, and the value of this book. Most grades are seeing strong price increases.
The color of the cover makes it a hard book to find above VF.
Recent sales:
CGC 9.6 $14,000
CGC 8.5 $2,400
CGC 8.0 $1,950
CGC 7.5 $1,400

CGC 6.0 $900
CGC 5.0 $615
CGC 3.0 $425
MARKET REPORT 2017:
Detective #359 moves up from #11 on last year's list. Especially hot are grades above 6.0, where new records are being set all the time.
This book is fairly common in the VG-FN range but tough above that. Silver Age DC comic books tend to be in worse shape than Marvels of the same era, and this book has a deep purple cover which shows wear.
CGC 9.2: $6,500
CGC 8.0 $2,000
CGC 7.5 $1,250

CGC 5.0 $500
CGC 3.0 $300
At least half the books on the Hot 100 are hot because of movie or TV projects. For a change, here we have a character with no direct movie links, or even firm rumors, but plenty of appeal nonetheless.
I've already talked during the Hot 100 about the phenomenon of DC Silver Age key issues being relatively under-valued compared to their Marvel counterparts. This is equally true for this huge first appearance.
Barbara Gordon is related to one of the mainstays of the Batman universe, Commissioner Gordon. She is a perfect sidekick to Batman and Robin, and has become popular with "fan boys" in the more sexy iterations of her outfit. She is a cosplay favorite too.
Higher grade copies are tough. The purple cover shows wear and handling easily. Aim for at least a VF-NM copy with off-white or white pages.
This will be a pleasure to own, and easier to sell than the mass of mid-grade examples currently flooding the market.
What to Invest In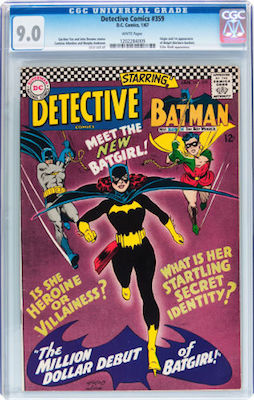 There are so many lower grade examples of Detective Comics #359 that prices are not firm. Look for a CGC 9.0 and you will enjoy owning it. Click to buy a copy from Goldin
Have this book? Click to appraise its value NOW!

Related Pages on Sell My Comic Books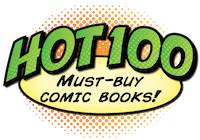 Click to return to the Hot 100 Investment Comic Books menu
Other Batman-Related Price Guides on SMCB