REENTRY!

100 Hot Comics #61:
(Saga of the) Swamp Thing #37, 1st John Constantine (Hellblazer)
100 Hot Comics: (Saga of the) Swamp Thing #37, 1st John Constantine (Hellblazer). Click to buy at Goldin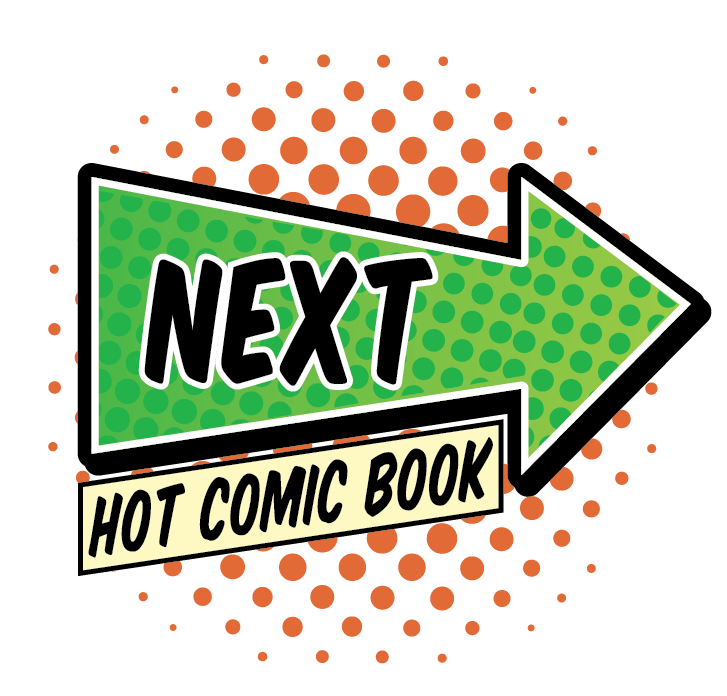 Why Saga of the Swamp Thing 37 is a Hot Comic
2023 MARKET UPDATE: BACK IN THE LIST AFTER THREE YEARS
After several years of mediocre performance, Swamp Thing #37 is back! Prices have made a solid uptick and in a market that's largely been correcting post-Covid, that's a welcome sight to see.
This is the kind of book I typically hold for years anyway. There is a lot of chatter around Hellblazer at the moment.
Recent sales:
9.8 $1650
9.6 $600
9.4 $425
9.2 $370
9.0 $355
2019 MARKET UPDATE: SOLID GAINS FOR CONSTANTINE
Another rare appearance of a DC Comics character that's actually performing well in the back issue market, where so many others are dire.
Speculation just won't go away -- and in fairness to the market, TV and movie 'deals' have been on and off again for this character for years now.
It's still one to hold if you have it. The yellow cover from 1985 is tough to find without spine stress. The book is not scarce though, I see them every week or so.
Recent sales:
CGC 9.8: $550

CGC 9.6 $262

CGC 9.4 $225

CGC 9.2 $185

CGC 9.0 $125

CGC 8.0 $125 (!!)
2018 MARKET UPDATE: NO HELLBLAZING TRAIL YET!
All grades have seen recent strong sales, but there is nothing to spark true excitement in this book. Where's the TV or movie deal for Hellblazer?
Without some kind of big move in the next year, it's going to move down the 100 hot comics list.
Here are recent prices.
CGC 9.8: $405

CGC 9.6 $200

CGC 9.4 $180

CGC 9.2 $130

CGC 9.0 $125

CGC 8.0 $95
2017 MARKET UPDATE:
There is still support for this book in lots of grades. However, CGC 9.8s are pretty easy to come by, and prices have stabilized.
We still think this book has potential, and it's a cheap risk even if it continues its downturn.
CGC 9.8: $450

CGC 9.6 $225

CGC 9.4 $205

CGC 9.2 $150

CGC 9.0 $125

CGC 8.0 $75

Already the subject of a short film and now an NBC TV series in the works, Hellblazer is hot property. However, the first Hellblazer comic book is not valuable and has in fact dropped in value.
This is the first true appearance of John Constantine. True speculators have piled into early 'tryout' or cameo appearances elsewhere, but the weight of money is behind Swamp Thing #37, and so should yours be.
Stick to a white pages CGC 9.8. There is nothing else worth buying.
The kind of book you might find at a garage sale for $2, mind, so a cheap copy in any grade is a good find.
What to Invest In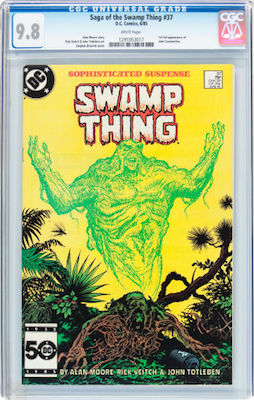 Swamp Thing #37 (1st John Constantine) is not a rare book. You should only buy it in CGC 9.8 with white pages. Click to buy a copy at Goldin
Have this book? Click to appraise its value NOW!

Related Pages on Sell My Comic Books
Most Valuable Horror Comics Ever Published
1980s (Copper Age) Most Expensive Comic Books
Top 60 Most Valuable Comic Books of the Modern Age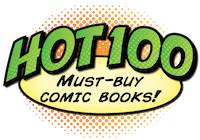 Click to return to the Hot 100 Investment Comic Books menu