Hot Comics #29:
Fantastic Four #4, 1st Silver Age Appearance of Sub-Mariner
DOWN 6 PLACES FROM LAST YEAR
NOTE: We use eBay to provide references to live prices of comic books. Clicking a text link or image marked 'Check live prices' will take you to eBay.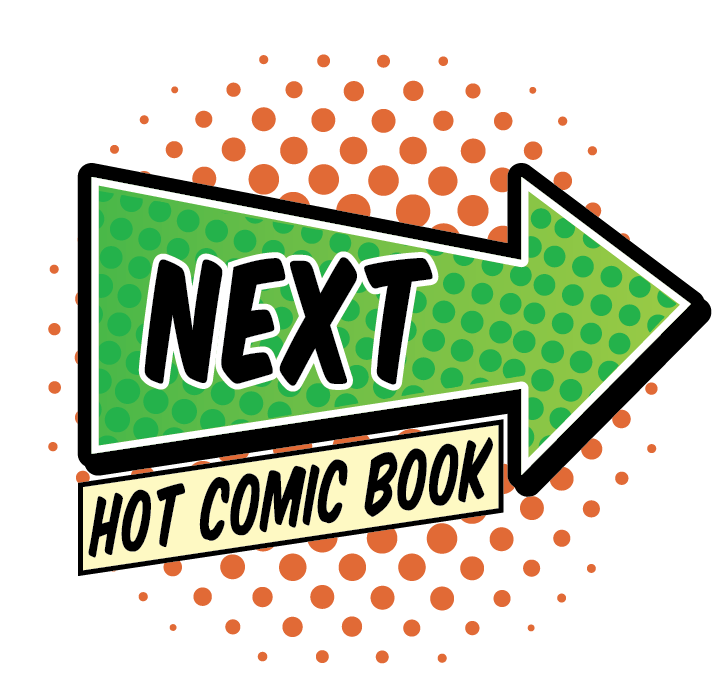 Why Fantastic Four 4 is a Hot Comic
2019 MARKET UPDATE: THIS SCARCE EARLY FF ISSUE CONTINUES TO RISE
We are seldom offered early # FF back issues. 90+ percent of Silver Age comic book collections are missing them altogether, and when they do turn up they are ragged.
We have seen no sign of Namor being talked about as an alternative in the MCU to Aquaman, but stranger things have happened.
IF YOU BOUGHT MY RECOMMENDED GRADE LAST YEAR:
Here's the bottom line.
CGC 6.0 2018 $1,625
LAST SALE $3,900
PERCENT CHANGE +140%
I'm feeling pretty pleased with myself for tipping a book which has more than doubled within 12 months, I admit.
Here are recent sales. I see more upside ahead. Buy and hold.
CGC 8.0 $10,200

CGC 7.0 $5,700

CGC 6.0 $3,900

CGC 5.0 $1,920
CGC 4.0 $1,800
CGC 3.0 $1,450
CGC 2.0 $1,030
CGC 1.0 $925
2018 MARKET UPDATE: NAMOR IS MORE AND MORE POPULAR!
An anti-hero who has been around since the early Golden Age of comics, Namor has finally been noticed by speculators looking for value.
Now that Sony and Marvel have struck a deal to bring home the errant heroes, rumor about actually decent Fantastic Four movies won't go away.
Namor makes perfect sense as a bad guy. The interest in Aquaman has only added fuel to the fire. If DC can pull it off, surely Marvel can?
Here are recent sales.
CGC 9.4 $26,000
CGC 9.2 $19,000
CGC 8.0 $5,750

CGC 7.0 $3,000

CGC 6.0 $1,625

CGC 5.0 $1,400
CGC 4.0 $770
CGC 3.0 $800 (!!)
CGC 2.0 $475
CGC 1.0 $375
2017 MARKET UPDATE: NEW TO THE LIST!
I don't know what it will take to shake FF #1 out of its long-term price funk... but perhaps the issues ahead of it, like this one, moving up will help.
Sub-Mariner was one of THE stars of the Golden Age for Atlas/Marvel, and while he hasn't really caught on with the modern audience, this first Silver Age appearance is increasing in value at long last. Picking a clean, well-presenting CGC 6.0 will be a good bet.
CGC 9.0 $9,550

CGC 7.0 $2,130

CGC 6.0 $1,600

CGC 5.0 $955
CGC 4.0 $750
CGC 3.0 $670
CGC 2.0 $400
Other FF comics on the Hot 100 list:

Fantastic Four #1 | Fantastic Four #5 (1st Doctor Doom) | Fantastic Four #48 (1st Silver Surfer and Galactus) | Fantastic Four #52 (1st Black Panther)
What to Invest In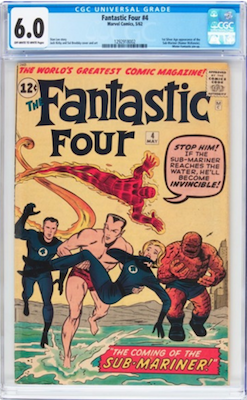 This book has been under-valued for years. Sub-Mariner is a major Marvel villain. Look for a CGC 6.0. Click to buy a copy
Have this book? Click to appraise its value NOW!

Related Pages on Sell My Comic Books
Origin and First Appearance of Sub-Mariner
Fantastic Four Comic Book Price Guide
Most Valuable Comics of the Silver Age (1960s)
Other FF issues on the 100 Hot Comics List:
FF#1 | Fantastic Four #5 | FF#48-49-50 | Fantastic Four #52 | FF Annual #6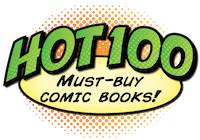 Click to return to the Hot 100 Investment Comic Books menu
Go from Fantastic Four 4 to the 100 Hot Comics menu