100 Hot Comics #93: Superman's Girlfriend Lois Lane 70, 1st Silver Age Catwoman
DOWN 20 PLACES FROM LAST YEAR
NOTE: We use eBay to provide references to live prices of comic books. Clicking a text link or image marked 'Check live prices' will take you to eBay.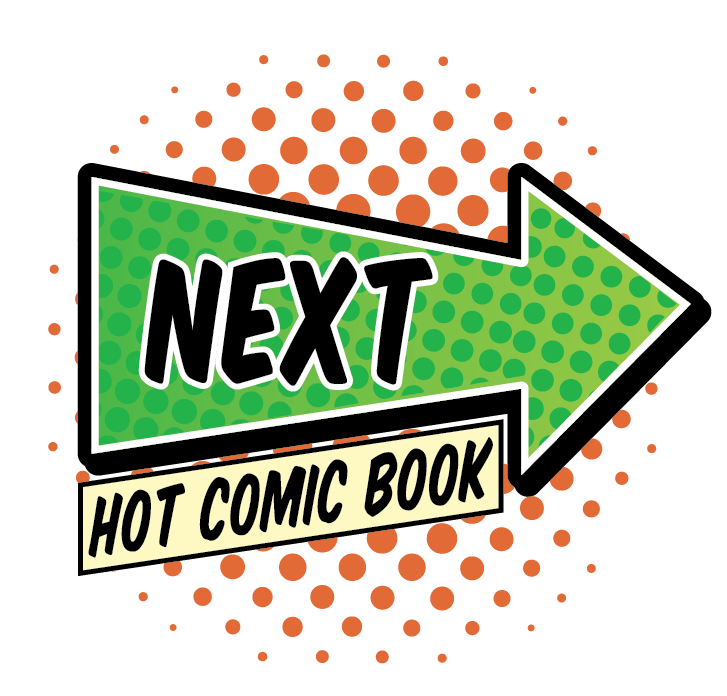 Why Lois Lane 70 is a Hot Comic
2021 MARKET UPDATE: 
This has to be one of the most undervalued 1960s comic books. First Silver Age Catwoman, and yet it struggles to make four figures even in CGC 9.0!
Recent sales:
9.6 $3,360




9.0 $750



8.5 $580
8.0 $550
7.5 $490
7.0 $450
6.5 $300
6.0 $270
5.5 $240
5.0 $235
4.5 $180
IF YOU BOUGHT MY RECOMMENDED GRADE LAST YEAR:
Here's the bottom line.
CGC 9.4 2019 NONE
LAST SALE NONE
PERCENT CHANGE N/A
2020 MARKET UPDATE: BARELY WORTH A LOOK IN THIS MARKET
Catwoman was red hot last year, but Lois Lane 70, along with many other DC issues this year, continues to confound.
Some grades are up (enough to make this book rise a bit), but overall you'd be hard-pressed to make a case to invest in this book, when there are so many Marvel Comics much more worthy of your money.
2019 MARKET UPDATE: LOIS IS STILL KINDA HOT (KINDA)
It's always been difficult to decide how to feel about Lois Lane. Would you go there? After Superman? Pretty tough call.
Let's stick to financials to make this decision. Prices of many grades are up. It's fallen this year, but then so have almost all DC Comic superheroes.
I picked a grade that never seems to come to market. Not helpful. But other grades seem to be gaining some traction.
Still one to hold. No need to bail out yet.
Recent sales:
CGC 9.6 $3,350

CGC 9.0 $875
CGC 8.5 $550

CGC 8.0 $384
CGC 7.5 $429 (!)

CGC 7.0 $400 (vs. $200 last year!)
CGC 6.0 $280

CGC 5.0 $133
2018 MARKET UPDATE: LOIS VS CATWOMAN CLASSIC COVER!
Catwoman comics are hot property at the moment, and this amazing cat fight cover is her first Silver Age appearance.
There aren't many sales, but those there are have been good ones.
CGC 9.0 $435

CGC 8.5 $475 (!!)

CGC 8.0 $350
CGC 7.5 $365 (!!)

CGC 7.0 $200
CGC 6.0 $200

CGC 5.0 $170
2017 MARKET UPDATE:
A Silver Age key issue in CGC 9.6 for $2,200? Any other series and you'd swear they forgot a zero, but this is Lois Lane, one of the chilliest of cold series (only propped up in the sadness table by Jimmy Olsen).
A classic cover featuring a literal 'cat-fight' between Lois and Catwoman makes this a hot issue, and Cat fans will want to own one for sure.
It's Catwoman's first Silver Age appearance. See our Catwoman comic books price guide for more info.
CGC 9.6: $2,200

CGC 9.4 $1,100

CGC 9.0 $425

CGC 8.5 $400

CGC 8.0 $370
CGC 7.5 $200

CGC 7.0 $280
CGC 6.0 $175

CGC 5.0 $125

One of the mainstays of the Golden Age Batman villains, Catwoman's appearance in this unpopular DC Comics title is something of a surprise.
As a buyer of comic books, it gives me an excuse to check the Lois Lane comics that come into the office -- there are so few worth pursuing...
It has a special appeal due to its (literally) cat fight on the cover between Lois and Catwoman. Add to this an appearance from The Penguin and you have a great recipe for an investible comic book.
The white front cover shows a lot of dirt, so higher grade copies are hard to come by (but don't let your standards slip any lower than 9.0). Even so, the sad truth is that the Lois Lane name brings down its value. Prices are rising, so now is a good time to get one.
What to Invest In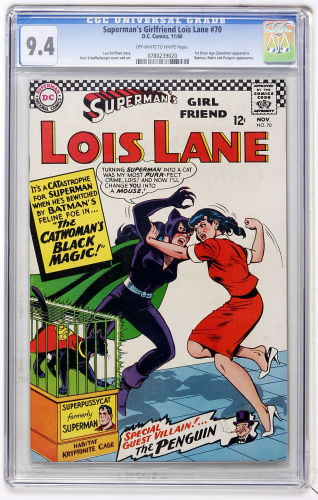 Superman's Girlfriend Lois Lane #70 is an affordable Silver Age key that should be bought in high grade, such as CGC 9.4. Click to buy yours
Have this book? Click to appraise its value NOW!

Related Pages on Sell My Comic Books
Superman Comic Book Price Guide
Batman Villains: List of First Appearances
Showcase #9: 1st Silver Age Appearance of Lois Lane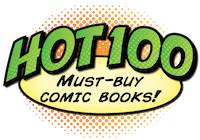 Click to return to the Hot 100 Investment Comic Books menu
Go from Superman's Girlfriend Lois Lane 70 to the 100 Hot Comics menu