Free Online Comic Book Appraisal Service!

"I recently decided to sell my son's comic book collection that he had amassed about 20 years ago. It was a daunting task because I didn't know much about the subject.
"I contacted Ashley at Sell My Comic Books after I found his site on the internet. The process was painless and it encouraged me to complete the inventory.

"Once done I submitted it to another comic book appraisal site and the two were valuations were reassuringly close. This gave me confidence to move forward and I decided to do so with Ashley, based on his patience and availability for questions and concerns along the way.
"I would highly recommend him for the positive way this experience unspooled."
Rona, NY State


How The Comic Book Appraisal Works

It's really easy to get your appraisal. But first you need to know how to use the form.
1) Title
You can simply write "I inherited some comics", "old comic books found" or "garage sale purchase" etc. if you don't know what you've got.
If you DO know what you've got, then it would be helpful to say that instead.
Example: "Lot of old Hulk comics", "Big collection of Marvel comics", "lot of vintage Superman comics", or even more detail: "I've found a copy of Captain America #100".
2) Detail
The more detail you can give us, the easier it will be to complete your comic book appraisal.
Here's a great example of the detail we need:
"I have a pile of old superhero comics. Here's a list:
"Superman #79, 82, 99, 108.
"Batman #56, 87, 112, 114-129, 133."
"Green Lantern #70." etc.

We will eventually need a list of what you have. In the case of a huge collection, it may be easier to contact us and we will ask the relevant questions on the phone.

You could also do it this way.
"I don't really know what I have, but I have a stack of 120 comics. All have dates from 1961 to 1967. Most are superhero comics. I see some Spiderman, Thor, Iron Man, Fantastic Four, and X-Men."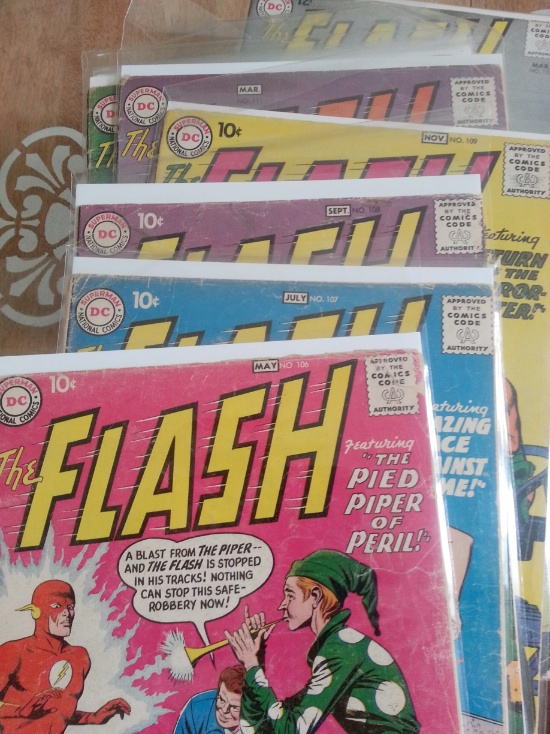 Getting a comic book appraisal is easier when you provide images
3) Images REALLY help

You can help further by taking digital pics, or scans if you have a scanner, of the comic books you want appraising.
Because comic book grading is so important, it's much easier to complete comic book appraisals when we see the actual comics.
DO NOT TAKE PHOTOS BEFORE WE REQUEST THEM! The biggest waste of time is taking hundreds of photos of books we aren't interested in because they are virtually worthless. Wait for our guidance.
You can take comics to a local copy shop, Staples, or Office World, and ask them to scan them for you. They will put the images on a memory stick or CD, and you can bring them home, then upload them to show us.
If you have a LOT of pictures, it may be best to send them to us another way. Please contact us and we'll tell you how.
Here's the form (jumps you back to top). It's really easy to use. Just click in each box and type. Click the Browse button to find and upload any pictures you have.
More Articles in This Series