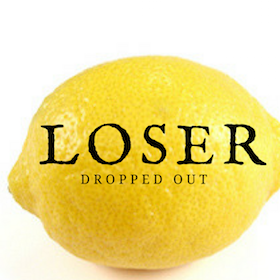 100 Hot Comics: Tales of Suspense 57, 1st Hawkeye
DROPPED OUT OF LIST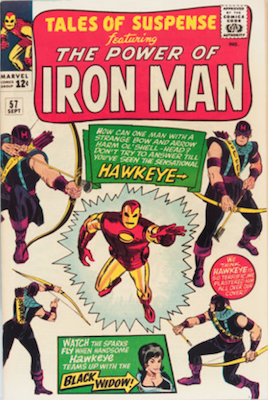 100 Hot Comics: Tales of Suspense 57, 1st Hawkeye. Click to find a copy at Goldin

Why Tales of Suspense 57 is a Hot Comic
DROPPED OUT OF LIST
Never the main hero (at least not so far), Hawkeye (aka Agent Clint Barton) has nonetheless become a popular mainstay of the Avengers movie series.
Add to this the relative scarcity of Tales of Suspense 57 in higher grade -- that all-white cover is very tough to find without creasing, yellowing or staining -- and you have all the ingredients you need for a very solid Silver Age key issue comic.
As the recent announcement of a stand-alone Black Widow movie has proven, nothing is impossible in the Marvel Cinematic Universe.
TOS 57 has become much hotter in recent months. No smoke without fire, we think. While nothing is yet confirmed, it would not be a shock to see Barton's back story put on the big screen in the nearish future.
What to Invest In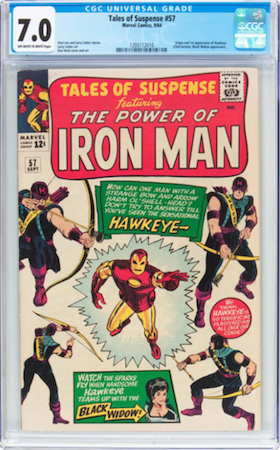 100 Hot Comics: Tales of Suspense 57, 1st Hawkeye. Click to find a copy at Goldin
Good luck finding high-grade copies of Tales of Suspense 57, and expect to be asked to pay a pretty penny if you do find a good one.
Typically, speculators ignore the GD-VG-FN range, unless a book is totally unaffordable (for example, Amazing Fantasy 15 or Incredible Hulk 1).
Here are recent sales:
9.6 $12,000

9.4 $8,000
9.2 $7,150
9.0 $3,300
8.5 $2,280
8.0 $1,440
7.5 $1,200
7.0 $650
6.5 $725(!)
6.0 $515
5.0 $385

4.0 $275

2.5 $225
By investing in a CGC 7.0, you will be setting the bar a little higher when it's time to resell, and you'll probably wait a bit longer for a bite, but people with more particular standards will be your customers. Which is not a bad thing.
Unless you need the money, I would consider this a long-term hold.
Have this book? Click to appraise its value NOW!
LOSERS! Comics Which Dropped Out of Past Lists