100 Hot Comics #10:
Batman Adventures 12, 1st Harley Quinn
DOWN 1 PLACE FROM LAST YEAR
100 Hot Comics: Batman Adventures 12, 1st Harley Quinn. Click to invest in a copy at Goldin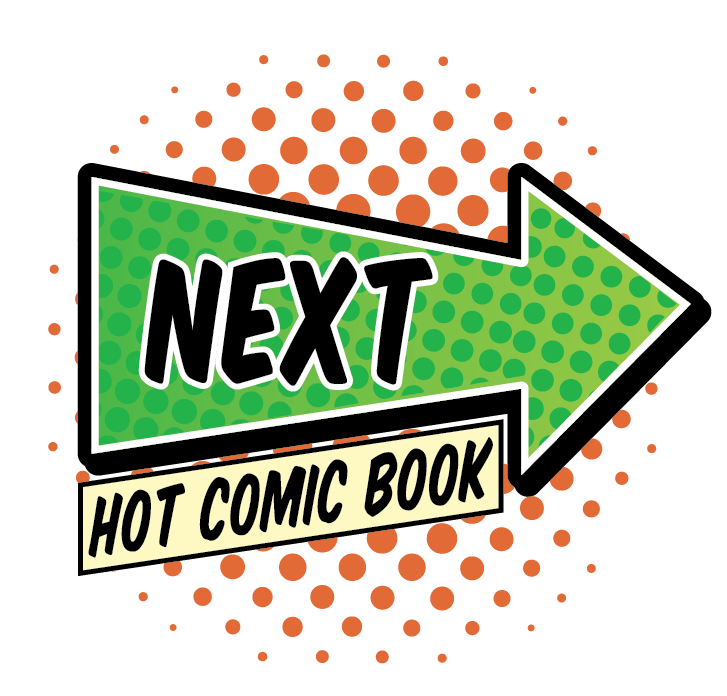 Why Batman Adventures 12 is a Hot Comic
2023 MARKET UPDATE: LOWER GRADE COPIES NOW CONSIDERED ACCEPTABLE
The surprising activity on this book in 2022-23 was the turnover of lower-grade comics.
Remember, this is a 1993 comic book, and so most collectors would not accept a low grade copy.
Such is the appeal of Harley that books graded 4.0, 5.0 or 6.0 by CGC are now setting records.
2022 MARKET UPDATE: HARLEY'S QUINETESSENTIAL APPEAL
In a market dominated by Marvel hot comics, it's nice to see a DC comic make it into the top 10.
The same pattern as last year is being repeated, with solid rather than spectacular gains for the majority of grades, and the coveted newsstand variant setting new records.
Sadly, CGC's census does not break down the number of newsstand variants in the census, but there must be relatively few. This era, most comics were Direct editions.
What's really surprising is the support at much lower grades for this book. Modern books in any condition below 9.0 are really dogs. But there are owners willing to adopt those dogs, it seems. Don't be one of those buyers.
Recent sales:
9.8 $3,250 regular / $5,280 newsstand
9.6 $1,300 / $1,430
9.4 $840 / $1,075
9.2 $760 / $925
9.0 $720 / $850
8.5 $700
8.0 $550
7.5 $435
7.0 $450
6.5 $495
6.0 $510(!!)
5.5 $420
5.0 $390
4.5 $405
4.0 $355
3.5 $350

2.5 $325
2021 MARKET UPDATE: HARLEY IS HOT AGAIN!
Under threat of actually being relegated from the 100 Hot Comics list last year, the Coronavirus effect on comics has been a friend to Harley Quinn.
Comic book buyers, starved of travel, entertainment and most other places to put their cash, have been buying books like BA#12.
New records are being set, and the rare newsstand edition has attracted more interest.
CGC 9.8 $2,640 regular / $3,800 newsstand
CGC 9.6 $850 / $1,000
CGC 9.4 $660 / $680
CGC 9.2 $600
CGC 9.0 $550 / $650
CGC 8.0 $550
CGC 7.0 $450
CGC 6.0 $375
IF YOU BOUGHT MY RECOMMENDED GRADE LAST YEAR:
Here's the bottom line.
CGC 9.8 2020 $1,784
LAST SALE $2,640
PERCENT CHANGE +47%
2020 MARKET UPDATE: HARLEY BARELY CLINGING TO THE LIST
Even with Birds of Prey in the movie theaters, Batman Adventures 12 can't dig itself out of the DC Comics malaise.
Most grades are posting losses this year, including the previously golden 9.8.
2019 MARKET UPDATE: CGC 9.8 IS THE BOMB
As one of the few DC comics on the 100 Hot Comics list this year, BA#12 is an interesting study. In common with other DC keys, prices are up and down depending on the grade.
The big difference between DC and Marvel right now is the movie output. DC is slow, Marvel is relentless.
CGC 9.8 is just about the only higher grade to show a profit this year. Harley is hanging on, for now. Recent sales:
CGC 9.8 $1,900
CGC 9.6 $695
CGC 9.4 $550
CGC 9.2 $455
CGC 9.0 $450
CGC 8.0 $365
CGC 7.0 $380
CGC 6.0 $234
2018 MARKET UPDATE: STILL HOT AFTER ALL THESE YEARS, HARLEY
We are still seeing strong sales of this book, though most grades are not returning to the highs of 2016. However, a very recent sale of $1,700 in CGC 9.8 is a definite sign that Harley Quinn fever is still going strong!
Don't let your standards slip. White pages, CGC 9.8, or nothing.
CGC 9.8 $1,700
CGC 9.6 $700
CGC 9.4 $550
CGC 9.2 $520
CGC 9.0 $390
CGC 8.0 $300
CGC 7.0 $230
CGC 6.0 $300 (!!) << don't be that guy. This is ridiculous.
2017 MARKET UPDATE:
She came, she saw, she kicked ass... right until the Suicide Squad movie had been and gone. After which, Batman Adventures 12 dropped in popularity.
Prices have fallen by up to 40 percent from their crazy highs. That said, recent sales have shown an uptick. That's not surprising. She's a character that is not going to go away, and surely there are more movies in her future.
CGC 9.8: $1,695
CGC 9.4 $595
CGC 9.2 $500
CGC 9.0 $430
CGC 8.0 $400
CGC 6.0 $275
Harley Quinn is the hottest "dark" character in the world of comic books. Way hotter even than Deadpool.
It's kind of a spin-off from the Joker's popularity. Quinn is Joker's girlfriend... kind of (the DC Universe gets a bit squirrelly at times). She's a close ally of Poison Ivy (Batman #181 is also on the Hot 100 list).
Even though this book is not in the DC continuity (again, confusing...), it's considered the #1 must-own book by fanboys, cosplay lovers and comic book investors.

Batman Adventures #12 is a common book. But demand drives value. At one point, CGC 9.8s were hitting $2,000 and more. They have come off the top a little, but are comfortably more expensive than the equivalent grade of New Mutants #98.
Stick to CGC 9.8s. Don't buy a lesser grade, these are way too common. Pity the fools paying $300 or more for CGC 6.0 books.
See also Harley Quinn #1.
What to Invest In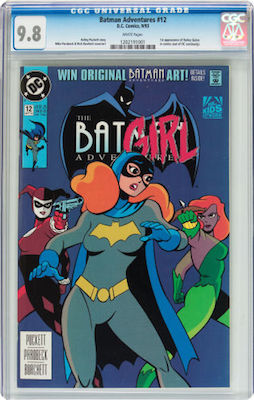 CGC 9.8s of Batman Adventures #12 are red hot, but fairly common. You don't want to be the mug buying mid-grade copies of this book for $$$. Click to buy a copy from Goldin
Have this book? Click to appraise its value NOW!

Click Here to Get Your Free Appraisal or Consign Your Books to Auction!
Have this book? Click to appraise its value NOW!

Other Batman-Related Price Guides on SMCB