Hot Comics #77: What If 105, 1st Spider-Girl
DOWN 14 PLACES FROM LAST YEAR!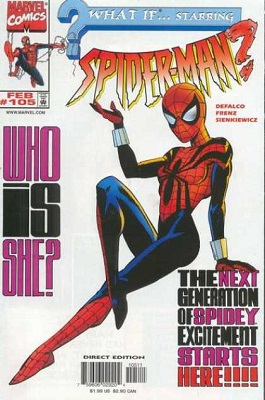 100 Hot Comics: What If? 105, 1st Spider-Girl. Click to buy a copy from Goldin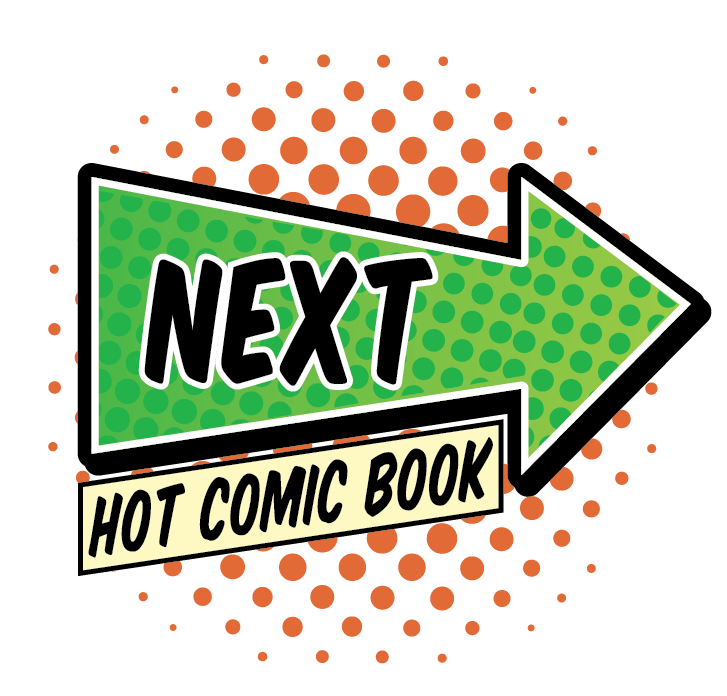 CLICK TO SEE THE NEXT HOT COMIC BOOK!
Why What If 105 is a Hot Comic
2023 MARKET UPDATE: MAJOR OUCH FOR SPIDER-GIRL
The price of high-grade copies of this relatively tough modern key issue have plummeted -- CGC 9.8s now sell for around $500.
If you are holding one, then I would just continue to wait for recovery. I think Spider-Girl has a big future.
2022 MARKET UPDATE: 40 PERCENT INCREASE IN CGC 9.8
The last sale of $700 in 9.8 was a nice outcome, though last year's high was $1,300. Kudos to you if you got 3x on your investment and cashed out at the top.
I own a 9.8 of this book and I have no intention of selling yet. Nor should you!
Be warned that prices can be up and down in lower grades. A 9.8 remains the only grade I recommend.
Recent sales:
9.8 $700
9.6 $305
9.4 $385(!!)
9.2 $315
9.0 $225
2021 MARKET UPDATE: STEADY CLIMB FROM SPIDER-GIRL
Nothing major to report in a year where anything movie-related went sideways, while we wait for the pandemic to pass.
My 9.8 target returned 10 percent.
Recent sales:
9.8 $500
9.6 $205
9.4 $250(!!)
9.2 $175
9.0 $170
IF YOU BOUGHT MY RECOMMENDED GRADE LAST YEAR:
Here's the bottom line.
CGC 9.8 2020 $457
LAST SALE $500
PERCENT CHANGE +10%
Add "Spider" to pretty much any other word, and you have the potential for greatness!
Spider-Verse
Scarlet Spider
Spider-Boy
and so on.
What If? the comic 105 is the first appearance of Spider-Girl.
That, surely is a no brainer when it comes to spinning off in a new direction for whoever happens to own the rights this week.
Live action or animation. For adults or kids. Or families. Yes, Spider-Girl is a pretty versatile concept, and it makes perfect sense to want to own a copy of this hot comic.
What to Invest In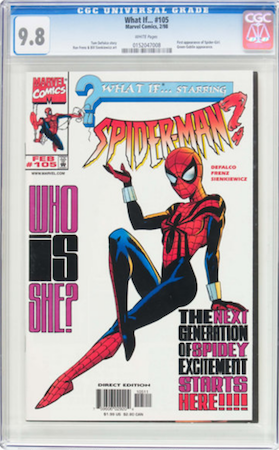 We recommend buying What If? #105 in CGC 9.8 with white pages. Click to buy a copy from Goldin
There is no excuse for letting standards slip. What If? 105 is a modern comic. Don't think a 9.6 will do. Only a CGC 9.8 with white pages.
Here are recent sales.
9.8 $305
9.6 $180
9.4 $75
9.2 $120 (!!)
9.0 $150 (!!!!)
You see how inexperienced buyers will pay half the asking price of a 9.8 for a 9.0?
Don't be that person.
What If you don't like money? In that case, do whatever you like, but keep it to yourself, thanks.
Have this book? Click to appraise its value NOW!
Related Pages on Sell My Comic Books
What If? #10 (1st Jane Foster as Thor) on the 100 Hot Comics
Most valuable comic books of the Modern age (1992-now)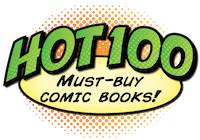 Click to return to the Hot 100 Investment Comic Books menu