Hot Comics #87:
Showcase #30
1st Aquaman of the Silver Age
and 1st Aqualad
DOWN 49 PLACES FROM LAST YEAR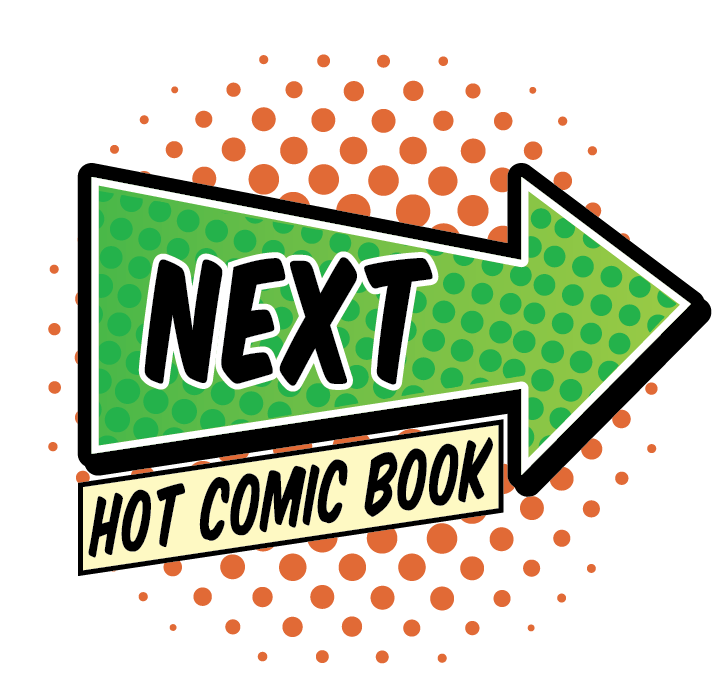 Why Showcase #30 is a Hot Comic
2018 MARKET UPDATE: SHOWCASE ISSUES DOWN, BUT NOT OUT
The Justice League movie had a very positive effect on prices of books like this one, under-valued for a long time.
Prices have softened since, but it remains a book to hold.
Recent sales:
CGC 9.2 $8,000
CGC 8.0 $3,100

CGC 7.0 $1,700
CGC 6.5 $1,025
CGC 6.0 $1,200 (!!)
CGC 5.5 $650
CGC 4.0 $300
CGC 3.0 $310
CGC 2.5 $250
2017 MARKET UPDATE:
Investors who bought this when we featured it last year will be pleased. The book continues to appreciate in value, and while Aquaman might not be everybody's cup of seawater tea, his Silver Age books are all relatively warm in the market.
They have been under-valued for too long, which doesn't hurt recent sales. A rare book in high grade, and there's plenty of support for mid-grade and nicer copies when they do turn up.
CGC 8.5: $4,300
CGC 8.0 $2,200
CGC 7.5 $1,700
CGC 7.0 $1,300
CGC 6.5 $1,200
CGC 6.0 $670
CGC 5.5 $975
CGC 3.0 $270
CGC 2.5 $300
What a difference a couple of years makes! Marvel blazed a trail with a blitz of superhero movies, many of which created key issues from former dump bin stock items.
DC played catch-up, and now there are at least half a dozen DC movies in the works.
Aquaman is a Golden Age mainstay who was rebooted in this vastly under-valued and under-rated Silver Age key issue.
Not only is it (arguably) his first appearance since the Golden Age, the issue introduces Aqualad, who later goes on to be part of the Teen Titans.
The importance of the Teen Titans shows with these issues also appearing on the Hot 100:
Brave and the Bold #54 (1st Teen Titans) | DC Comics Presents #26 (1st New Teen Titans)
Showcase #30 is a tough book in fine or better shape.
What to Invest In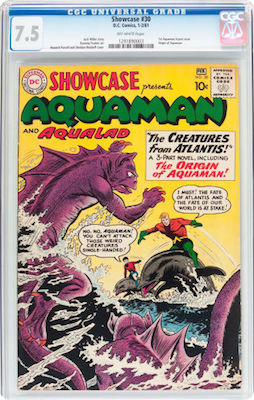 Showcase #30 is a tough book in any grade, but a nice VF- CGC 7.5 is good value compared to a 6.0 or 8.0. Click to buy one
Have this book? Click to appraise its value NOW!

Related Pages on Sell My Comic Books
Showcase Comic Book Price Guide
Showcase Comics Issues #31 to #60
Origin and First Appearance of Aquaman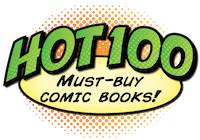 Click to return to the Hot 100 Investment Comic Books menu
Go from Showcase #30 to the 100 Hot Comics menu