100 Hot Comics #99:
NYX 3, 1st X-23 (Wolverine's Daughter)
DOWN 46 PLACES FROM LAST YEAR!
NOTE: We use eBay to provide references to live prices of comic books. Clicking a text link or image marked 'Check live prices' will take you to eBay.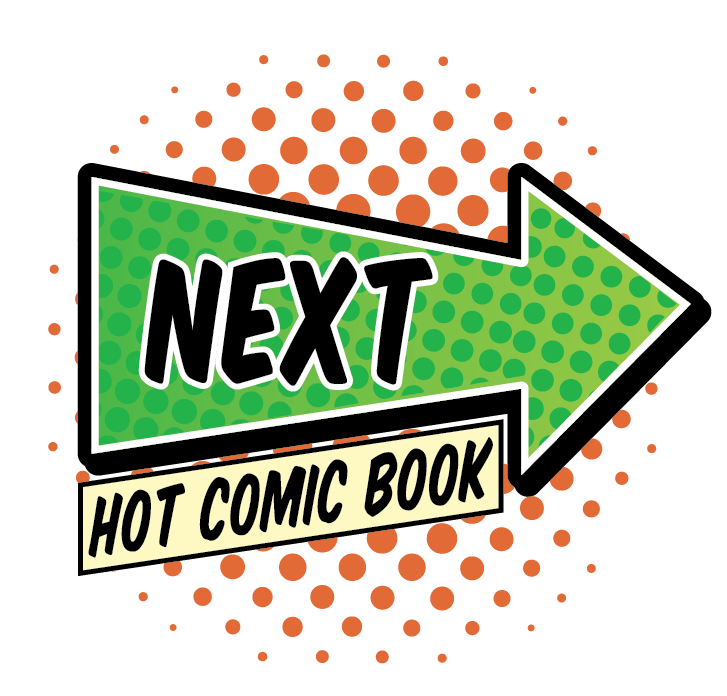 CLICK TO SEE THE NEXT HOT COMIC BOOK!
Why NYX 3 is a Hot Comic
2021 MARKET UPDATE: CLAWS FOR CONCERN
There are not many places to go when you drop to #99 on the 100 Hot Comics list...
A recent CGC 9.8 sale flirted with $1K and returned a fair percentage year-on-year.
I love that people are stupid enough to pay $300 for a CGC 6.0 of a book from 2004!
Recent sales:
9.8 $980
9.6 $460
9.4 $395
9.2 $280
9.0 $300
8.5 $385
8.0 $355
7.5 $200
7.0 $305
6.0 $300
IF YOU BOUGHT MY RECOMMENDED GRADE LAST YEAR:
Here's the bottom line.
CGC 9.8 2019 $855
LAST SALE $889
PERCENT CHANGE +4%
2020 MARKET UPDATE: PRICES MOVING SIDEWAYS IN MOST GRADES
This is a pretty tough book for a modern issue, about as scarce as Batman Adventures 12.
A few lower sales can make it look bad, but it is holding its value pending some more action in the Wolverine universe.
We declared this a tie for 53rd place with Vampirella #1!
I would hold this book if you already own it. But your money is better invested elsewhere if you haven't got one yet.
Recent sales:
CGC 9.8 $889

CGC 9.6 $485
CGC 9.4 $409
CGC 9.2 $325
CGC 9.0 $300
2019 MARKET UPDATE: CGC 9.8 HAS SHOWN GAINS
If you took my advice and held NYX 3 last year in CGC 9.8, then you did okay. Other grades, not so much.
There are simply too many modern books around to let your standards slip. People rushing in at CGC 9.4 or 9.2 are the ones who have the most to lose.
Recent sales:
CGC 9.8 $950

CGC 9.6 $575
CGC 9.4 $375
CGC 9.2 $350
CGC 9.0 $400 (!!!) More than 9.2 AND 9.4!
CGC 8.5 $350 (!!) That is really a dumb investment
CGC 7.5 $265 (!) You have got to be kidding me, basically a modern rag
2018 MARKET UPDATE: HOLDING WELL, ONE FOR THE FUTURE
This book has bucked the trend of movie-out, prices-down. So we are confidently predicting a solid HOLD.
It's still currently more valuable than New Mutants #98, which is hardly surprising -- NYX #3 is much rarer.
Don't buy below 9.4. Recent sales:
CGC 9.8 $825

CGC 9.6 $550
CGC 9.4 $500
CGC 9.2 $355
CGC 9.0 $350
CGC 7.5 $195
2017 MARKET UPDATE:
(SPOILER ALERT!) With the death of Wolverine in the Logan movie, all eyes are on X-23 as the future star of the Wolverine franchise.
As expected, prices went crazy just before the movie came out. But unexpectedly, sales have continued to be strong, as speculation of X-23 in future movies is rife. Still a good time to invest? We believe so.
CGC 9.9: $4,500
CGC 9.8 $780
CGC 9.6 $480
CGC 9.0 $370
CGC 7.5 $270
Everything Wolverine is red hot now. Several of the books on the Hot 100 list are key Wolverine comic books, including the following:
Incredible Hulk #180
Incredible Hulk #181

Giant-Size X-Men #1
NYX #3 is definitely among the most in-demand modern books. It's fascinating to see what happens to prices of relatively common books like this when demand goes crazy.
Insist on a CGC 9.8 with white pages, ignore all the crazy stuff that's hard to price like CGC Signature Series, and you should do well over time.
What to Invest In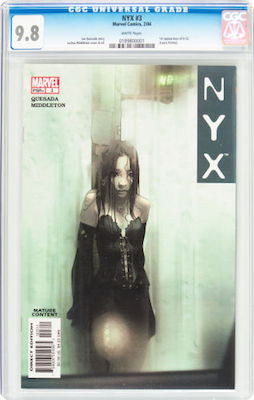 When buying a copy of NYX #3, avoid CGC Signature Series. Stick to 9.8 with white pages. Click to buy
Have this book? Click to appraise its value NOW!

Related Pages on Sell My Comic Books
Incredible Hulk Comic Book Prices
Related Books on the 100 Hot Comics List:
X-Men #94 | Incredible Hulk #180 | Incredible Hulk #181 | Giant-Size X-Men #1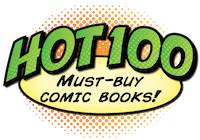 Click to return to the Hot 100 Investment Comic Books menu
Go from NYX 3 to the 100 Hot Comics menu