Teenage Mutant Ninja Turtles 1
100 Hot Comics #3:
Teenage Mutant Ninja Turtles 1, 1st Printing (Rare)
DOWN TWO PLACES FROM LAST YEAR
Hot Comics: Teenage Mutant Ninja Turtles #1, 1st Printing (Rare). Click to buy from Goldin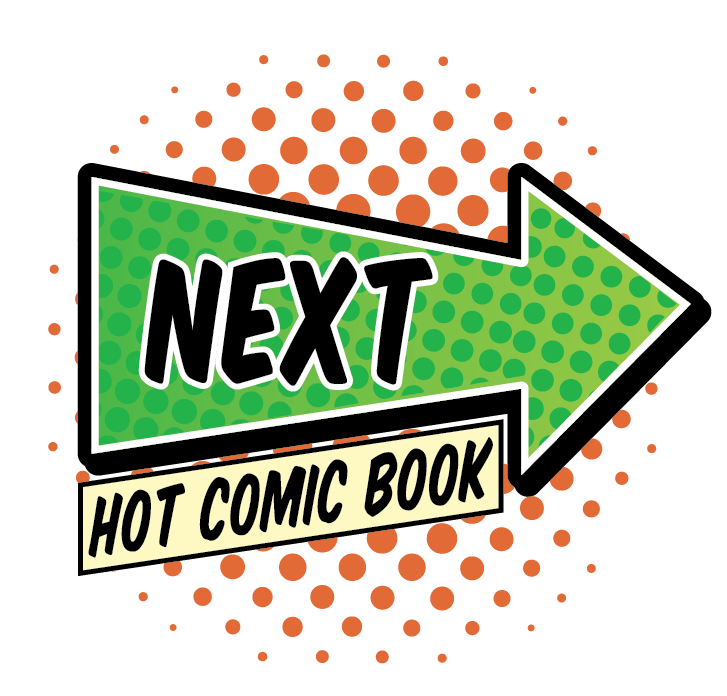 Why Teenage Mutant Ninja Turtles 1 is a Hot Comic
2023 MARKET UPDATE: PRICES FALLING IN MOST GRADES, BUT TURTLES STILL HOT
Yes, some of the gloss has come off the heroes on a half shell, but overall this is still one of the hottest books ever published!
It's a 1980s indie smash. A cultural phenomenon. And still massively above prices from two years ago.
2022 MARKET UPDATE: RECORDS SMASHED MULTIPLE TIMES, NOW THE MOST EXPENSIVE BOOK OF THE 1970S OR 1980S!
$245,000 is a lot of money. A lot. That's the new milestone for this book. A price which sets it comfortably apart from the crowd -- I don't think there is a 1970s comic which has sold for more than that. (Actually Marvel Spotlight #5 did last year...)
You could own a Batman #1 for less than that.
Sean and I sold a 9.8 in early 2021 for $50K. That seemed pretty good at the time...
Second printing prices are nuts now because the barrier for entry is so high for the first printing.
Recent sales of the first printing:
9.8 $230,000
9.6 $66,000
9.4 $46,500
9.2 $36,000
9.0 $31,200
8.5 $30,000
8.0 $24,000
7.5 $19,000
7.0 $15,000
6.5 $13,300
Where is the ceiling for this book? Impossible to tell, but I can't see it becoming a half-million dollar book. Just think what else you could own for that... A Batman #1, for example.
2021 MARKET UPDATE: NO SALES COME CLOSE TO $90K, BUT VF AND HIGHER ARE ALL ON FIRE, OUR GRADE INCREASED 69 PERCENT!
I hope you bought an 8.0 last year!
Sell My Comic Books had a CGC 9.8 this year and sold it at auction. It raised $50,000, which is not shabby at all, but nowhere near the record sale of $90,000 -- which has had some questions asked about it.
But this doesn't detract from the incredible sales achieved in the past year, in all grades, but especially for 8.0 and higher. Second and third printings have also appreciated strongly, as collectors can no longer afford the first printing.
First printing:
CGC 9.4 $36,000
CGC 9.0 $15,000
CGC 8.5 $16,177
CGC 8.0 $16,830
CGC 7.0 $15,600
CGC 6.5 $5,795
Second printing:
CGC 9.6 $5,600



CGC 9.4 $3,840
CGC 9.2 $5,000 (idiotic)
CGC 9.0 $3,720
CGC 8.5 $1,275
Third printing:
CGC 9.8 $3,360

CGC 9.6 $1,850



CGC 9.4 $1,500
CGC 9.2 $1,424
CGC 9.0 $1,000
CGC 8.5 $850
IF YOU BOUGHT MY RECOMMENDED GRADE LAST YEAR:
Here's the bottom line.
CGC 8.0 2020 $9,930
LAST SALE $16,830
PERCENT CHANGE +69%
2020 MARKET UPDATE: TMNT #1 BREAKS NEW GROUND WITH $90K SALE
Although the circumstances of the sale seem a little strange, to say the least, there is a recorded sale of $90,000 for a CGC 9.8 from 2019.
To put this into context, SMCB sold a CGC 9.8 near the end of the year for $50,000.
Even if the first sale is strange, the second sale confirms price support for this book at $50K in CGC 9.8.
That's huge for a 1980s comic book.

With the excitement of this book breaking out of the previous records, it can be easy to overlook other grades -- but there are new highs in many others too.
No 9.6 sold last year. We think the next 9.6 might hit $30K.
9.8 $90,000
9.4 $13,000

9.2 $11,495
9.0 $8,099
8.0 $7,400

7.5 $6,780
6.5 $5,000

6.0 $5,349
5.0 $3,840

4.5 $4,750(!)
2019 MARKET UPDATE: TMNT #1 JUMPS HUGELY ON THIS YEAR'S HOT LIST!
Teenage Mutant Ninja Turtles 1 fell a few places this year, but it's still a huge key.
There are second and third printings of this book and both are setting new records, as people are priced out of the first printing.
This is a very hard comic book to predict the sale price of. You can get lucky, or not, when you come to sell. Proceed with caution.
CGC 9.6: $20,000

CGC 9.2 $11,251

CGC 9.0 $6,700

CGC 8.5 $7,508

CGC 8.0 $5,800

CGC 7.5 $4,950

CGC 6.0 $3,750
2018 MARKET UPDATE: TMNT #1 JUMPS HUGELY ON THIS YEAR'S HOT LIST!
Teenage Mutant Ninja Turtles 1 is so hot that we had to boost its ranking hugely.
It's hard to imagine there being many more movies to come, but this team, invented in the 1980s, is hitting the 40-something crowd hard in the sentimental bone. People who grew up with the Turtles want to own a #1, at any price.
Here are recent sales. Many of them are setting new records for this book.
CGC 9.8: $38,000

CGC 9.4 $10,000

CGC 9.0 $6,800

CGC 8.5 $5,600

CGC 8.0 $6,000(!!)

CGC 7.5 $3,800

CGC 6.0 $3,900 (!!)
2017 MARKET UPDATE:
Two sales north of $20,000 in the past year had seen Teenage Mutant Ninja Turtles 1 back up the charts as the most valuable comic book of the Bronze Age. Then Marvel Spotlight #5 smashed that record.
Still, if you can afford the lofty heights of a CGC 9.8, it is a decent long-term bet. Most of us will probably be scratching around in the 9.0 end of the market, which is a good enough place to find yourself if you ask me.
If you look a little lower down the grade range, you'll find fools willing to pay 9.0 prices for much worse copies.
CGC 9.8: $24,100

CGC 9.6 $12,300
CGC 9.4 $6,000

CGC 9.2 $4,100
CGC 9.0 $4,200

CGC 8.5 $3,250

CGC 8.0 $4,325 (!)

CGC 7.5 $3,350

CGC 6.0 $2,750
CGC 5.0 $3,000 (!!)

While the Turtles are not the big business they were back in the 1990s, there are still enough media crossovers to attract attention to the original (and hard to find) Mirage books, including the 2014 movie reboot and a sequel to come later this year.
1st prints of TMNT #1 are considered rare. At least, by 1980s standards, with a little under 600 unrestored examples graded in the CGC census.
Very high grade copies may not be rare, exactly, but are extremely expensive. A 9.8 will set you back over $15,000, making it the most valuable comic book of the 1980s by far.
What to Invest In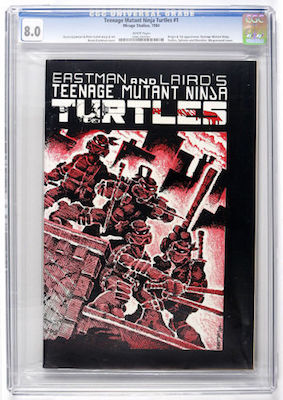 You might not be able to afford a VF-NM or higher example, but a nice CGC 8.0 of TMNT #1 1st print is a great investment. Click to buy from Goldin
Have this book? Click to appraise its value NOW!
Related Pages on Sell My Comic Books
Most Valuable Comic Books of the 1980s (Copper Age)
Teenage Mutant Ninja Turtles Comics Price Guide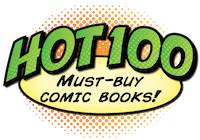 Click to return to the Hot 100 Investment Comic Books menu