100 Hot Comics:
Brave and the Bold #54, 1st Teen Titans
DOWN 61 PLACES FROM LAST YEAR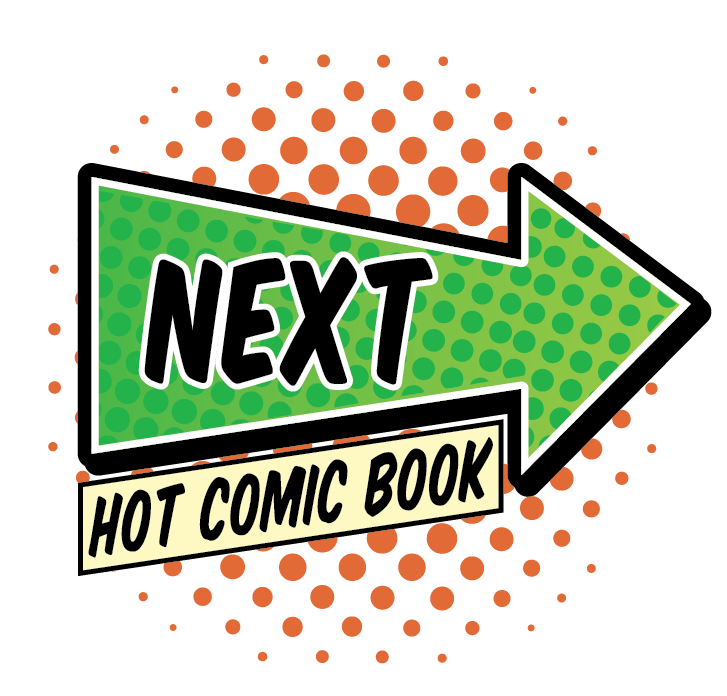 Why Brave and the Bold 54 is Hot
2019 MARKET UPDATE: STICK TO HIGHER GRADES
This book deserves to be on the hot list -- just. But it also can't argue about dropping like a stone on this year's list.
It's not limited to the Teen Titans. All DC Comic superheroes are suffering this year, as Marvel's relentless, Disney-backed machine cranks out the TV and movies.
IF YOU BOUGHT MY RECOMMENDED GRADE LAST YEAR:
Here's the bottom line.
CGC 9.0 2018 $2,500
LAST SALE $2,150
PERCENT CHANGE -14%
While the grade I recommended lost some ground, others did well. One bad sale can make a book like this look bad -- there is not a lot of volume to smooth out the average.
Recent sales:
CGC 9.4 $6,100

CGC 9.0 $2,150

CGC 8.5 $1,400
CGC 7.5 $905
CGC 6.5 $380
CGC 5.5 $325
CGC 4.5 $280
CGC 2.5 $235
2018 MARKET UPDATE: TEEN TITANS SETTING NEW RECORDS!
There are never tons of sales to report, but this book has torn up the record book this year, and shows no signs of slowing down.
Justice League made the DC Cinematic Universe shake up, and there is interest in almost every Teen Titans character, from Robin to Aqualad.
We tipped this as under-valued last year, and investors took notice, driving prices higher than ever. An auction sale of a CGC 9.8 was the first time the top tier price had been tested.
Lower grades have seen a slight softening in prices. It's scarce in VF or above, but there are plenty of lesser copies on the market.
Recent sales:
CGC 9.8 $40,000
CGC 9.6 $10,700
CGC 9.4 $6,000
CGC 9.2 $3,100
CGC 9.0 $2,500
CGC 8.5 $1,250
CGC 7.5 $750
CGC 6.5 $490
CGC 5.5 $380
CGC 4.5 $250
CGC 2.5 $180
2017 MARKET UPDATE:
Copies of Brave and the Bold #54 don't change hands often enough to give a good sense of where the market is at the upper grade levels, but from VG and up, things have been hot for a long time.
It barely squeaked onto the 100 Hot Comics list last time out, but the DC movie expansion (unsuccessful as it might have been so far) has seen speculation on the 'next big DC Universe thing' rife.
Teen Titans are strong candidates for a future treatment. Let's hope it's light-hearted, and brings some younger fans to the DC fold.
We feel this book is drastically under-valued still.
CGC 8.0: $1,020
CGC 7.0 $725
CGC 6.5 $585
CGC 6.0 $495
CGC 4.5 $300
CGC 2.5 $180
DC is still playing catchup with Marvel during this hottest of hot movie periods. Their recent announcement of several movies includes references to Teen Titans, so key issues like this have attracted fresh interest.
That, combined with the bizarre under-valuing of most Silver Age DC key issues, which tend to be scarcer than Marvel books from the same period, mean that books like Brave and the Bold #54 should be snapped up while they are still affordable.
Other Teen Titans appearances on the Hot 100:
DC Comics Presents #26 (1st New Teen Titans)
What to Invest In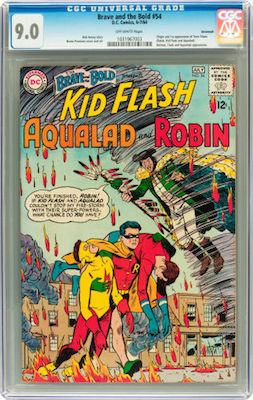 Brave and the Bold #54 is best bought in a blue CGC holder. Invest in a crisp 9.0 or higher, the best you can afford. Click to find yours from eBay
Have this book? Click to appraise its value NOW!

Related Pages on Sell My Comic Books
Value of Teen Titans Characters First Appearances
DC Comics Characters and Superheroes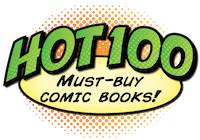 Click to return to the Hot 100 Investment Comic Books menu