100 Hot Comics #61:
Tales to Astonish 27, 1st Hank Pym (Ant-Man out of Costume)
UP 11 PLACES FROM LAST YEAR!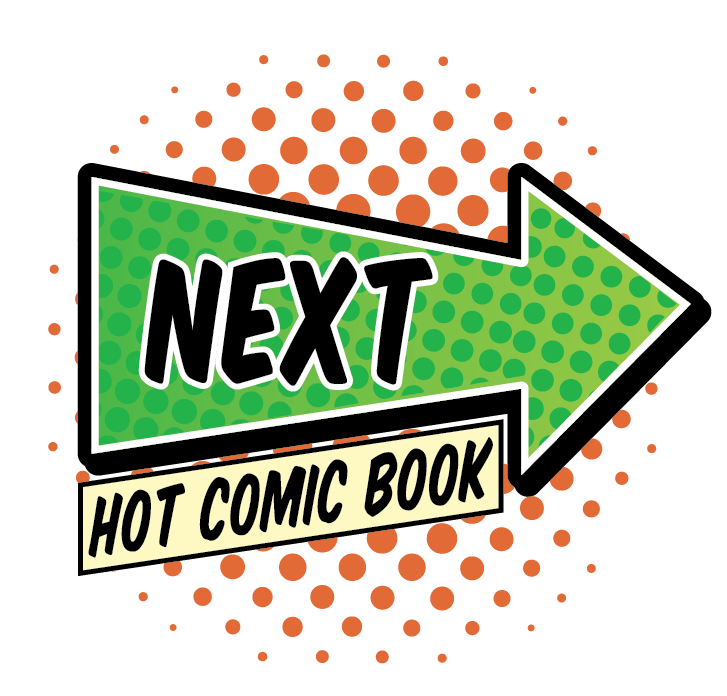 Why Tales to Astonish 27 is a Hot Comic
2020 MARKET UPDATE: SOME HEFTY HIGH-GRADE SALES PULL THIS KEY UP
$750 is now the entry level for a CGC 0.5 of Tales to Astonish 27.
Meanwhile, at the crazy end of the scale, a CGC 9.2 sold for a grade record $175,000!
IF YOU BOUGHT MY RECOMMENDED GRADE LAST YEAR:
Here's the bottom line.
CGC 4.5 2018 $2,584
LAST SALE $2,293
PERCENT CHANGE -9%
2019 MARKET UPDATE: A TINY, SLEEPING GIANT OF A BACK ISSUE
I still rarely see this cool key issue, and it amazes me when it sells for what look like bargain prices for such a big first appearance.
It remains on my hold for now list. It deserves to be on the Hot 100 because of a flurry of lower-grade sales this year.
Although my grade choice fell a little, it doesn't take much to throw off the numbers. One high sale makes a book like this look great, one low sale makes it look dead.
Here are recent prices.
CGC 8.0 $16,800
CGC 7.0 $8,119
CGC 6.5 $7,300 (huge jump from 6.0!)
CGC 6.0: $4,413

CGC 5.0 $3,360
CGC 4.5 $2,688
CGC 4.0 $2,500

CGC 3.0 $1,831

CGC 2.5 $1,625
CGC 2.0 $1,625
CGC 1.8 $1,376
2018 MARKET UPDATE: 'ANT' YOU GLAD YOU GOT IN WHEN YOU DID?
This book would be right up there on my under-valued top 100, as it's still cheap compared to other Marvel keys of the period.
Some strong sales have been seen across the mid-grade range, and there is plenty of upside in this book still, especially with the new Ant-Man and the Wasp movie coming out soon.
CGC 6.0: $4,400

CGC 4.5 $3,000
CGC 4.0 $2,000

CGC 3.0 $1,150

CGC 2.5 $1,150
CGC 2.0 $1,200
CGC 1.8 $800
2017 MARKET UPDATE:
Considering how important this book is in the history of Ant-Man, it's not bought and sold very often. It does seem scarcer than other early 1960s Marvel books: we see Incredible Hulk #1 about as often, if not more so, than Tales to Astonish #27.
There have been no high-grade sales of note since last year's list, and the lack of turnover is what led us to drop this book down the rankings. It's still hot, and a great investment.
CGC 6.0: $4,400

CGC 4.5 $3,000
CGC 4.0 $2,000

CGC 3.0 $1,150

CGC 2.5 $1,150
CGC 2.0 $1,200
CGC 1.8 $800
Anybody who saw last year's Ant-Man movie can't have failed to be impressed with the awesome job Marvel Studios did with what was supposed to be a B-list character.
Great casting, a really fun and funny script, just a hint of teasers for The Wasp in a probable sequel...
Look out for the related Tales to Astonish #44 (1st Wasp), also on our Hot 100 list. You should also consider the first Ant-Man in costume in Tales to Astonish #35.
TTA #27 is expensive. Some of the prices have just come off the top of the market. I predict a new spike if and when the sequel gets the green light.
What to Invest In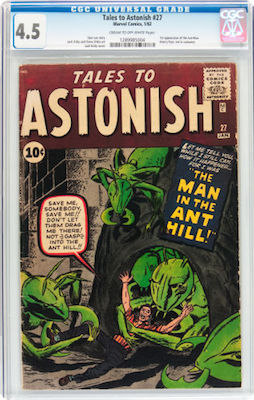 Tales to Astonish #27 is expensive and rare in high grade. Find a VG+ copy and buy it. Check eBay