100 Hot Comics #33:
Tales of Suspense 39, 1st Iron Man
UP 2 PLACES FROM LAST YEAR
NOTE: We use eBay to provide references to live prices of comic books. Clicking a text link or image marked 'Check live prices' will take you to eBay.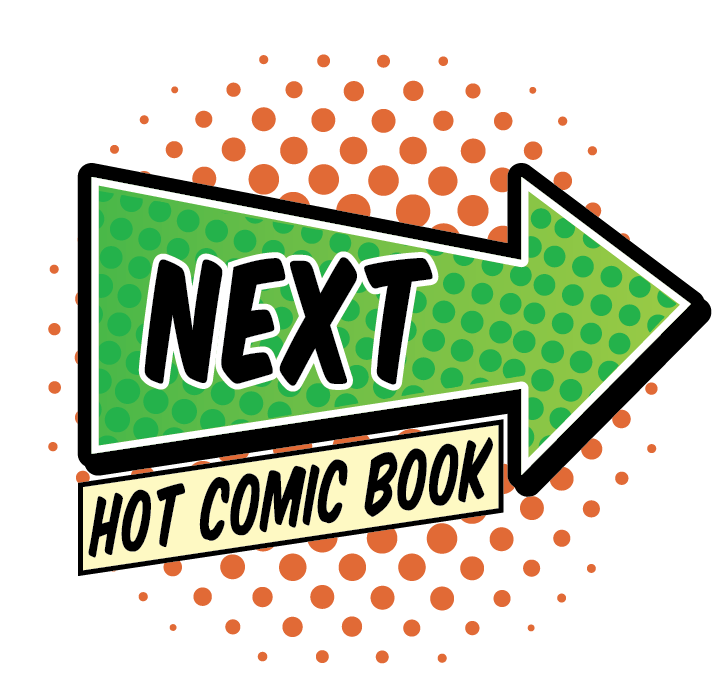 Why Tales of Suspense #39 is a Hot Comic
2020 MARKET UPDATE: ENTRY LEVEL BUMPING AGAINST THE $2K CEILING
Tales of Suspense 39 has been a hot comic for a while, but this year saw bargain hunters chase lower grades up in value.
My chosen grade of 4.0 is static this year unfortunately.
IF YOU BOUGHT MY RECOMMENDED GRADE LAST YEAR:
Here's the bottom line.
CGC 4.0 2018 $6,194
LAST SALE $6,339
PERCENT CHANGE +2%
The sale which really caught my eye was CGC 0.5 for $1,900.
That is an entry level ragged copy which shows just how scarce this mega Marvel Silver Age key issue is compared to X-Men 1, Avengers 1 and the like.
Here are recent sales:
9.0 $46,522

8.5 $29,200
8.0 $21,600
7.5 $19,920
7.0 $15,250
6.5 $12,100
6.0 $11,322
5.5 $9,950
5.0 $7,900
4.5 $6,000
4.0 $6,339(!)
3.5 $4,080
3.0 $4,350(!)
2.5 $3,999
2.0 $2,520
1.8 $3,000(!!)
1.5 $3,350(!!!!)
1.0 $1,980
0.5 $1,900
2019 MARKET UPDATE: THROUGH THE IRON CURTAIN, AGAIN
This book had dropped last year, but it's rebounded in style in "Stark" contrast to the results of 2018.
Some huge record sales have been recorded this year. Let's dig a little deeper.
A rising tide lifts all boats (as long as the boats have Marvel written on their sides), and it seems that this mega-key issue is no exception.
I expect this book to continue trending up. Iron Man is not going away anytime soon.
Lower grades have lagged compared to the gains seen above 3.0.
CGC 8.5 $38,100
CGC 8.0 $32,500

CGC 6.5 $12,535

CGC 6.0 $10,500
CGC 5.0 $7,500
CGC 4.0 $6,600
CGC 3.5 $4,650
CGC 2.5 $3,750
CGC 1.8 $2,600
CGC 0.5 $1,625
2018 MARKET UPDATE: THE STARK TRUTH IS, IT'S ABOUT TO JUMP BACK UP
Some books will never truly go out of style. First big Silver Age appearances will always find new homes when they come to market.
That said, TOS #39 has been struggling in recent years. There are just some signs of regrouping, with uptick in prices on various grades.
Recent sales have shown improvement, and it will probably move back up the list next year. One to hold if you have not sold off yours yet.
CGC 8.5 $30,500
CGC 8.0 $24,000

CGC 7.0 $10,400
CGC 6.5 $12,300 (!!)
CGC 6.0 $6,900
CGC 5.0 $5,300
CGC 4.0 $4,500
CGC 3.5 $4,250
CGC 2.5 $3,000
CGC 1.8 $2,500
CGC 0.5 $1,350
2017 MARKET UPDATE:
This book has been in a bit of a slump in the last couple of years, but it's begun to heat up again. Not quite enough to move it up the list at all, but it's worth keeping an eye on this book. It might be about to break out of its holding pattern.
It's one of the more common Marvel mega-key issues of the 1960s, but seldom turns up in nicer shape than VG.
CGC 8.5: $25,000
CGC 8.0 $17,000

CGC 7.0 $11,100
CGC 6.5 $9,000
CGC 6.0 $6,300
CGC 4.0 $3,950
CGC 3.5 $3,550
CGC 2.5 $2,310
CGC 2.0 $2,650
CGC 0.5 INCOMPETE RESTORED $1,400 (!!!!)
As 1960s Marvel Key issues go, ToS #39 is right up there with the best of them.
Not as common as Avengers #1 but not as scarce as Journey into Mystery #83, the huge success of the movie franchise starring Robert Downey, Jr. has made Iron Man a household name, and kept prices buoyant.
Don't cheap out with a 0.5 or 1.0 ragged copy of this book. Save up for a VG with a nice-looking front cover. Note that the sea green color is prone to fading; try to get an example with the green as pure as possible.
See more about Tales of Suspense #39 here.
What to Invest In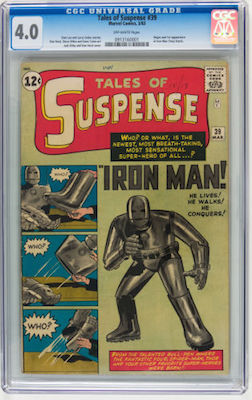 You may not be able to afford better, but don't lower your standards below VG. Buy a copy of Tales of Suspense #39 in at least CGC 4.0. Click to buy
Have this book? Click to appraise its value NOW!

Go from Tales of Suspense 39 to the 100 Hot Comics menu