100 Hot Comics #44:
Fantastic Four 1, Origin and First Appearance of the Super-Team
DOWN 3 PLACES FROM LAST YEAR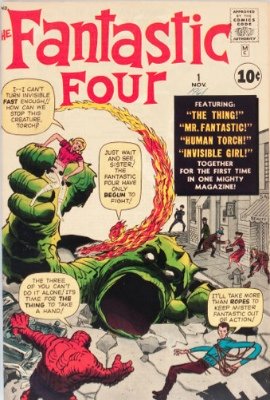 100 Hot Comics: Fantastic Four 1. Click to buy at Goldin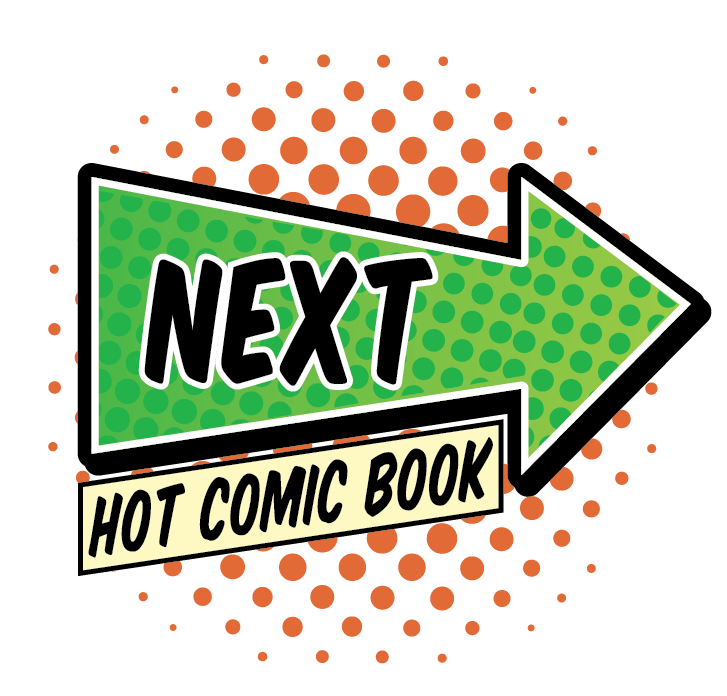 Why Fantastic Four 1 is a Hot Comic
2023 MARKET UPDATE: SURPRISING SELL-OFF, DUE A BOUNCE BACK
I'm the first to admit that prices of FF #1 got a bit crazy during the pandemic. The perfect storm of free government money and the homecoming FF movie drove new records in every grade.
To me, the selloff has gone a bit far, and you can now buy a very nice copy of this rare book for about what it cost two years ago.
That, combined with the movie dropping in 2025, means this is a great opportunity. If there is a solid buy on the entire Hot 100 this year, then it's this book.
It's definitely not hot in the spirit of this list. But it will be, very soon. Don't miss out.
2022 MARKET UPDATE: STILL NO HOMECOMING PROJECT DATE OR CONTENT CONFIRMED
The FF movie is at least on the MCU calendar, but there is no timeframe or detail leaked to the press. We're still waiting. Still.
Some eye-catching high-grade sales, including a rare 9.0, have kept this one relatively high on the list of 100 Hot Comics. But it's definitely not the hottest Marvel mega-key this year.

Recent sales:
9.0 $264,000



8.5 $132,000

6.5 $78,000



6.0 $63,000
5.5 $40,800
5.0 $34,800
4.5 $36.000
4.0 $25,800
3.5 $27,600(!)
3.0 $23,000
2.5 $18,000
2.0 $14,400
1.8 $11,800
1.5 $11,000
1.0 $9,500
0.5 $7,300
2021 MARKET UPDATE: THE LOWEST GRADES ARE COOLING OFF
But it doesn't matter, because middle grades have done pretty well, as you can see from my recommended grade of 4.0. It gained 16 percent!
7.5 is the highest grade that has publicly traded this year. There is a huge jump in prices between 6.5 and 7.0. I believe that gap will close shortly.
Recent sales:
7.5 $69,000



7.0 $56,000
6.5 $36,000
6.0 $29,000
5.5 $22,500
5.0 $13,420 (low sale)
4.5 $15,600
4.0 $15,600
3.5 $10,800
3.0 $9,900
2.5 $9,700
2.0 $10,000
1.8 $6,200
1.5 $6,000
1.0 $4,700
0.5 $3,875
IF YOU BOUGHT MY RECOMMENDED GRADE LAST YEAR:
Here's the bottom line.
CGC 4.0 2020 $13,433
LAST SALE $15,600
PERCENT CHANGE +16%
2020 MARKET UPDATE: ENTRY LEVEL NOW OVER $4,000 FOR THIS BOOK!
Fantastic Four 1 has not held its place in the top 10 this year, but it does justify a place in the top 40. In fact it might have deserved to be a bit higher... But there's always next year.
Desperate to own an FF#1? You now need to find north of $4K. Which is getting pretty close to Amazing Fantasy 15 territory.
How did my VG recommendation do?
So my grade went sideways. I'd take that after it doubled from 2018-19.
What about other grades?
When you compare the most recent sale of AF15 to Fantastic Four 1, you might still find this book to be under-valued.
FF1 Recent Sales
8.5 $96,000

8.0 $100,000 (!!)
7.5 $48,000
7.0 $28,800
6.5 $28,800
6.0 $26,852
5.5 $20,400
5.0 $21,500
4.5 $14,000
4.0 $12,950
3.5 $8,400
3.0 $8,000
2.5 $6,666
2.0 $6,900(!)
1.8 $6,785
1.5 $6,500
1.0 $5,100
0.5 $4,400
AF15 Recent Sales
9.2 $598,000

7.5 $120,000

7.0 $114,000
6.5 $85,000
6.0 $57,600
5.5 $39,600
5.0 $38,400
4.5 $37,500
4.0 $22,800
3.5 $18,600
3.0 $16,200
2.5 $14,000
2.0 $12,600
1.8 $13,000
1.5 $8,700
1.0 $9,000
0.5 $5,520
2019 MARKET UPDATE: BEST-PERFORMING SILVER AGE KEY THIS YEAR
It says a lot that FF#1 was off the hot list until 2018. I've been recommending it for a few years as a long under-valued key issue comic book.
Now here we are in a very happy place.
It's rare that I recommend a book and see it DOUBLE in price in 12 months! It's even rarer when it happens to a big book like this.
Here are sales of the other grades I mentioned last year.
CGC 0.5 $2,900
CGC 1.0 $4,700
CGC 1.5 $4,217 (!)
CGC 2.0 $6,400
CGC 3.0 $7,200
CGC 4.0 $14,400 (am I a genius or what?)
CGC 5.5 $18,000
CGC 8.0 $70,000 (also DOUBLE last year's price!)
Is it time to cash in? I don't think so. We are just catching up to where these books should have been ages ago.
There is still no firm word on the FF "homecoming" event which is widely rumored.
I still see upside in this great book.
2018 MARKET UPDATE: HIGHEST NEW ENTRY ON THE 2018 HOT LIST!
After languishing for YEARS with flat or even negative value growth, FF #1 has finally begun to gather steam in the market.
Here are some recent sales in CGC-graded books:
CGC 0.5 $1,100
CGC 1.0 $2,100
CGC 1.5 $2,250
CGC 2.0 $3,800
CGC 3.0 $4,000
CGC 4.0 $7,200
CGC 5.5 $11,000
CGC 8.0 $35,000
Why prices are improving on this book is a good question.
In general, there is a sense that a rising tide lifts all boats, with Silver Age key issue comic books especially increasing in value.
Comic books are being seen as a legitimate investment vehicle at last -- stamps and coins have long held that place in the hearts of collectible-minded investors, but it's taken comics more time to "grow up".
As the big key issues like Amazing Fantasy #15 and Incredible Hulk #1 are being priced out of many people's reach, people are looking around for value.
Fantastic Four #1 has certainly offered that, at least until the tail end of 2017, when prices began to spike.
Sony's deal to bring home Spider-Man and other heroes to Marvel Studios has opened up the possibility of a Fantastic Four movie that would actually be worth watching. No mean feat, given the team's dire outings in the box office until now.
What to Invest In
Fantastic Four #1 is best purchased in VG or nicer. This book is VERY prone to Marvel chipping, and its pale cover shows dirt and tanning easily. Click to buy at Goldin
There are plenty of copies of FF #1 available on the market, so you can afford to be choosy.
The biggest faults you'll find are Marvel chipping -- little scoop-shaped pieces missing from the right-hand edge of the front cover -- and dirt, grime, pencil or crayon marks, dust or sun shadows due to the white-cream front cover.
A VG copy is going to have faults, but try to find one with most of the damage on the back. This will make it more appealing to potential buyers when it's time to take your profit.
Have this book? Click to appraise its value NOW!

Related Pages on Sell My Comic Books
Fantastic Four Comic Book Price Guide
Most Expensive Comic Books of the 1960s (Silver Age)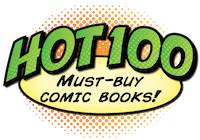 Click to return to the Hot 100 Investment Comic Books menu