IT'S HERE! Click for the 2021 edition of 100 Hot Comics!
NOTE: We use eBay to provide references to live prices of comic books. Clicking a text link or image marked 'Check live prices' will take you to eBay.

Golden Age Green Lantern Comic Values
by Christopher Tanis and Ashley Cotter-Cairns
Green Lantern comic books have had their ups and downs in terms of popularity. Periods of steady sales have alternated with lean times, and even cancellation of the title.
Through it all, hardcore Green Lantern fans have remained loyal. (See our Silver Age Green Lantern comic book price guide for later issues.)
The resurgence of superhero movies as profitable ventures for Hollywood studios meant that they began looking at heroes other than Batman and Spiderman, and eventually green-lighted a Green Lantern movie.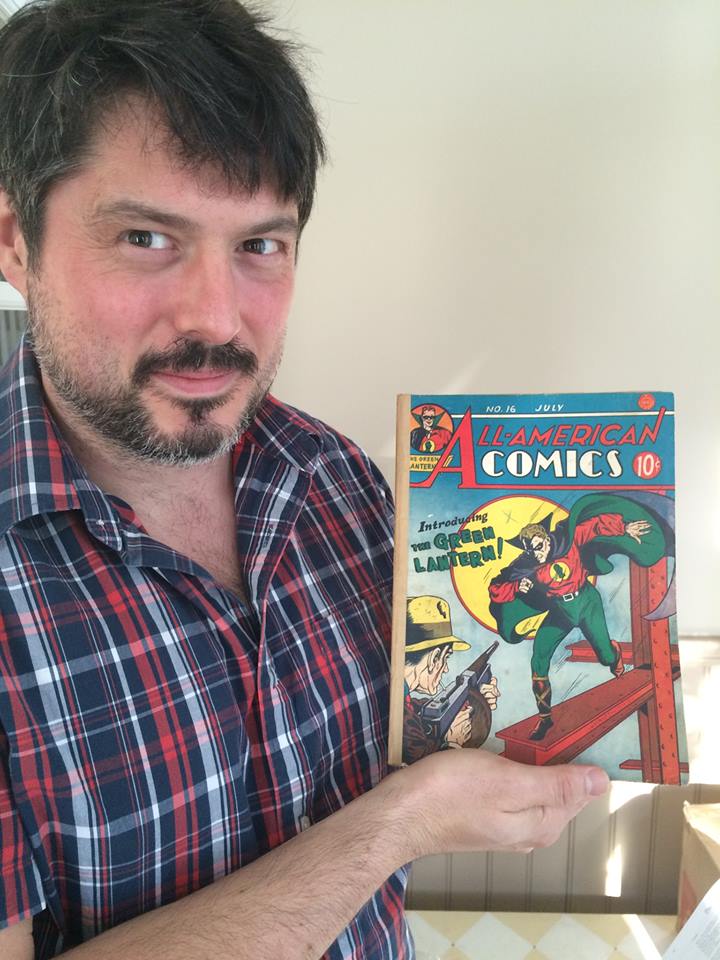 Less than 50 of these known in the world! Here's a copy of All-American Comics #16 we just acquired. With apologies for the bad hair day!
Although the 2011 release did not perform as well as other superhero films, the public became more aware of the Emerald Gladiator, and interest in Green Lantern comics from all eras was piqued.
What has the film's release done to the values of the earliest comics featuring Green Lantern?
The increased interest has certainly added some value to the various titles that featured Alan Scott, the original Golden Age Green Lantern, as well as the other later titles, and their respective Lanterns.
Have Your Golden Age Green Lantern Comic Books Valued!
If you've got some old comics featuring the Green Lantern;
including All-American Comics #16, All-Star Comics #3, and Green Lantern #1 from 1940, then click here to have them valued FREE by Sell My Comic Books!
All-American Comics #16: Origin and First Appearance of The Green Lantern
In the heart of the Golden Age, after Batman, Superman, and Captain Marvel had paved the way for superhero comics, original Green Lantern Alan Scott made his debut in All-American Comics #16, in July 1940, illustrated by his co-creator, Martin Nodell.
Minimum value (in really poor, but complete shape):
$3,000
Record sale (CGC 8.0):
$200,000
All-American Comics (click for full article) was published by All-American Publications, a company that through a series of mergers, notably with National Periodical Publications, would eventually become DC Comics.
In this issue, readers were treated to the story of how Alan Scott, a young railroad engineer who finds a mysterious magical green lantern that speaks to him, instructing him how to make a ring from its metal, and telling him wearing the ring will give him fantastic powers.
This comic also introduced the necessary weakness to keep the hero interesting. In this case, there are two.
First, Alan Scott's magic ring needed to be recharged every 24 hours by contacting it to the magic lantern.
Second, his ring had no affect on anything made of wood. These weaknesses made Green Lantern human, and in varying forms, have made all the other Green Lanterns who came later easy to identify with as well.
Have a copy? We'll value it for you free!
All-Star Comics #3: First Appearance of the Justice Society of America
All-Star Comics #3 introduced the first super-team, the Justice Society of America, destined to be the template for the Silver Age's great super-team comics, principally the Justice League of America.
Minimum value (in really poor, but complete shape):
$2,300
Record sale (CGC 9.6):
$125,000
Written by Gardner Fox and illustrated by Everett E. Hibbard, this issue of All-Star details the circumstances of the first group meeting between Green Lantern, Flash, Hawkman, The Spectre, Hourman, Sandman, Dr. Fate, and the Atom, with Johnny Thunder and his magic Thunderbolt along for the ride as mascots.
Prompted by Johnny, each hero takes turn telling the others of his most exciting adventure. This gives this issue something of an anthology feel, since the JSA does not actually team up and fight crime as a unit.
Nonetheless, this comic is, as Golden Age comics tend to be, typically rare and valuable. Finding one of these in your grandfather's attic would be a very nice treat indeed!
Click here to read our All-Star Comics article.
All-American Comics #27: Meet Doiby Dickles
In All-American Comics #27, from June of 1941, we meet Charles "Doiby" Dickles, destined to become Green Lantern's on-and-off sidekick for the remainder of the Golden Age.
Minimum value (in really poor, but complete shape):
$200
Record sale (CGC 9.2):
$5,000
Written by Bill Finger and featuring art by Irwin Hasen, Meet Doiby Dickles shows how Brooklyn cab driver Charles Dickles gets involved in Green Lantern's life when he rescues Alan Scott's secretary, Irene Miller, who has been kidnapped by thieves.
Doiby (so named because of his ever-present derby hat and thick Brooklyn accent) later disguises himself as GL, and pursues the thieves further. Impressed, Alan Scott recruited him as his partner.
This issue may be of somewhat less value than the others we've discussed, but there is nonetheless a market for any Golden Age comic book.
More on All-American Comics values here.
Why This Guide is AWESOME for Wannabe Comic Investors

If you have either tried (and failed) to make money flipping comic books, or are frustrated by the huge array of choice out there, then this is the eBook for you.

It's packed with 32 in-depth analyses of easy-to-buy and sell comic books from the Bronze to Modern ages.

These are titles we have personally made a lot of money buying and selling. So can you.

Make more than your money back with your first successful trade (or by NOT buying a losing book!).

If you are not completely satisfied, we have a 365-day money-back guarantee.

Click to read more, or order your copy today!
Green Lantern #1: First Issue of GL's Own Title
In the fall of 1941, Green Lantern #1 was the first of his own title.
Minimum value (in really poor, but complete shape):
$1,200
Record sale (CGC 9.0):

$125,000
Response to GL's early appearances in All-American Comics, and his participation in the JLA adventures in the pages of All-Star Comics over the last year, had finally convinced the honchos at All-American Publications to give the Emerald Gladiator a shot at superhero glory.
This issue came with an eye-catching cover by Howard Purcell that was simple, graphic, and powerful. It became a benchmark for comic cover art, with its direct action, dynamic subject matter, and simple graphic design: Green Lantern punching the daylights out of a criminal, who is flung back towards the reader at an oblique angle.
Issue #1 of Green Lantern begins with a retelling of GL's origin story from All-American Comics #16, and then several short GL stories, all of which were written by Bill Finger and illustrated by Martin Nodell.
The Golden Age Fades
Green Lantern comic's fortunes held strong through World War II, but after the war, superhero comics began to decline in general.
The last issue of Green Lantern comic appeared in 1949, with Green Lantern Comic #38. All "twilight" issues of comic book series have become sought-after, making this one a minor key.
Minimum value (in really poor, but complete shape):
$50
Record sale (CGC 9.6):
$5,000
Check the current market value
The same situation applies to Green Lantern's last Golden Age appearance, in 1951's All-American Comics #57, also the final Golden Age JSA appearance.
Minimum value (in really poor, but complete shape):
$50
Record sale:
$157 (CGC 3.5)
After 1951, Green Lantern comics would not appear again until DC's early Silver Age reboot, in 1959 with Showcase #22.
But the story of Hal Jordan, who would be GL's alter ego through the Silver Age into the Bronze, is best told another time.
Have Your Comics Valued
Have your Golden Age Green Lantern comic books valued for free. Click here to send us pictures of yours and we'll value them.
More of our Comic Price Guides
Golden Age Green Lantern Comic Books featuring other DC Comics Characters
Which other books featured the Green Lantern? We highlight comic book values from the Golden Age for many other series.

Captain America Golden Age Comic Books
Learn the value of the earliest Captain America comics, starting in 1941 up to the end of the Golden Age. We're also publishing a guide to Silver Age Cap' books.

Superman Comic Book Values
Is it a bird? Is it a plane? No, it's your comic book collection, soaring in value as the Man of Steel goes from strength to strength. Learn about the value of the early Superman comics here.

Batman Comic Values
We feature the earliest of the Golden Age Batman comic books, right up to modern times. Learn what your Batman books are worth, and get a free appraisal if you send us photos.

Silver Age Green Lantern
Find out the value of Silver Age Green Lantern comic books, including the milestone Showcase #22, Brave and the Bold #28, and Green Lantern v2 #1.

All-American Comic Book Price Guide
Learn the value of the early Golden Age title, All-American Comics, from a forerunner of what would become DC Comics.